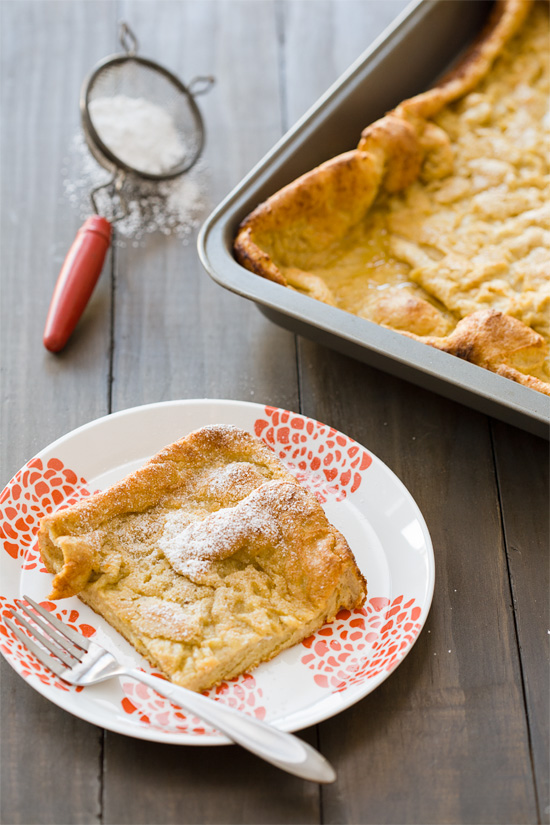 I have a soft spot for German pancakes. Also known as Dutch Baby pancakes. Or Puffy pancakes. But whatever you call them, they are sweet and eggy concoctions that you can't help but crave. And they are so much easier to prepare than regular pancakes, since there's no slaving over a hot frying pan. Instead, you just throw the batter in the oven and wait for the magic to happen.
I had a bit of pumpkin left over and decided to throw it and some pie spices into my go-to recipe. The result was a bit less puffy than usual, perhaps, but the flavor definitely made up for it.
It's almost like eating pie for breakfast.
If you're into that sort of thing.
I've also an apple version of these before, and don't you dare make me choose which way I like it best. You can also halve the recipe and bake it up in a cast iron skillet (perfect for two).
Pumpkin Spice German Pancake
Ingredients:
1 cup whole milk
1 cup all-purpose flour
6 large eggs
1/3 cup pumpkin puree
1/2 teaspoon ground cinnamon
1/8 teaspoon ground ginger
1/4 teaspoon salt
6 tablespoons unsalted butter
Directions:
Combine milk, flour, eggs, pumpkin, spices, and salt in medium bowl and mix until just combined.
Position oven rack in bottom 1/3 of oven. Place butter in a 13×9 inch baking pan sprayed with cooking spray, put in oven, and preheat to 450 degrees F. When butter is hot and sizzling, remove from oven and carefully pour batter into hot pan.
Return pan to oven and bake for 25 minutes, or until golden brown and fluffy.
Slice and serve hot with maple syrup and powdered sugar.
Did you make this recipe?
Let us know what you think!
Leave a Comment below or share a photo and tag me on Instagram with the hashtag #loveandoliveoil.