I have a problem.
An egg white problem.
Turns out most of the treats I like to make (ice cream, cream pies, lemon curd, hollandaise, oh, and did I say ice cream?) use egg yolks. And I can never bear to throw out the egg whites, so instead I bag them, tag them, and stash them in the freezer.
The problem is, they just start to build. And I never seem to have any egg-white recipes to use them up. So after about 6 months (luckily I had the good sense to date them), they get tossed with the other frozen-and-forgotten things in the depths of our freezer (try as we might, we just aren't freezer people).
I had attempted a fruit meringue before, by grinding up some freeze-dried fruit (not to be confused with dried fruit which will NOT work in this recipe) that I had leftover from the pixie stick project. Turns out strawberry isn't such a great flavor in a meringue. Medicinal would be one way to put it kindly.
But my second try turned out much better. With blueberries and a bit of almond extract, the flavor is light and subtly fruity with fragrant almond undertones.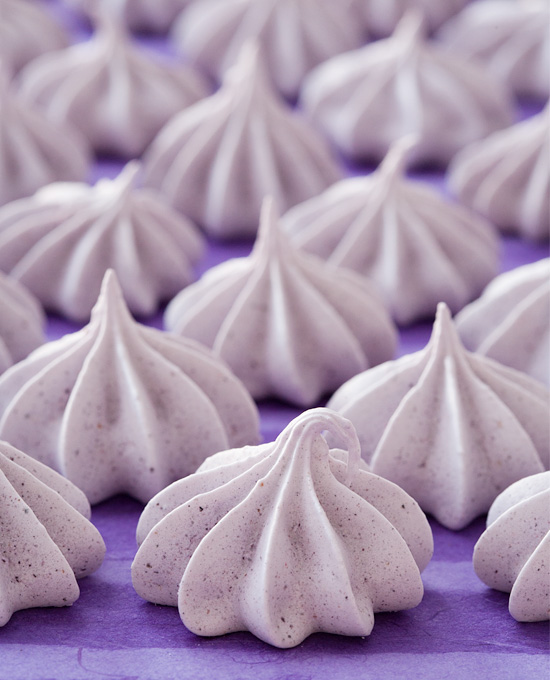 Whatever you do, don't try these on a humid day. Unless you like sticky, chewy meringues. And make them in the evening, after all your other cooking projects are done for the day, that way they can sit in the warm oven overnight to dry out even further.
I still have partial bags of freeze-dried mango and raspberries, perhaps those will be next on my list to try as operation use-up-the-gosh-darn-egg-whites continues. Tell me I'm not the only one with this problem? What do YOU do with all of your egg whites?
Blueberry Almond Meringues
Ingredients:
1 cup granulated sugar, divided
1/4 cup freeze-dried blueberries
3 large egg whites, room temperature
1/8 teaspoon cream of tartar
1/4 teaspoon almond extract
Directions:
Preheat oven to 200 degrees F. Line two baking sheets with parchment paper.
Combine 1/4 cup sugar and blueberries in a (clean!) coffee grinder, and pulverize until very finely ground. A food processor will also work but I've found a coffee grinder does a better job of creating a super-fine grind.
In the bowl of a stand mixer fitted with the whisk attachment, whip egg whites until foamy. Add cream of tartar and beat until soft peaks form. Slowly add remaining 3/4 cup sugar, a little at a time, followed by sugar and blueberry powder. Continue to beat until mixture holds stiff peaks and sugar is fully dissolved (if you rub a bit of the mixture between your fingers it should not feel gritty). Beat in almond extract.
Transfer mixture to a piping bag fitted with a large star tip, and pipe "kisses" onto prepared baking sheets.
Bake for 90 minutes, rotating the baking sheets top to bottom and back to front after 45 minutes. Turn off the oven and let the cookies sit in the oven for at least a few more hours or overnight to allow them to fully dry out.
Did you make this recipe?
Let us know what you think!
Leave a Comment below or share a photo and tag me on Instagram with the hashtag #loveandoliveoil.