This dark and sultry chocolate raspberry jam is full of bright raspberry flavor and bitter dark chocolate for a truly unique jam that will have your tastebuds jumping for joy
Part raspberry jam and part chocolate sauce, this sweet, naturally-thickened preserve takes the classic flavor combination of tart sweet raspberries with bitter dark chocolate to a whole new level. It's a very small batch recipe but can be scaled up (it will take slightly longer to cook).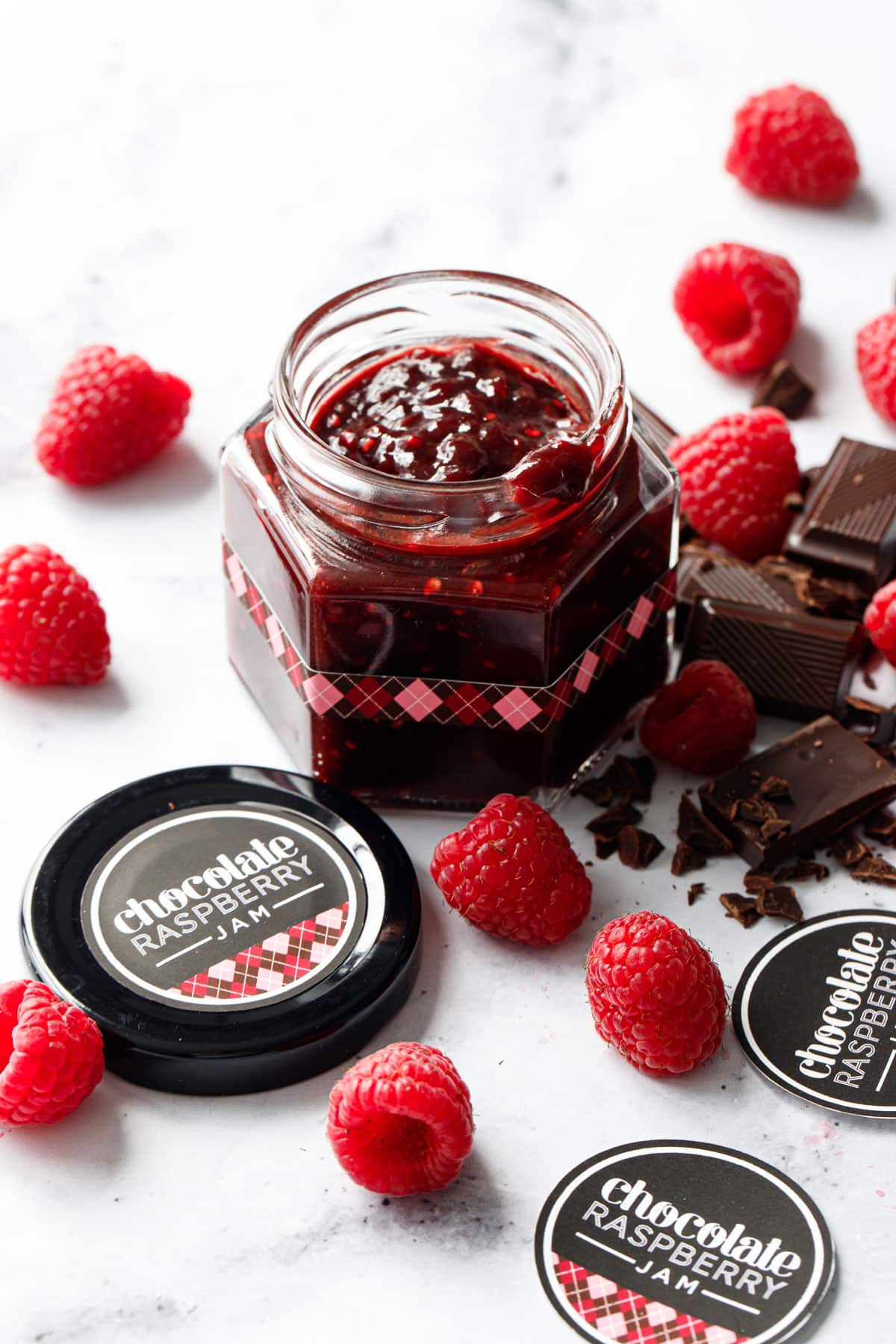 The jam-fest continues. I should probably tell you that my "jam cabinet" is quickly filling with stacks of vibrant jars. I didn't intend to make much jam this year, or should I say, I didn't expect to have enough time to. But, alas, the allure of fresh fruit won out over my more reasonable, we-don't-have-the-space-nor-time side. So I've been jamming away like there's no tomorrow.
I picked up one precious pint of raspberries at the farmers' market the other weekend. Raspberries are rare here; apparently the heat and humidity are too much for the delicate berries. So when I saw some, I snatched them up. They weren't cheap, which is why I only got one pint, but it's better than nothing.
When I got home, the berries went straight into the saucepan. I had been wanting to make a chocolate raspberry jam for what seems like ages. I almost made a version of the stuff with strawberries because I was so desperate to try it (and, to be honest, that would actually be pretty darn amazing).
I had enough just berries to make a single precious jar of deeply tart raspberry jam laced with dark chocolate.
Sorry friends and family. This stuff will not be among the jars I gift during the holidays.
Nope.
This one's mine.
All mine.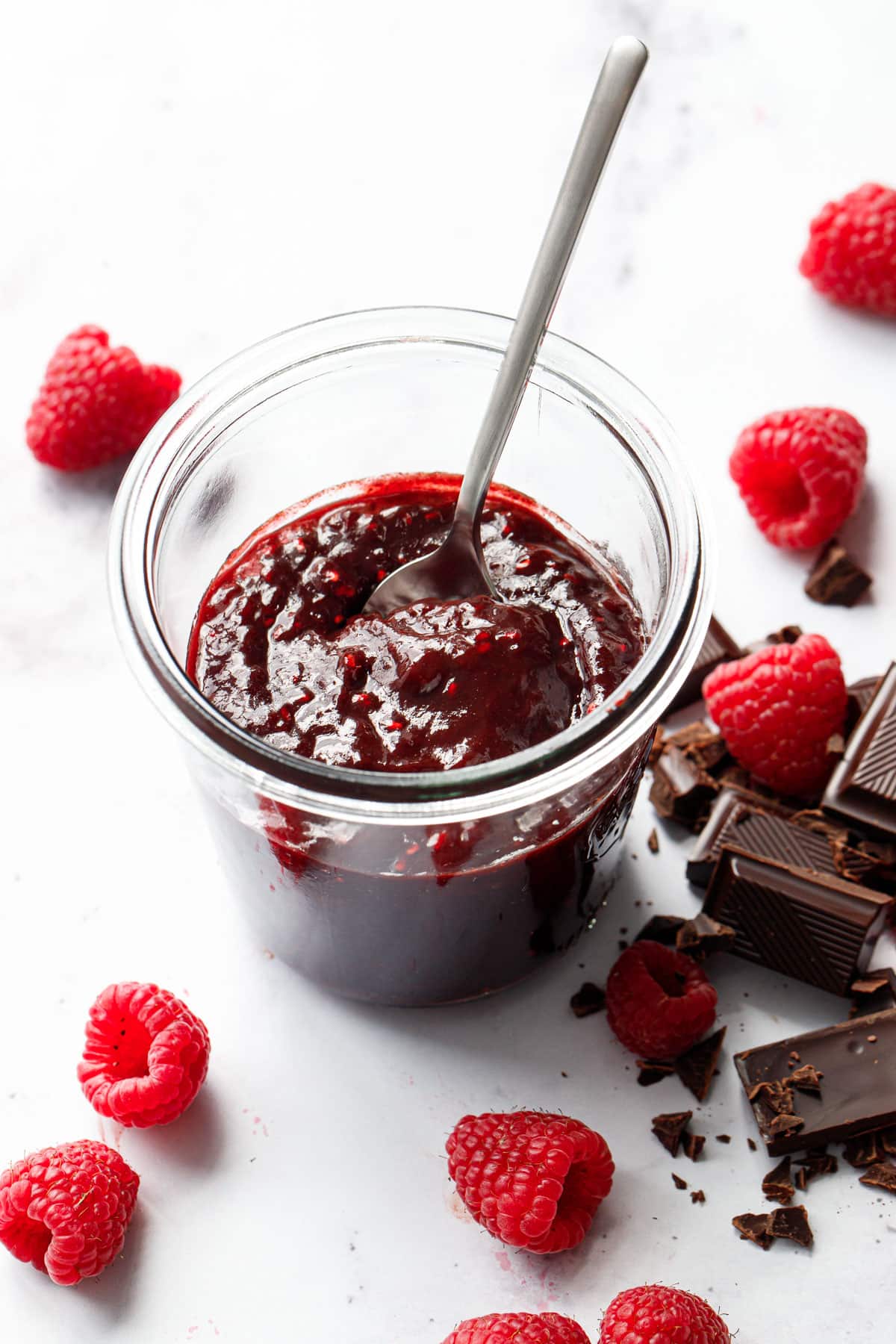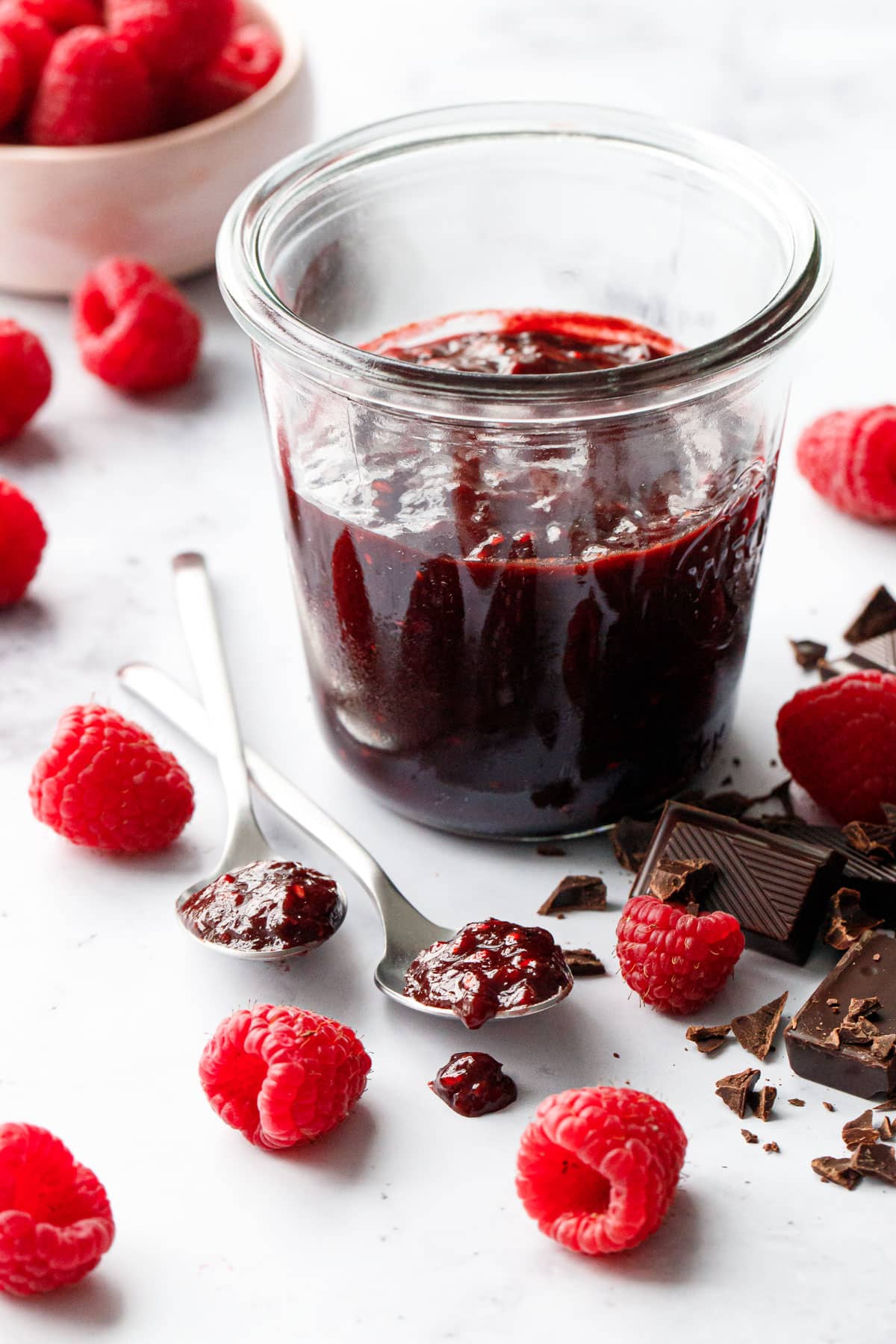 This jam is so unique, tart and bursting with raspberry flavor with bitter sweet notes from the dark chocolate that prove to be the perfect pairing.
While it'd be a lovely addition to some jam thumbprint cookies or a layer in a showstopping chocolate raspberry mousse cake, it's practically a dessert in and of itself (I found Taylor in the kitchen smearing spoonfuls of it on top of squares of pure dark chocolate and it was decadent to say the least). You could also warm it up and spoon it over vanilla ice cream (yum), or serve it with a sweet wine as part of a post-dinner cheese platter.
Because I made such a small quantity I did not water-bath process this recipe, just popped it in the fridge where it would technically last for a month or so (though mine barely made it a week before it was completely devoured). While the chocolate seems like a strange addition, the jam should technically be safe for water-bath canning as long as you use a pure dark chocolate without any milk or dairy (check the ingredients). While milk chocolate or white chocolate could be used, the recipe would not be suitable for home canning and should be refrigerated or frozen.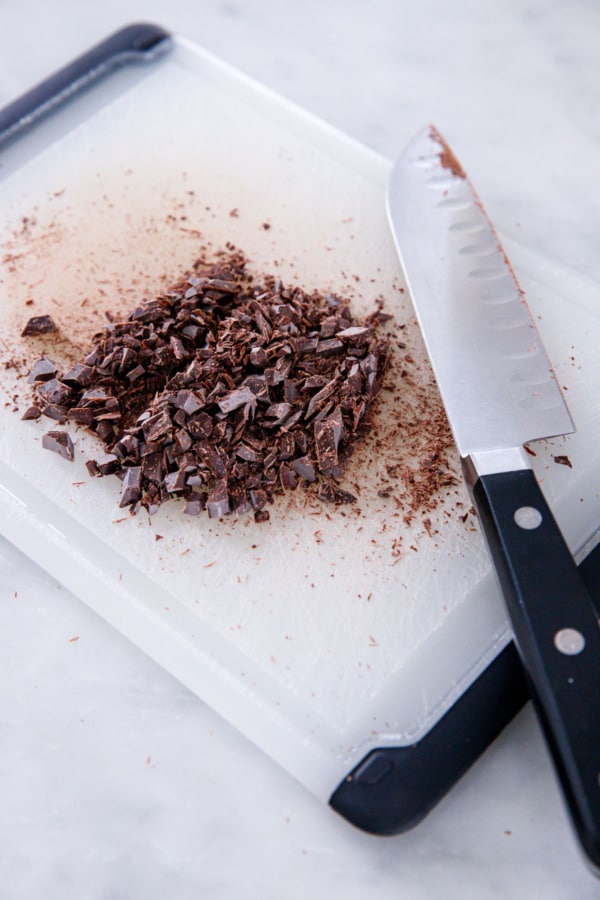 Talking 'Bout My Gel
This jam is thickened with the natural pectin present in the berries which, when combined with sugar and heat, "the pectin–water equilibrium breaks down, and a fibrous network capable of supporting liquids is established" (source). How's that for super food science?
Unlike recipes with added pectin, this one relies on natural pectin, sugar and heat, and thus the quantity of sugar cannot be reduced without risking the gel or set of the final jam.
To test the set, pop a spoon or a small plate in the freezer before you start.
Once your cooked fruit mixture appears thickened (it will drip off a spatula in wide blobs rather than thin droplets). If you've cooked enough jam you'll be able to tell just from the spatula whether it's done or not.
To test further, drop a dollop onto the frozen spoon or plate and pop it back in the freezer for a minute or two (take your jam off the heat while you wait to avoid overcooking). Then take it out and nudge your finger through the jam. It should wrinkle up in front of your finger in soft folds. If your finger pushes through without any wrinkles, boil it for another minute or two and test again.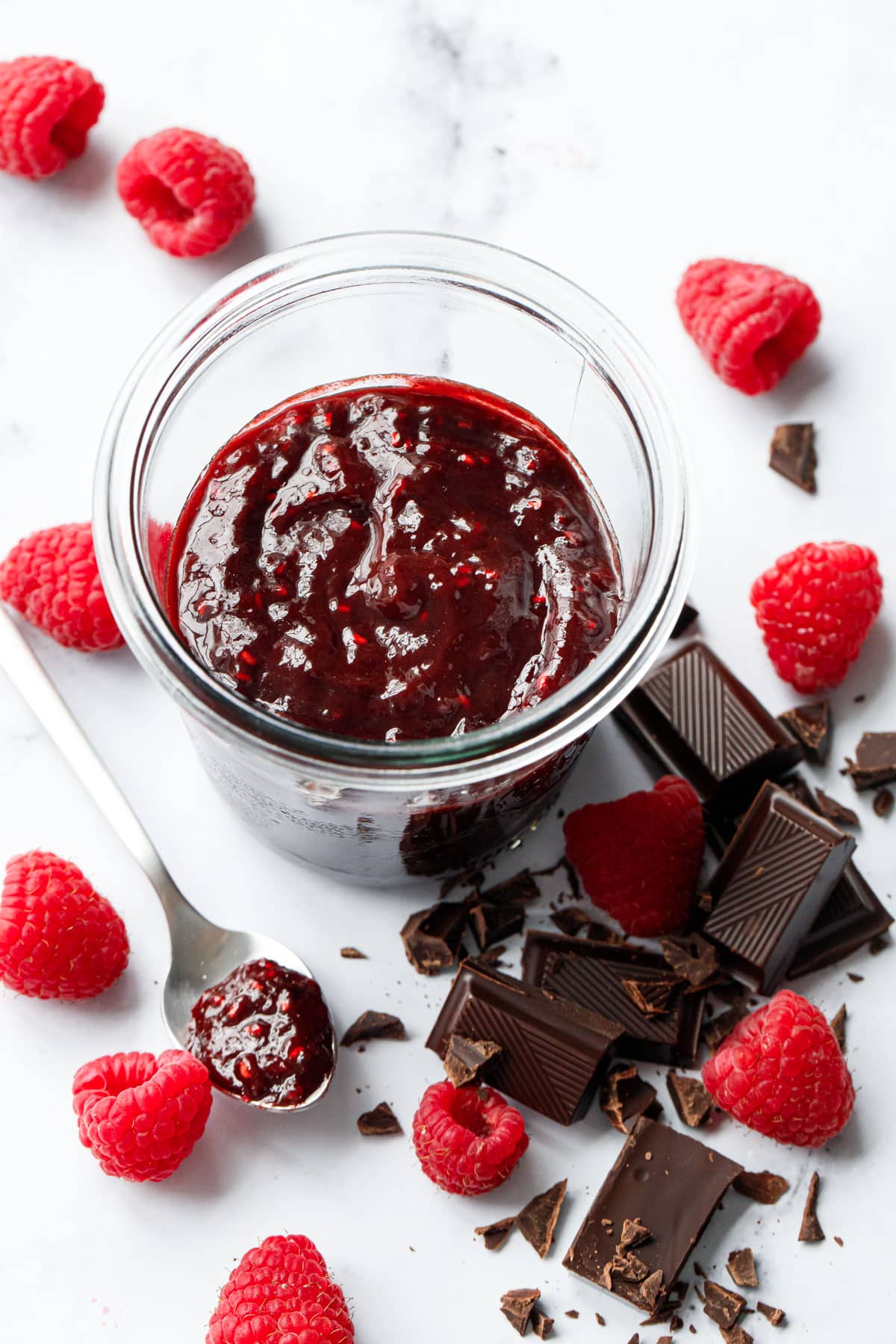 Seeds or No Seeds
Raspberry jam can be very seedy sometimes, but I still like the crunch and rustic texture of having some seeds in there, which is why I only strained about half of the raspberry through a fine mesh sieve after the berries have softened a bit (it's easier to strain them once they've and broken down a bit). Call it semi-seedless or somewhat-seedy jam.
If you opt to strain it all (you can also use a food mill before or after cooking the fruit), you may want to use slightly more raspberry to achieve the same yield.
Conversely, you don't have to strain at all, and you'll end up with a bit more jam in the end with a more crunchy, rustic texture.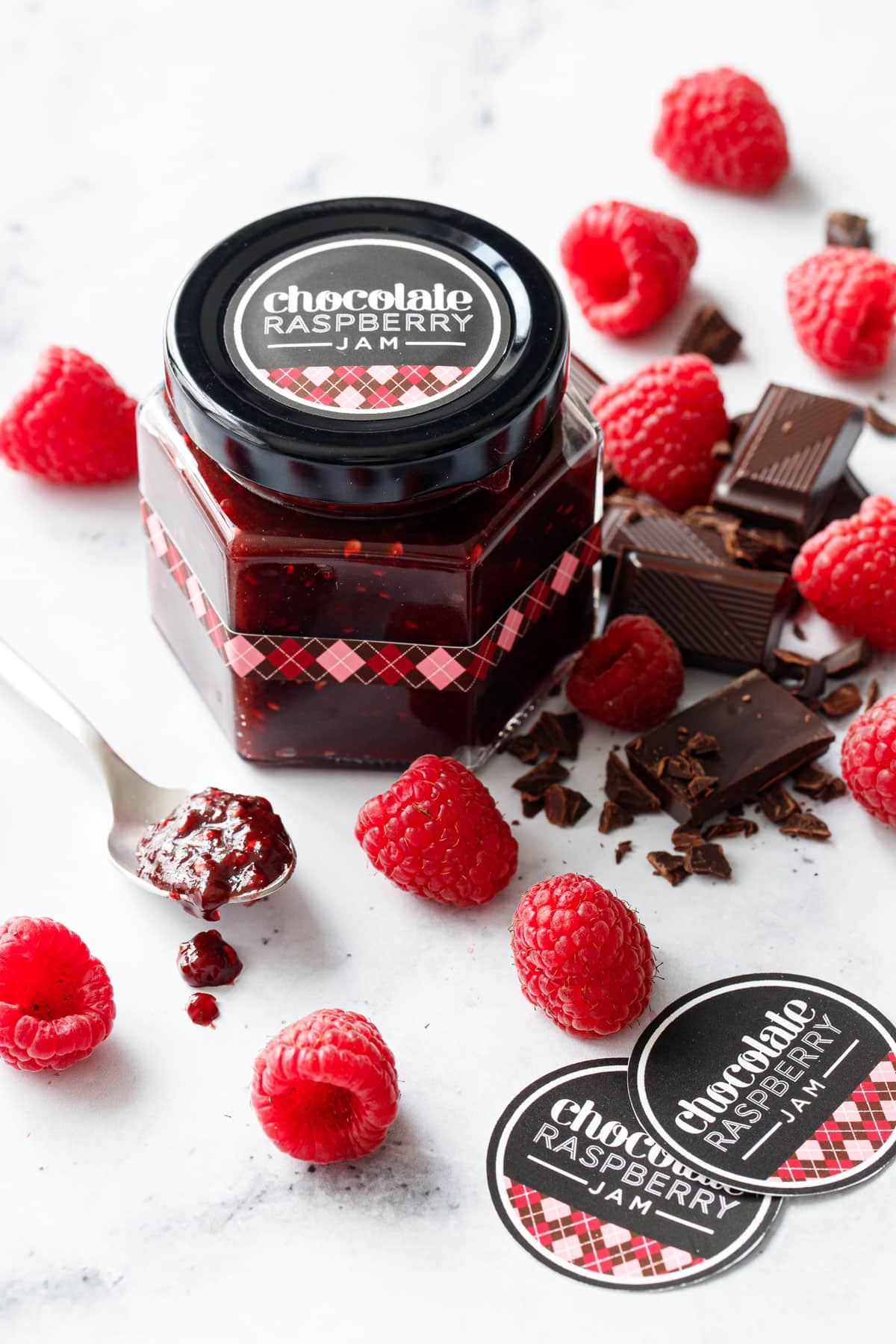 You can use fresh or frozen raspberries for this recipe; no need to thaw if frozen, just dump them in the saucepan and cook until thawed and softened.
Raspberries freeze beautifully: just rinse the whole berries, let dry completely, then spread on a baking sheet and freeze. Once they're frozen solid, transfer to a zip-top bag or vacuum seal for even longer storage (they'll keep beautifully for up to 6 months). It's super easy to freeze seasonal fruit at its peak ripeness and then make this (or another kind of raspberry jam) at a later time.
NOTE: This recipe has been updated as of September 23, 2023; the original recipe was based on a recipe from Mes Confitures: The Jams and Jellies of Christine Ferber. I've modified it significantly since then, with a smaller batch size, simplified process and a higher proportion of raspberry to chocolate so it's more like a chocolate-laced raspberry jam and less like a raspberry-flavored chocolate sauce. But the original recipe is available here if you're looking for the previously published version.
Chocolate Raspberry Jam
This dark and sultry jam is full of bright raspberry flavor and deep, bittersweet dark chocolate for a unique jam that you'll adore. It's a very small batch recipe but can be scaled up (it will take slightly longer to cook).
6

ounces

/

175

g

fresh raspberries

¾

cup

/

150

g

granulated sugar

1

tablespoon

/

15

g

fresh lemon juice

1

ounce

/

28

g

dark chocolate (70-90%)

,

finely chopped
In a medium saucepan, combine raspberries, lemon juice, and sugar and stir over medium-high heat until the sugar has dissolved, mashing and breaking up berries with the back of a wooden spoon or spatula.

When berries have broken down, press about half of the raspberry mixture through a fine mesh sieve to remove some or all of the seeds (the more seeds you remove, the smoother the final texture will be, but the yield will be lower).

Bring the mixture back to a rolling boil and boil hard for five minutes, stirring constantly, until the foam subsides and the jam drips off the back of a spatula in wide blobs.

To test the set, remove jam from heat and drop a dollop onto a frozen spoon or plate; return to freezer for 1 to 2 minutes. Nudge your finger through the jam and if it wrinkles up behind your finger in soft folds, then it's ready. If not, return to heat and boil for a minute or two more and re-test until the jam reaches the desired consistency.

Remove from heat and add the chopped chocolate, gently stirring until the chocolate is completely melted.

Transfer to a jar or other airtight container and refrigerate for up to 3 weeks or freeze for up to 6 months (while this recipe can be water-bath canned, it's not usually worth the hassle for such a small batch).
This is a very small batch recipe, but it can be doubled or even tripled if you have a lot of berries. I don't recommend any larger batches than 3x though, as too-big batches of traditional-style jams take so long to cook that the flavor can be negatively affected as a result.
This recipe is safe for water-bath canning as long as the chocolate has no milk or milk-based ingredients—so dark chocolate only. If your chocolate has milk in it (or you use milk or white chocolate), then your jam needs to be refrigerated or frozen.
All images and text ©
for Love & Olive Oil.
***
Free Printable Labels
My original labels used a brown and pink argyle ribbon left over from our pet collar days (we used to have a business selling homemade dog and cat collars and thus had a ton of cute ribbons on hand).
When I re-photographed the recipe this year, the ribbon was long gone, so I made a digital ribbon instead that can be printed out with the round labels. The ribbon piece can be applied around the side of the jar or even over the top of the lid.
The label file includes two sizes, one smaller with 1.5″ circles to fit the 4oz hex jars I used, and one larger 2″ one designed to fit standard size mason jar lids, as well as two sizes of patterned bands for different sized jars.
To use, simply download the file and print onto white label paper, cut out the shapes, and apply directly to the (canned and cooled) jars. You can also print onto cardstock and punch out holes to use as hang tags.
Download this FREE Printable!
Enter your email address below to instantly download these FREE printable labels!