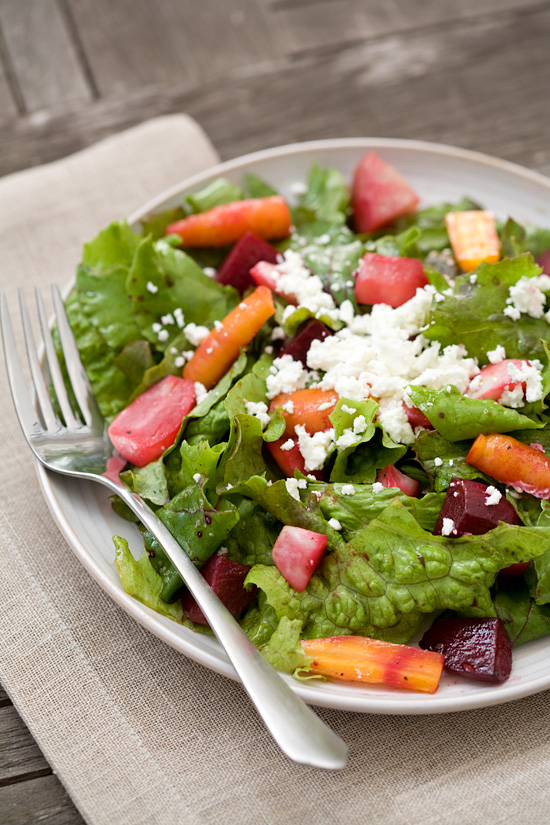 CSA season has started again.
You know what that means.
Salads. Lots and lots of salads.
It's quite a welcome change, actually, considering the less-than-healthy fare we've been eating non-stop for the last few months. All in the name of recipe development!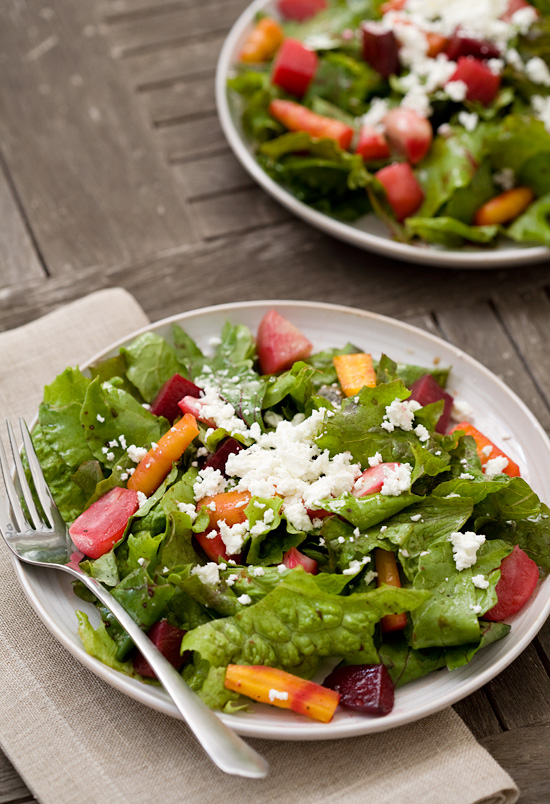 By far one of our favorite salads is this one: full of hearty and sweet roasted root vegetables. With goat cheese (of course). It's filling enough to count for dinner (or would be great as a side alongside a more substantial meat). The roasting brings out the natural sweetness of the beets and carrots, and makes less-desirable roots like radishes and turnips surprisingly edible. Plus I love the way that the beets stain every thing they touch a vibrant magenta. It's like a sunset in a tin-foil packet.
Roasted Root Vegetable Salad with Goat Cheese
Ingredients:
3 medium beets
2 small turnips
4 small radishes
4 medium carrots
2 1/2 tablespoons olive oil, divided
salt and pepper, to taste
lettuce
1/2 tablespoon balsamic vinegar
goat cheese
Directions:
Preheat oven to 400ºF.
Peel and cut beets into 1-inch pieces. Chop remaining root veggies into similarly sized pieces and place in a large bowl. Drizzle with 1 tablespoon olive oil and salt and pepper to taste; toss to coat. Dump veggies onto a large piece of aluminum foil and fold up edges to form a packet. Place packet on cookie sheet and bake for 25 to 30 minutes or until veggies are tender.
Toss lettuce with remaining 1 1/2 tablespoons olive oil and balsamic vinegar, plus more salt and pepper to taste. Divide among serving bowls. Top with roasted veggies and crumbled goat cheese.
Did you make this recipe?
Let us know what you think!
Leave a Comment below or share a photo and tag me on Instagram with the hashtag #loveandoliveoil.