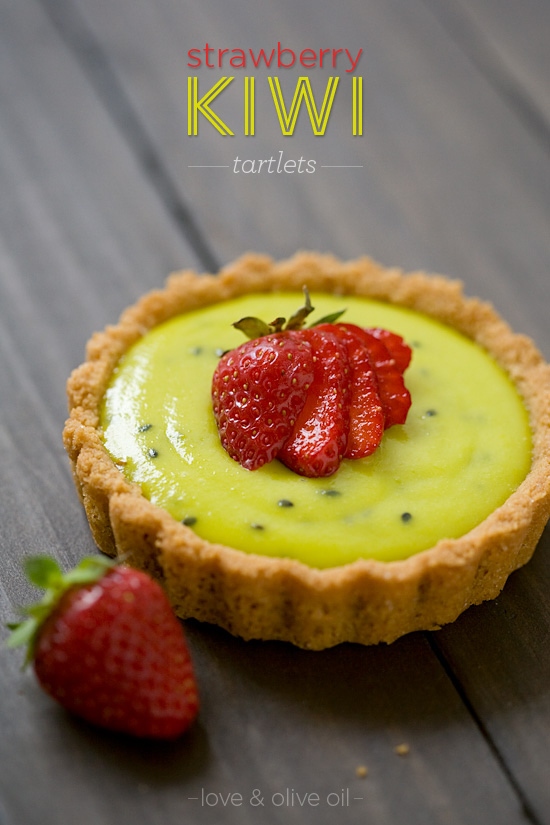 Some things belong together.
Bacon and eggs.
Peas and carrots.
Peanut butter and jelly honey.
Strawberry and kiwi.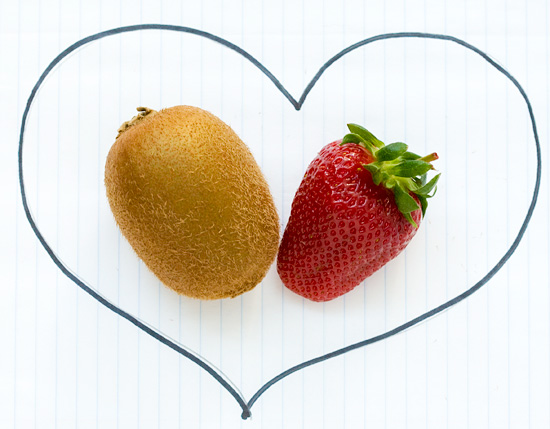 You know it's true.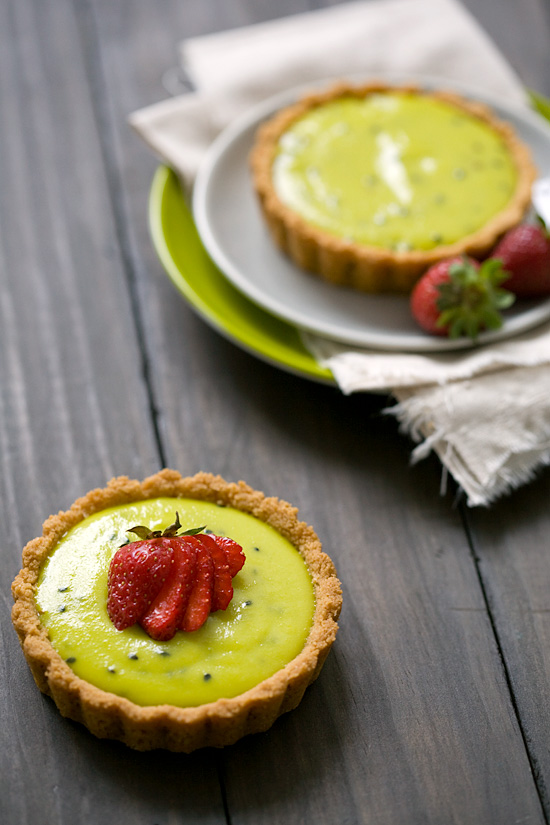 As a recent curd-convert I started to wonder if I could throw in other fruits. I've seen mango curd, passion fruit, other citrus. But I'll admit I've never seen a kiwi curd.
It always makes me nervous when a google search for a recipe idea yields practically nothing. I wonder, is the fact that no one has done this before mean it's just not doable?
And after my first failed attempt at kiwi curd, I was beginning to think that was the case. There was talk of phantom enzymes in kiwis that resulted in odd flavors or soupy textures (and apparently, an enzyme does exist in both pineapple and kiwi that will not set in gelatin—in case you were wondering why there has never been a kiwi jello).
That first batch, in addition to being a soupy mess, also tasted like the inside of a tin can, despite the fact that it did not touch a spec of metal (I cooked it in a glass bowl with a silicone whisk). I think I've pinpointed the culprit as a particular type of lemon, as we had a batch of hollandaise come out tasting equally metallic.
My second batch, luckily, was more fortunate. Increasing the proportions of egg to kiwi helped the curd thicken beautifully, and switching to the sweeter Meyer lemon eliminated any residual metallic taste.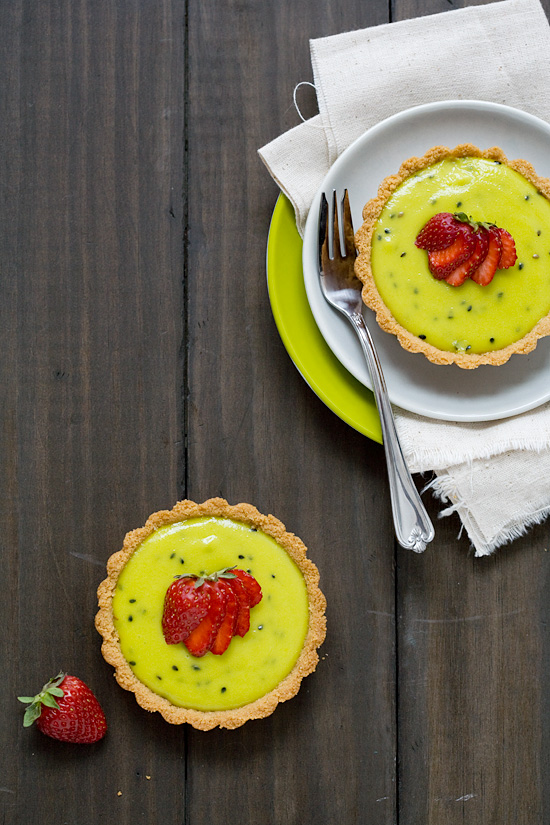 I'll admit – the curd does not taste much like kiwi. It wouldn't have even been that green if I didn't add one drop of green food coloring to it (call me a cheater if you will, but I wanted lime green curd, gosh darnit!)
However, strong kiwi flavor or not, when poured inside a tangy lemon shortbread crust and topped with slices of perfectly ripe strawberry, it makes for a tart and refreshing—and visually stunning—dessert. Fruit and lemon lovers rejoice—this is the dessert for you.
Me? I'll stick to chocolate for now.
Strawberry Kiwi Tartlets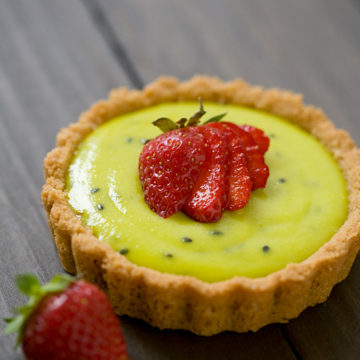 Ingredients:
For Crust:
7 ounces lemon shortbread cookies or vanilla cookies
6 tablespoons unsalted butter, melted
2 tablespoons sugar
For Kiwi Curd:
3/4 cup kiwi puree (from 3-4 kiwis)
1/2 cup sugar
1 1/2 tablespoons meyer lemon juice
3 eggs
3 egg yolks
6 tablespoons unsalted butter, cut into cubes
green food coloring, optional
strawberries, for garnish
Directions:
Preheat oven to 375ºF.
In a food processor, pulse cookies until very finely ground. You should have about 1 1/2 cups of crumbs. Add melted butter and sugar and pulse until evenly moistened. Press crumb mixture into six small (3 3/4-inch) tartlet pans or one 9-inch tart pan. Bake for 4 to 5 minutes or until lightly golden. If crust has puffed, carefully press bottom back into place using a spoon or flat-bottomed glass. Cool completely.
For kiwi curd, strain kiwi puree through a fine mesh sieve. Reserve seeds and set aside. Combine puree with sugar and lemon juice in a medium heavy-bottomed saucepan. Beat eggs together with egg yolks, then add to kiwi mixture. Add butter and stir over medium-low heat until butter is melted and curd thickens, about 10 to 15 minutes. Do not let it boil. Add one drop of green food coloring, if desired for a more vibrant color. Press curd through a fine mesh sieve to remove any lumps or cooked egg bits. If desired, add kiwi seeds back to curd, stirring until evenly distributed.
Divided curd among prepared crusts; refrigerate until set, at least 1 to 2 hours. Top with strawberry slices.
Did you make this recipe?
Let us know what you think!
Leave a Comment below or share a photo and tag me on Instagram with the hashtag #loveandoliveoil.