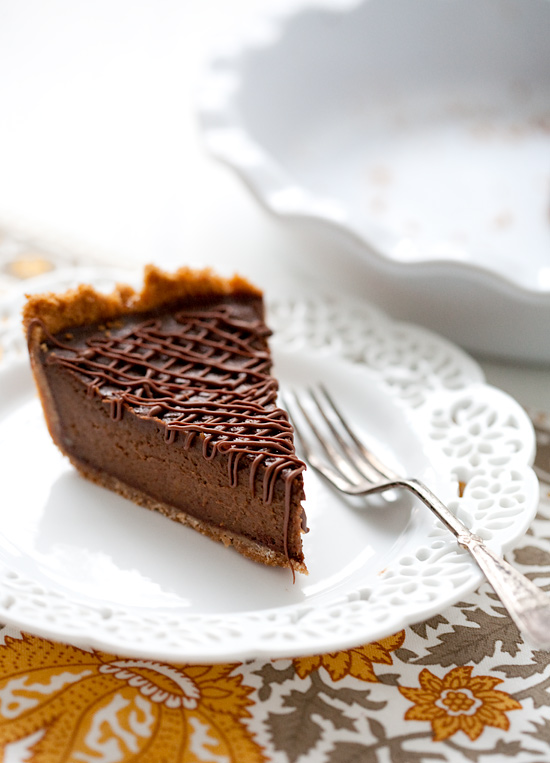 How does one wrap up Thanksgiving? In true Lindsay-fashion, I figured I'd start with dessert first.
I found this recipe months ago. And despite the fact that Taylor is a traditionalist and hates me messing with his beloved pumpkin pie, I couldn't not make it. I mean, triple-chocolate pumpkin pie? Hello.
Also in true-Lindsay fashion, the crust was a disaster (I have yet to have a Thanksgiving without a pie-crust disaster of one sort or another). This recipe uses a graham cracker crust, for gosh sakes, and I still made a mess off it. A slip of the hand and a whack of the pan and my beautiful crust was left in shambles. With no one to impress (it was just Taylor and I this year), I shrugged it off and MacGyver'd the crumbs back in place with a little melted chocolate. It wasn't pretty, but it sure was delicious. I'm starting to get used to homely, misshapen, and truly beastly looking pie crusts. As long as they keep tasting good, I'm willing to forgive them.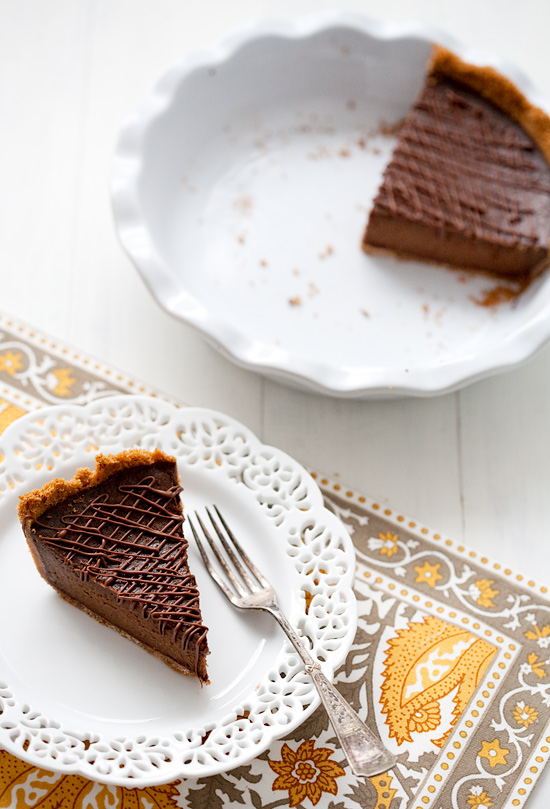 I think chocolate and pumpkin are an under-appreciated combination that we should utilize more often. Seriously. They play off each other with a richness and depth that is both surprising and comforting. It's a delightful way to start, er, end your Thanksgiving feast.
Do note that if you only have a standard 9-inch pie pan instead of the 9 1/2-inch deep pan called for in this recipe, you will have enough batter leftover for a mini pie. I have a little 6 1/2-inch pie dish and the leftover crust and filling was just enough to fill it.
Triple-Chocolate Pumpkin Pie
Ingredients:
Crust:
2 cups finely ground graham cracker crumbs (about 16 crackers)
3 ounces (6 tablespoons) unsalted butter, melted
1 tablespoon granulated sugar
2 tablespoons packed light-brown sugar
1/2 teaspoon coarse salt
1/2 teaspoon ground cinnamon
3 ounces bittersweet chocolate (preferably 61 percent cacao), finely chopped
Filling:
6 ounces semisweet chocolate (preferably 55 percent cacao), chopped
2 ounces (4 tablespoons) unsalted butter, cut into small pieces
1 can (15 ounces) solid-pack pumpkin
1 can (12 ounces) evaporated milk
3/4 cup packed light-brown sugar
3 large eggs
1 tablespoon cornstarch
1 teaspoon pure vanilla extract
1 1/2 teaspoons coarse salt
3/4 teaspoon ground cinnamon
3/4 teaspoon ground ginger
1/4 teaspoon ground nutmeg
1/8 teaspoon ground cloves
Topping:
1 ounce milk chocolate, melted
whipped cream, optional
Directions:
Make the crust: Preheat oven to 350 degrees. Combine graham cracker crumbs, butter, sugars, salt, and cinnamon in bowl. Firmly press mixture into bottom and up sides of a deep, 9 1/2-inch pie dish. Bake until firm, 8 to 10 minutes.
Remove from oven, and sprinkle bittersweet chocolate over bottom of crust. Return to oven to melt chocolate, about 1 minute. Spread chocolate in a thin layer on bottom and up sides. Let cool on a wire rack. Reduce oven temperature to 325 degrees.
Make the filling: In a large heatproof bowl set over a pot of simmering water, melt semisweet chocolate and butter, stirring until smooth. Remove from heat.
Mix pumpkin, milk, brown sugar, eggs, cornstarch, vanilla, salt, cinnamon, ginger, nutmeg, and a pinch of cloves in a medium bowl. Whisk 1/3 pumpkin mixture into chocolate mixture. Whisk in remaining pumpkin mixture until completely incorporated.
Transfer pie dish to a rimmed baking sheet, and pour pumpkin mixture into crust. Bake until center is set but still a bit wobbly, 55 to 60 minutes. Let cool in pie dish on a wire rack. Refrigerate until well chilled, at least 8 hours (preferably overnight). Before serving, drizzle melted milk chocolate on top. Serve immediately.
Did you make this recipe?
Let us know what you think!
Leave a Comment below or share a photo and tag me on Instagram with the hashtag #loveandoliveoil.