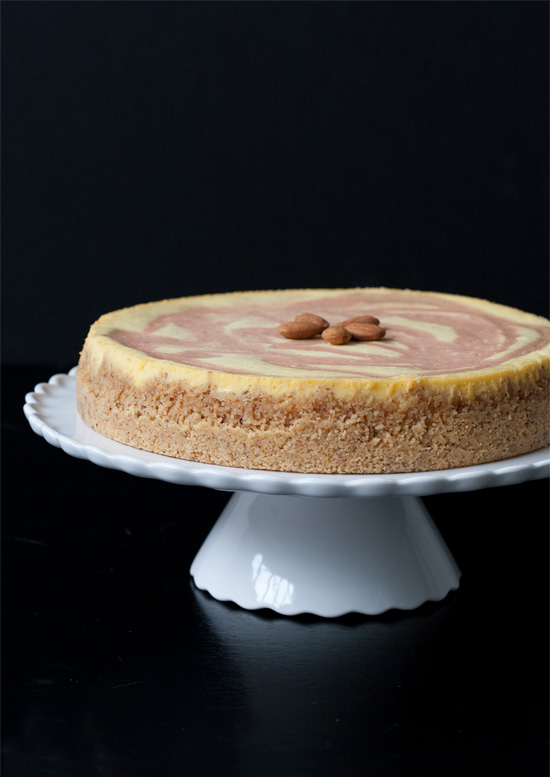 Goat cheese cheesecake. I mean, why not, really? Cream cheese and goat cheese aren't all that different. I think, when I first envisioned a goat cheesecake I really intended something like this, not the savory tastes-like-a-cheese-dip version I actually made. Lesson learned. Because this version is as tangy and sweet as it is rustic and beautiful.
I was originally going to do a strawberry basil flavor combination (yes, yes, months later I've still got basil on the brain), but after tasting the heavenly almond biscotti (from Trader Joe's) that I chose to use for the crust, I decided that the basil flavor would be lost in the midst. And that strawberry almond was equally as enticing.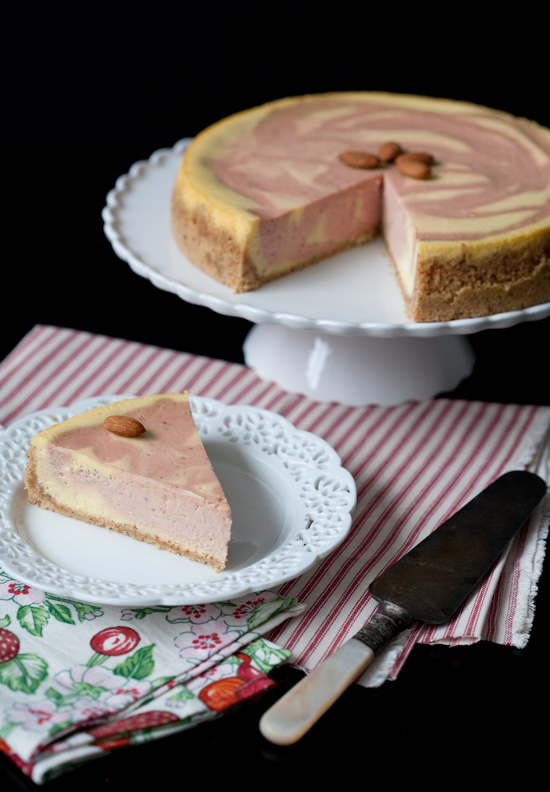 The filling itself is a swirl of plain almond and strawberry. Just a word of warning that baked strawberry does not stay delightfully pink, rather, turns more of an off shade of mauve. If you want pink (and next time, I think the pink would be much prettier), add a few drops of red food coloring to the strawberry batter.
The strawberry flavor, however, comes through loud and clear, tasting like a grown up strawberry milkshake with hints of almond and a slight tang from the goat cheese; however goat cheese skeptics just know that it is very mild and I doubt anyone would guess there was goat cheese in it if they didn't know. Try it. I think you'll like it and it might just convert you to the light side.
Strawberry Almond Goat Cheese Cheesecake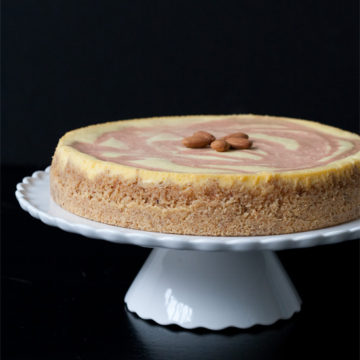 Ingredients:
For Crust:
2 cups finely ground almond biscotti (from about 8 ounces whole cookies), or substitute 1 3/4 cup vanilla wafer crumbs and 1/4 cup almond meal
1/3 cup unsalted butter, melted
For Filling:
12 ounces cream cheese, room temperature
11 ounces (1 log) goat cheese, room temperature
1 cup granulated sugar
1/3 cup sour cream
3 tablespoons all-purpose flour
pinch salt
4 eggs
1 teaspoon vanilla extract
1/2 teaspoon almond extract
10 ounces whole fresh or frozen strawberries, thawed and drained if frozen
Directions:
Preheat oven to 300 degrees F.
To prepare crust, mix together cookie crumbs and melted butter in a small bowl until evenly moistened. Butter and line the bottom of a 9-by-2-inch deep cake pan with parchment paper; butter parchment (alternatively, you can use a 9-inch-round springform pan if you like). Press crumb mixture into the bottom and 1-inch up the sides of prepared pan and set aside.
To prepare filling, combine cream cheese, goat cheese, sugar, and sour cream, flour, and salt in the bowl of a food processor. Pulse until completely smooth and creamy. Add eggs, one at a time, pulsing once or twice after each addition until just incorporated. Scrape down the sides of the bowl to make sure there are no large chunks and that all ingredients are incorporated. Stir in vanilla and almond extract.
Pour half of the filling into prepared crust.
Purée strawberries until smooth. Add to remaining filling in food processor and pulse to combine. Pour on top of plain filling in a decorative swirly pattern. Use a butter knife or skewer to create additional swirls in the top of the cheesecake.
Bake for 55 to 65 minutes or until the top is just barely jiggly. Remove from oven and run a thin knife or spatula around the edge to release the cake from the sides of the pan. Turn off the heat and return cake to the oven for another 15 minutes to finish baking. Remove from oven and place on a wire rack; let cool completely to room temperature, then cover with plastic wrap and refrigerate overnight.
Did you make this recipe?
Let us know what you think!
Leave a Comment below or share a photo and tag me on Instagram with the hashtag #loveandoliveoil.