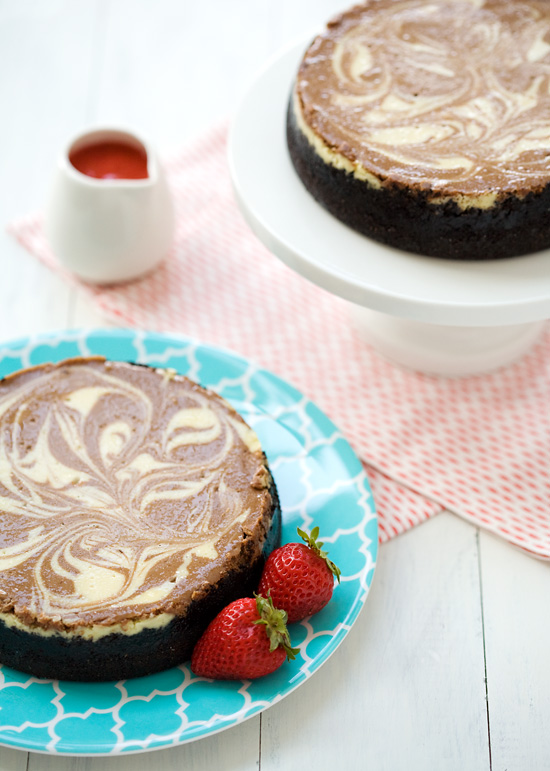 I'm in love with the Loveless Cafe. You might assume that this lust would be for their fried chicken or their world-famous biscuits, in which case I'd assume that you forgot to try their desserts. And by forgot I mean you probably stuffed yourself so full of chicken and biscuits that you can't even begin to think about pie.
And for that I say, "How DARE you."
Put down that third helping of chicken and that 7th biscuit (which, by the way, are incredible and totally deserving of a lifetime of devotion on their own). But whatever you do, no matter how many biscuits you choose to eat, you must, and I mean MUST, save room for dessert.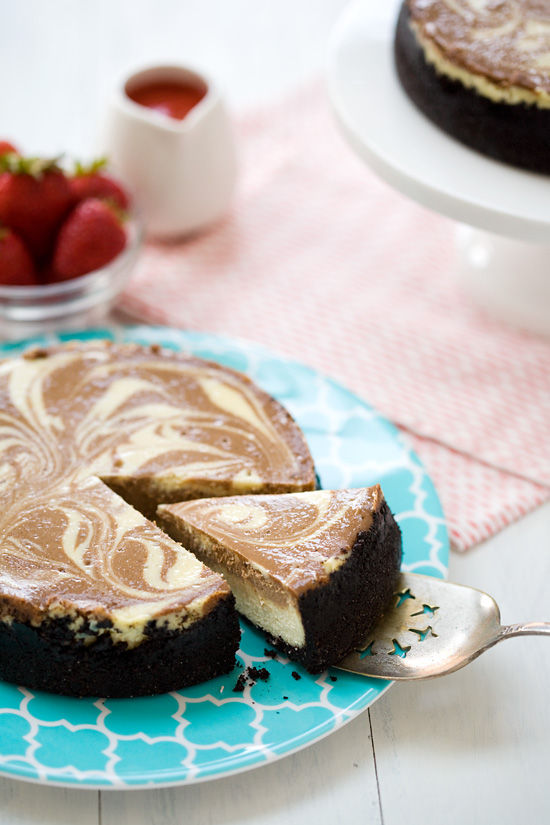 For those of you who have not or cannot experience the Loveless Cafe in person, you're in luck. No, they're not giving up their secret for flaky biscuits. But with the release of the new book, Desserts from the Famous Loveless Cafe, you can at least make some of their famous down-home desserts in your own home.
I'm no stranger to pastry chef Alisa Huntsman's work. Because she also wrote one of my all-time favorite cake cookbooks, Sky High: Irresistible Triple-Layer Cakes. I didn't realize she was local at first, only after I had left a trail of cake batter and drool over the pages of her book did I discover she lived here. In my city. And that made me more excited than the hoards of famous actors and musicians that also call Nashville home.
Alisa has been the pastry chef at the Loveless for 7 years. When she was first hired, Loveless didn't serve dessert. Oh, the horror! But Alisa was dead set on changing that. Tucked away in her little pastry "closet" (as she calls it), and surrounded by ingredients, she couldn't help but create new things. So while originally she was only asked to make a few classics (like coconut cream pie), she couldn't help but add a few more sweet treats to the menu. And now? Well, let's just say her desserts are as famous as the cafe itself.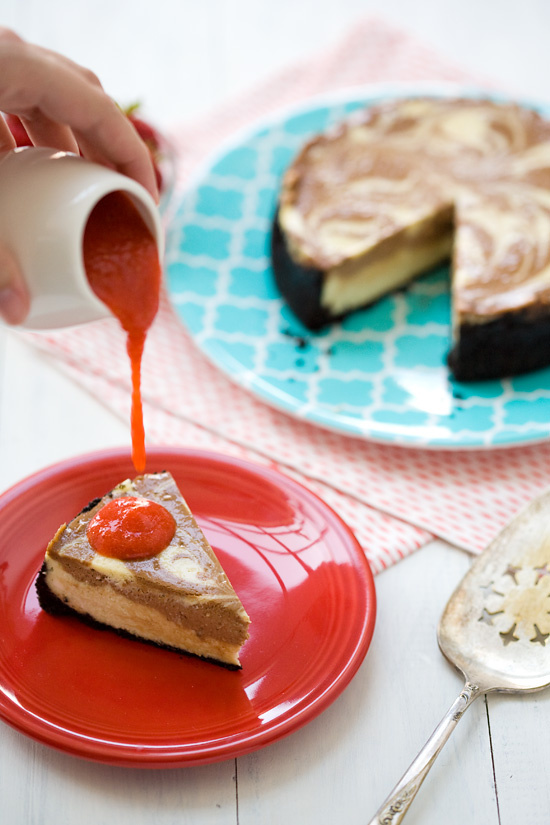 I had a hard time choosing just what I was going to make first. Until I saw this recipe. Banana split cheesecake. I swooned, quickly recovered, and almost immediately set about making this fantasy a reality.
The result is what just might be the most beautiful cheesecake I've ever made. The banana flavor is subtle, the texture light and creamy. The gorgeous chocolate swirls are smothered in a fresh strawberry sauce that brings the whole thing together. And perfect, like I said, with not a crack in sight. Alisa offers up a few tricks for perfect cheesecakes, including to scrap the springform pan and water bath in favor of a heavy duty aluminum cake pan. Scary. But it works.
I took the full recipe and split it into two smaller cheesecakes. Perfect for two people. The second cheesecake is currently stashed away in the freezer, where I'm sure it won't be for long. In fact, I may go get it out right now… it'd be thawed in time for dinner, um, I mean dessert… tonight. Sounds like a plan, Stan.
Banana Split Cheesecake with Strawberry Sauce
Ingredients:
1 1/2 cups cookie crumbs (chocolate wafers, graham crackers, nilla wafers, etc.)
2/3 cup plus 6 tablespoons sugar
5 tablespoons unsalted butter, melted
1 pound cream cheese (not low-fat or whipped)
1/2 cup mashed ripe banana (1 to 2 bananas)
1/4 cup sour cream
2 tablespoons unbleached all-purpose flour
4 eggs
1 ounce unsweetened chocolate, melted
2 cups fresh strawberries
whipped cream and chopped walnuts for garnish (optional)
Directions:
Preheat oven to 300ºF. Grease an 8-inch round heavy aluminum pan, or two 6-inch round cake pans. Line bottoms with parchment paper if desired; butter parchment.
In a small bowl, combine the cookie crumbs and 3 tablespoons of the sugar. Stir to mix well. Pour in the melted butter and stir until evenly moistened. Dump crumb mixture into the prepared pan and press to cover the bottom and three-quarters of the way up the sides.
To make the filling, place the cream cheese, 2/3 cup sugar, banana, sour cream, and flour in a food processor; pulse to form a smooth paste. With the machine on, add the eggs, one at a time; scrape down the sides of the bowl and pulse briefly to ensure all ingredients are incorporated.
Measure out 1 1/4 cups of the filling and set aside. Pour the remaining filling into crust. Return 1 cup of reserved filling to the food processor. Add melted chocolate and pulse to combine, scraping the sides of the bowl to make sure the batter is evenly mixed. Drizzle the chocolate filling in an abstract ribbon pattern over the top of the plain filling in the pan. Drizzle the remaining 1/4 cup banana filling over the chocolate and use a blunt knife or bamboo skewer to swirl them into a marbled pattern; do not overmix.
Bake in the center of the oven for 45 minutes. Remove the cake from the oven when center is still just slightly jiggly. Run a knife all the way around the edges to release the cake and crust. Return the cheesecake to the oven, turn off the heat, and let stand without opening the door for 15 minutes. Remove from oven and let stand in the pan on a rack until cooled to room temperature. Cover and refrigerate for at least 3 hours, or overnight if possible, to allow it to set completely.
To remove the cake from the pan, wrap a flat plate or tray with plastic wrap and spray it lightly with nonstick cooking spray. Hold the bottom of the cake pan over ow heat until it is slightly warm but not hot. Gently shake the pan from side to side to release cheesecake. Place the greased plate over the top of the cake and quickly invert it. The cake should slide right out of the pan. Place your serving plate on the bottom of the cake and invert it again right side up.
To make the strawberry sauce, place the strawberries and remaining 3 tablespoons sugar in a blender or food processor and puree until smooth.
To cut, use a large chef's knife dipped it hot water and wiped clean between the cuts. Serve with a drizzle of strawberry sauce and a garnish of whipped cream and chopped walnuts, if desired.
Did you make this recipe?
Let us know what you think!
Leave a Comment below or share a photo and tag me on Instagram with the hashtag #loveandoliveoil.