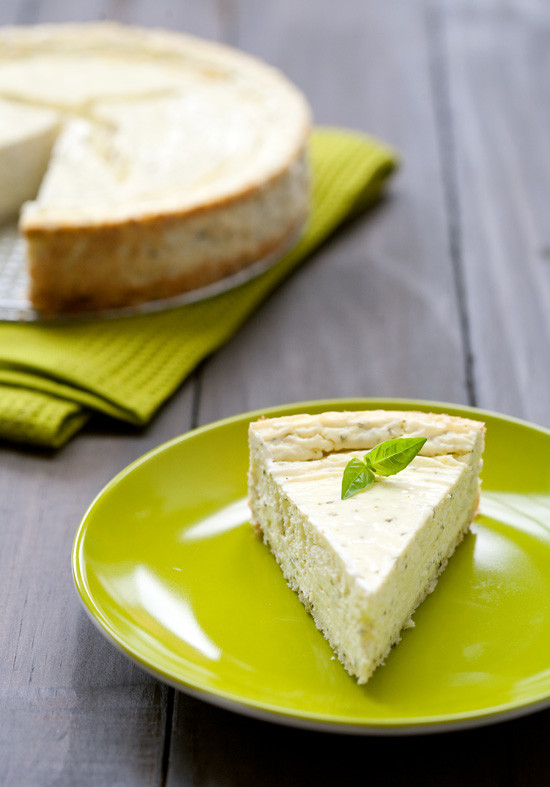 And Basil Week continues with this savory goat cheese cheesecake. That's right, I said savory.
Now before you go saying, "Holy crap what has gotten into Lindsay?" let me say I acknowledge that this is completely out of character for me. But whatever the reason, I felt the urge to make a savory cheesecake.
I should have known better. I knew it was a savory cheesecake and there was no sugar involved, and yet, regardless, I think I was expecting many of the same characteristics that make a sweet cheesecake so enjoyable.
And to be honest? I was disappointed.
Maybe calling it a cheesecake is misleading. Maybe I should have been calling it a baked basil cheese spread. Because that's really what it is. Despite the pretty little slice in the photo, you really can't sit down with a slice of it and expect to eat it like a normal cheesecake. You might just gag. But if you spread it onto some good crusty bread or crackers, treat it like a soft cheese, then it becomes an enjoyable appetizer. (At the same time, Taylor observed it'd be just as good if you mixed some soft cheeses together with some herbs and called it a day. Which would be a heck of a lot easier.)
I'll stop trying to fool myself now and acknowledge that I'm just a sweet kind of gal, through and through. And any efforts to turn sweet into savory just won't cut it in my book. I'm saying here and now there will NOT be any savory ice creams or cupcakes posted here in the near future. You can hold me to that. (Any such concoctions created on April 1, however, are exempt from the aforementioned clause for obvious reasons.)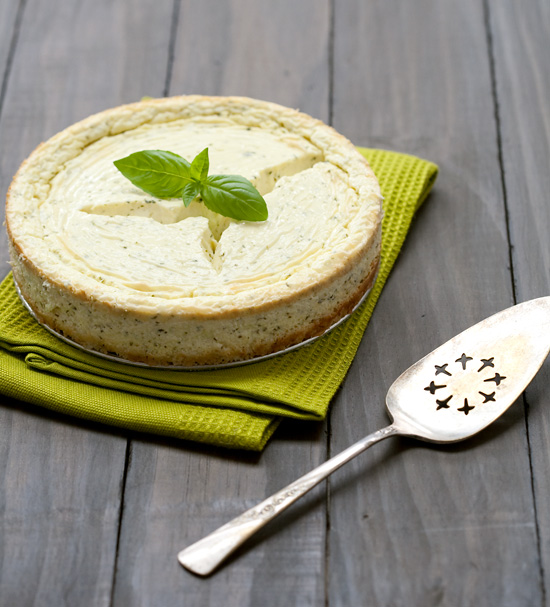 Although I do admit that the idea of a goat cheese cheesecake is still intriguing to me, it just needs to involve sugar. A sweet goat cheese cheesecake just might be the best thing ever. Heck, even a sweet basil goat cheese cheesecake would be delicious. Same concept, just sweet. As it should be.
Savory Basil and Goat Cheese Cheesecake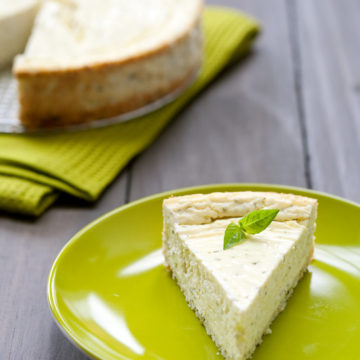 Ingredients:
For Crust:
1/3 cup Parmesan cheese, grated
1/3 cup panko breadcrumbs
1 tablespoon butter, melted
pinch salt
For Filling:
8 ounces (1 cup) cream cheese, softened
4 ounces (1/4 cup) soft goat cheese
1/4 cup (4 ounces) sour cream
2 eggs
1/2 cup fresh basil, packed
1 tablespoon olive oil
1/2 teaspoon salt salt
pinch salt
Directions:
Preheat oven to 350ºF.
To prepare crust, stir together cheese, bread crumbs, and salt. With a fork, mix in melted butter until incorporated. Press into the bottom of a 7-inch springform pan. Set aside.
Blanche the basil in boiling water for 15 seconds or until leaves are bright green. Transfer to an ice water bath to halt the cooking. Drain and place in a food processor. Pulse together with olive oil and salt until smooth.
For filling, in a mixing bowl, beat together cream cheese and goat cheese until smooth and fluffy, 2 to 3 minutes. Add in eggs, one at a time, mixing well after each addition. Add sour cream and basil mixture and mix until just incorporated.
Pour filling mixture into crust. Bake for 40 to 50 minutes or until center is set but still barely jiggly. Remove to a wire rack and cool to room temperature, about 1 hour. Refrigerate overnight. Release springform sides prior to serving. Leftovers can be stored, covered or wrapped in aluminum foil, in the refrigerator for up to 3 days.
Did you make this recipe?
Let us know what you think!
Leave a Comment below or share a photo and tag me on Instagram with the hashtag #loveandoliveoil.