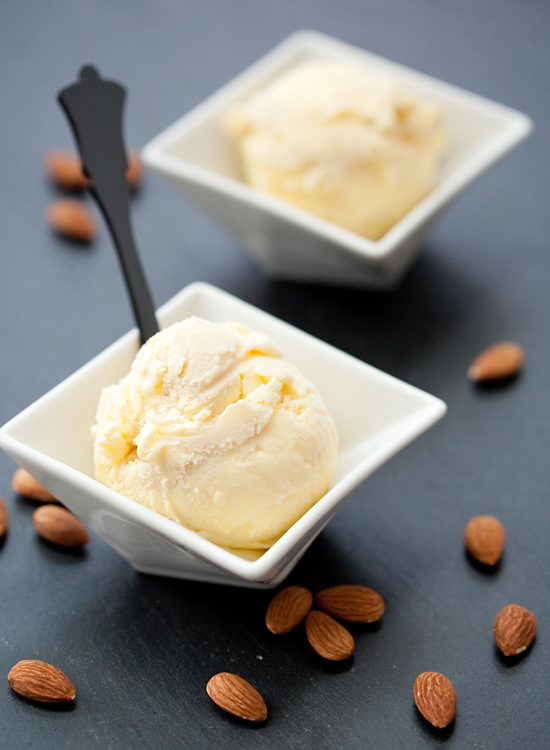 This recipe is one I've been thinking about for quite some time.
I'm something of a marzipan freak. I'd eat it three meals a day if I could. Something about the flavor, the sweet scent of bitter almond, it's intoxicating.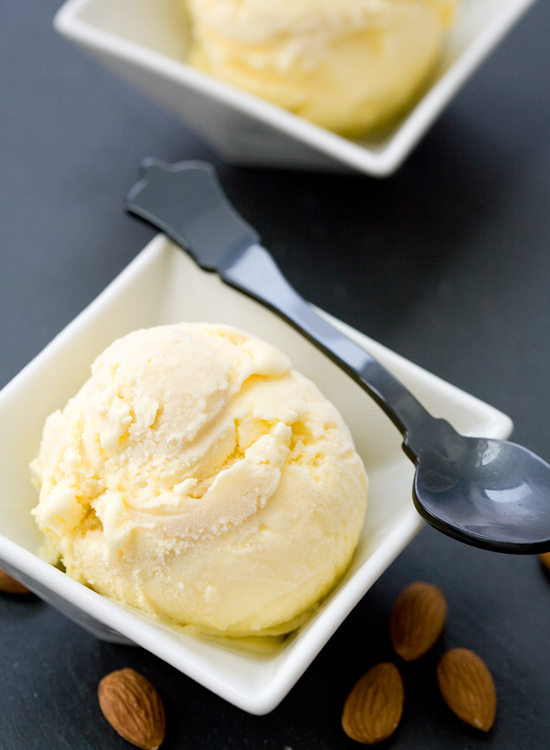 There really aren't enough almond ice creams in the world. And by almond I'm not talking about bits of nuts in a bland base. I'm talking about the essence of almond, about intensely marzipan flavored ice cream. There was a Ben & Jerry's flavor floating around at one point called Mission to Marzipan. I had it once, and have never seen it again. I fear it has gone the way of Cannoli and Egg Nog (yes, B&J's has a flavor graveyard of their 'dearly departed' flavors).
Needless to say I'm not going to wait around for the flavor to be resurrected.
Nope. I'm going to satisfy my marzipan madness on my own terms.
This ice cream is surprisingly simple: a rich, almond-flavored custard base, swirled with a soft ribbon of marzipan (or almond paste, to be precise). It may not look extraordinary, but believe me, it is.
The only thing that could possibly make this better would be a textural crunch of candied almond praline; but we'll save that for another day.
Marzipan Swirl Ice Cream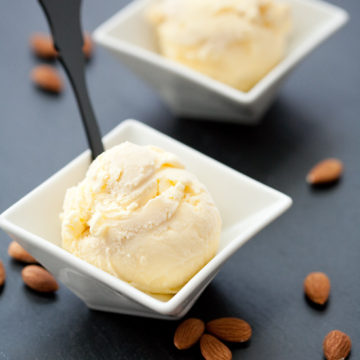 Ingredients:
2 cups heavy cream
1 cup whole milk
2/3 cup granulated sugar
pinch salt
4 large egg yolks
1 teaspoon almond extract
6 ounces almond paste, broken into chunks
1/2 cup heavy cream
Directions:
Pour 1 cup of cream into a medium size metal bowl, set on ice over a larger bowl. Set a mesh strainer on top of the bowls. Set aside.
Warm the milk, sugar, remaining 1 cup of the cream, and salt in a saucepan over medium heat until it just starts to steam.
In a separate medium bowl, whisk together the egg yolks. Slowly spoon 1/3 of the warm milk mixture into the egg yolks, a small scoop at a time, whisking constantly so that the egg yolks are tempered by the warm milk, but not cooked by it. Scrape the warmed egg yolks back into the saucepan and whisk to incorporate with the rest of the milk mixture.
Stir over medium heat with a heatproof spatula, scraping the bottom as you stir, until the mixture thickens slightly and coats the spatula, about 5-7 minutes, or until mixture measures 170ºF. Pour the custard through the strainer, discarding any solids. Stir in almond extract. When mixture is cool, cover and chill thoroughly in the refrigerator (at least 3-4 hours, overnight is better).
To prepare marzipan swirl, combine almond paste and heavy cream in a small saucepan. Cook over low heat, stirring until paste has melted and combined with the cream in a smooth mixture. Remove from heat and allow to cool to room temperature.
Freeze chilled custard in your ice cream maker according to the manufacturer's instructions until it is the consistency of soft serve. Quickly transfer to a freezer-safe container, alternating dollops of ice cream with generous drizzles of almond paste mixture (by layering the two you'll acheive a nice swirled effect without accidentally stirring one completely into the other). Cover with a layer of plastic wrap or parchment paper touching the surface of the ice cream. Freeze until completely firm.
Did you make this recipe?
Let us know what you think!
Leave a Comment below or share a photo and tag me on Instagram with the hashtag #loveandoliveoil.