Remember all those peanut butter pies we made? It was a beautiful outpouring of support for a fellow food blogger.
But it's not enough.
The pies might have proven a point, shown support for a virtual friend in a very powerful way, and no one can argue with that. But now it's time to turn that support into something concrete. Something that can make Jennie's transition into her "new normal" a little less painful than it already is.
Enter #AFundForJennie. It's one of the very first projects from the new organization Bloggers Without Borders. In just two days BWOB has raised over $14,000 for Jennie and her girls, and I'm sure that number will continue to grow.
I strongly encourage you make a donation. $5, $10, $1000… whatever you feel comfortable with. Each and every dollar makes as much of a difference as the next.
If you weren't aware, when I'm not blogging or baking (or cleaning up as a result of that baking) I'm a designer. Together Taylor and I run a small web/graphic design studio. We design mainly websites and blogs, though we do our fair share of print and identity design as well. Granted our portfolio may be hopelessly out of date (one of the caveats of being so damn busy is your own site falls by the wayside) but I've designed my fair share of food blogs over the past few years. Food blogs are always some of my favorite projects. I love each and every one of them. The sites AND the clients. :)
Now it's your chance to get a custom design of your own.
I'm donating one custom wordpress blog design on behalf of #AFundForJennie. All proceeds from this auction will be donated to Bloggers Without Borders for this cause. If you win, I'll work closely with you to create the blog of your dreams. Doesn't have to be a food blog, I can do other subjects as well. But if you've been thinking about giving your blog a little (or a big!) makeover, this would be the perfect opportunity to act on that urge.
Another bonus? You get to cut in line. If you emailed us tomorrow about getting your blog designed, you'd probably groan when we told you we couldn't get started until December. The winner of this auction gets (almost) instant gratification. We'll start working on your masterpiece right away. (And for my current clients, have no fear. This is a nights/weekends kind of deal. I won't be stealing time away from YOUR project to work on this one).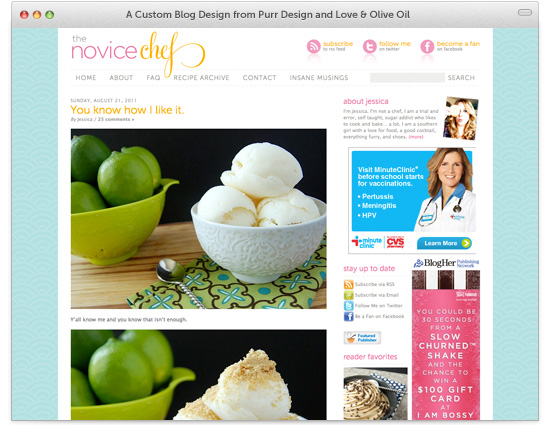 Interested? Bidding starts at $300. Leave a comment below with your bid (you are welcome to comment anonymously, just be sure you leave your actual email address—which will not be publicly visible—so I can contact you should you win the auction). Bidding will end on Friday, August 26th at 12:00pm NOON Central time. Also feel free to comment should you have any questions about this auction. Good luck!
Fine Print Shmine Print:
– This auction is for one custom wordpress blog design, valued at approximately $750.
– Your blog will include all the fancy schmancy recipe features that I have on my own blog, including image archives and printable recipes. Exact featureset is not set in stone. I am very willing to go above and beyond for the winner of this auction, but within reason (if you're looking to build the next TasteSpotting, this probably isn't the place to do it). For sample functionality of what you can expect, please refer to the example sites listed above.
– This auction is for a blog design only, though you are welcome to purchase additional design services such as logo/business card design if you like.
– If you are currently on blogger/wordpress.com, no worries! I'll help you make the switch.
– Winner is responsible for acquiring suitable web hosting space and domain name.
– Timeline for completion is 2-3 months.