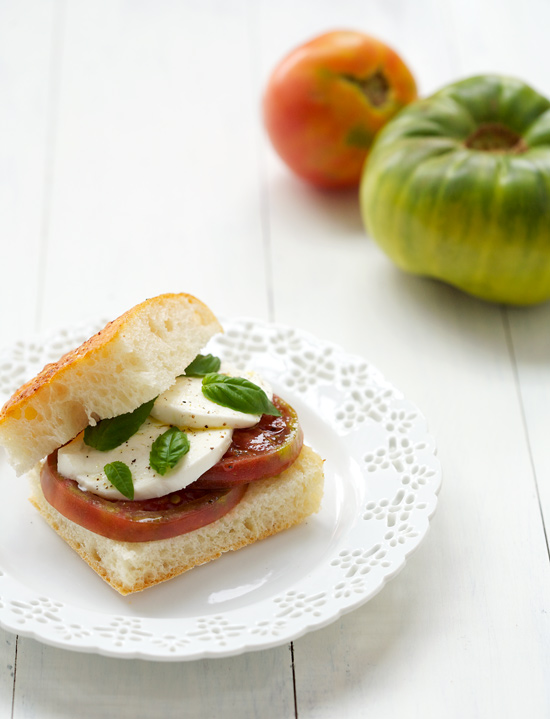 Tennessee tomato season is in full swing. And I've forced myself to take a breath. And enjoy it. Because I've been waiting for this moment all winter. For this sandwich. And nothing, not even a measly cookbook, is going to get in my way.
What is perfection if not a ripe Cherokee Purple? Or a gigantic Green Zebra? Or a Pink Brandywine? So sweet. So juicy. So satisfying.
You know you've got a good tomato when the juices dribble down your chin, and it's all you can do not to eat every last slice before it even makes it to the sandwich.
Heck, I'd give up sugar for an endless supply of ripe tomatoes.
Ok, maybe not, but the fact that I'd at least consider it is saying something.
And the perfect way to use this ripe perfection is sandwiched between tender, peppered foccacia bread, piled high with fresh mozzarella (how fresh? Handmade by Tom just this morning!), drizzled with good Italian olive oil, and sprinkled with bright basil leaves. It's almost poetic.
I love where we live. We're in a prime caprese-making location, when you consider that everything on this sandwich came from less than 5 blocks away. The best heirloom tomatoes from the farmers market; the fresh, homemade mozzarella from the pasta shop just down the street, the focaccia too. The basil from the balcony (the only live plant out there amidst a forest of weeds, alas, no time for gardening this summer). With that sort of convergence you'd think we chose to live here for precisely that reason. In reality, when we first moved here, I was, shockingly, a tomato hater. I know, I know. Here I am singing the praises of a humble fruit like it was made of gold, when, just four years ago, it may as well have been made of dirt for all I cared. The travesty. Little did I know what I was missing.
All the more reason to eat a tomato sandwich every day for the next month. I have to make up for lost time.
Heirloom Tomato Caprese Sandwiches
Ingredients:
1 large tomato
8 ounces fresh mozzarella cheese
1 loaf foccacia bread, sliced
salt and pepper
1 handful basil leaves
olive oil
Directions:
Slice tomato and mozzarella into even slices. Arrange on slices of focaccia. Season with salt and pepper to taste, then sprinkle with basil leaves and a drizzle of olive oil.
Did you make this recipe?
Let us know what you think!
Leave a Comment below or share a photo and tag me on Instagram with the hashtag #loveandoliveoil.