And we're back with another fabulous giveaway from Eat Boutique. You may remember the decadent Valentine's Gift box Maggie and the team at EB put together in February? Well their new spring box is even better, with notes of sweet honey and sassy citrus, spring herbs and velvety chocolate. It's food that hugs you back.
And just in time for Mothers' Day.
For the very-reasonable price of $65, you'll get a boxful of gourmet goodies like sea salt rosemary shortbread, chocolate bonbons, chocolate rochers, fresh blood orange jam, honey cake, honeycomb candy, and honey orange ricotta caramels. That's a lot of sweet packed into one box.
I'm not typically one to shill for products, but I am a huge fan of what Maggie is doing with these gift boxes; it really showcases the quality and crafstmanship that local artisans put in to their products. As a small business owner myself I appreciate the love and passion that goes into each box, from the gorgeous packaging to the handwritten note, and that is something I can really get behind.
We (obviously) love Eat Boutique. But Eat Boutique loves you too. For a limited time only, you can get $10 off the purchase of a spring gift box. Simply enter coupon code LAOO upon checkout at eatboutique.com/giftbox. Score. Note that this offer cannot be combined with any other coupons or offers, and is valid only through Mothers' Day (or until the gift boxes sell out). I'd act on that, like, now. If you're wanting delivery by Mothers' Day, Maggie recommends ordering by this Friday for UPS Ground shipments.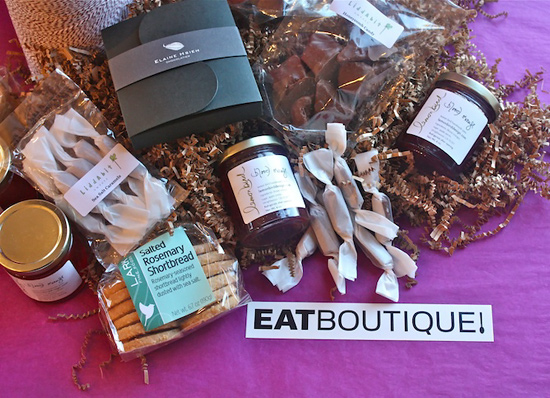 But enough banter, on to the giveaway! Maggie has once again generously donated one spring gift box to a lucky LAOO reader. It's easy to enter and your odds of winning are pretty darn good. You can keep the loot all for yourself, or have it shipped to someone special (like your mom). But if you choose to keep it, we totally won't judge.
***GIVEAWAY IS NOW CLOSED!***
To Enter:
Simply leave a comment on this post with the answer to this question:
What artisan treat from the spring Eat Boutique gift box would you most like to try?
Entries open through Thursday, April 21 at 11:59 CST. I'll be randomly selecting the winner the morning of Friday, April 22nd. Prize will be shipped to the winner directly from Eat Boutique (to either you, or the recipient of your choice). Due to the perishable nature of this product this giveaway is open to residents of the continental United States ONLY.
Want Extra Entries?
Increase your odds of winning! In addition to the main entry comment, leave a separate comment for each bonus entry.
1. Follow @loveandoliveoil on twitter and tweet the following:
I just entered to win a gourmet gift box from @eatboutique and @loveandoliveoil! Enter here: http://bit.ly/dN8lty
2. Like Love & Olive Oil on Facebook (or if you are already a fan just say so!)
Be sure you enter a valid email address, because if your name is drawn and I can't get a hold of you within 48 hours, I will choose an alternate winner. You may also want to add me to your address book (lindsay AT loveandoliveoil DOT com), as I'd hate for your congratulatory email to end up in the spam folder.