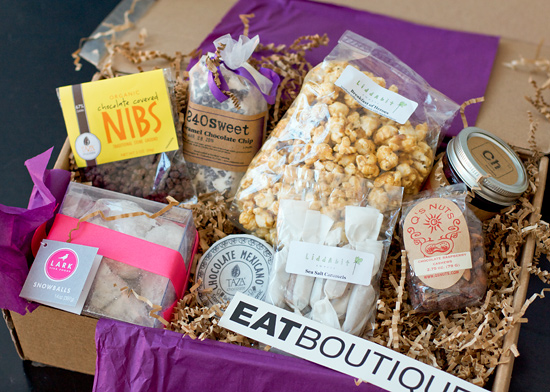 I'm all about boutique eats. You know, the little guys. The local companies producing amazing and delicious products. The beauty is that they are not name brands; they feel like your own little secret that you just want to share with the world (or hoard all for yourself, depending on the day). There is a spirit, a passion in the food that you just don't get with mass-produced products. As a small business owner myself I love supporting these companies. If that means using what little 'juice' I might have with this blog of mine, than so be it.
So when Maggie of EatBoutique got in touch with me about her new gourmet gift boxes, I just had to try.
And as soon as I tried, I knew I had to share.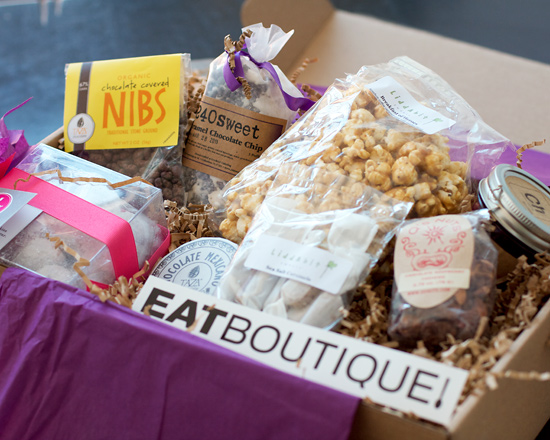 This particular box is touted as a Valentine's box. I know we all love our Valentine's treats, but a box like this trumps a dozen roses and a box of ho-hum chocolates any day. Filled with locally-produced goodies from New York and Massachusetts, it really is a foodie's wonderland. Bacon-coffee caramel popcorn, sea-salted caramels, chocolate raspberry cashews, melt-in-your-mouth snowball cookies, chocolate covered cocoa nibs, and a jar of deliciously sweet and spicy canned beets (that Taylor promptly claimed for himself). Oh, and Fluffy caramel chocolate chip marshmallow puffs; I may have died just a little when I tasted them.
While it is too late for Valentine's Day, this gift box is not holiday exclusive. It'd be a great gift for any foodie in your life (or for yourself, for that matter!) and at only $55 (plus shipping), it's a great value for the sheer amount of gourmet goodness that's packed inside. Not to mention a truly personal touch (each box comes with a hand-written message). Even better, EatBoutique has plans for more holiday-themed gift boxes (can you say, Mother's Day?), and boxes of year-round enjoyment. I can't wait to see what they come up with next.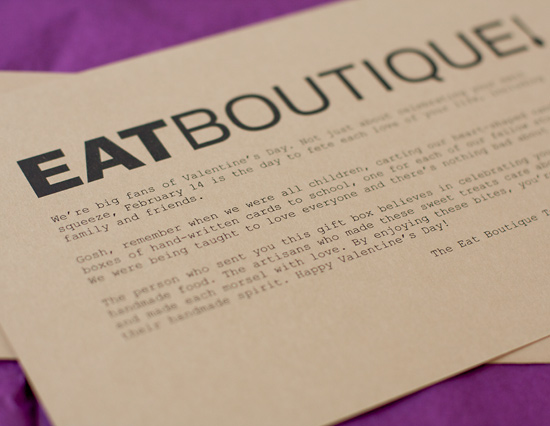 It's giveaway time, lovebirds! Maggie of EatBoutique has so kindly offered a second EatBoutique February gift box to one lucky Love & Olive Oil reader! It's completely up to you if you share it with your sweetie, or hoard it all for yourself (totally not judging you).
****GIVEAWAY IS NOW CLOSED****
To Enter:
Simply leave a comment on this post with the answer to this question:
What is your favorite Valentine's day treat (homemade or otherwise)?
Entries open through Thursday, February 17 at 11:59 CST. I'll be randomly selecting the winner the morning of Friday, February 18th. Prize will be shipped to the winner directly from EatBoutique. Due to the perishable nature of this product this giveaway is open to residents of the continental United States ONLY.
Want Extra Entries?
Increase your odds of winning! In addition to the main entry comment, leave a separate comment for each bonus entry.
1. Follow @loveandoliveoil on twitter and tweet the following:
I'm in love at first bite! I just entered to win a gourmet gift box from @eatboutique and @loveandoliveoil! Enter here: http://bit.ly/fpnS5N
2. Like Love & Olive Oil on Facebook (or if you are already a fan just say so!)
Be sure you enter a valid email address, because if your name is drawn and I can't get a hold of you within 48 hours, I will choose an alternate winner. You may also want to add me to your address book (lindsay AT loveandoliveoil DOT com), as I'd hate for your congratulatory email to end up in the spam folder.