Whew. This giveaway week thing just about wore me out (Sgt. Pepper on the other hand, was too busy trying to figure out the snow to even notice, let alone offer to help). But I had a blast. I truly hope you all had as much fun as I did. Let's do it again sometime soon!
I'm so please to announce the winners of the 4 fabulous giveaways:

Congratulations, Mary! Can't wait to see what you do with your loot! For those who didn't win, I highly recommend seeking out your local Kerry Gold retailer. I tell you, I've only used their butter in a few recipes so far, but you really can taste the difference between it and the cheap stuff. Not to mention their cheese… mmm…

Congratulations, Sara! We hope you enjoy your olive oil sampler. :) If you are looking for a fabulous gift for the foodie in your life, Nudo's Adopt an Olive Tree Program is such a fabulous idea, because unlike other adopt-a-programs (stars, whales, etc.) you actually get something out of it. Olive oil. Lots of olive oil from the actual grove where your tree is growing. How cool is that?

Hooray, Gwen! You're in for a real treat. For those of you who may want to do your own garlic tasting, you're in luck, Tom sells eight varieties of organic garlic in his online shop, plus juices and dried fruit (you HAVE to try the dark chocolate covered dried cherries… they are incredible!). The real question is, what ever shall we do with the rest of this garlic? Oh the possibilities…

Sarah and Julie, your boxes are going out first thing tomorrow. :) I think you'll be very pleased with the goodies I've put together especially for you! I had so much fun planning these goodie boxes, I think it just may become an annual holiday tradition. :)
While I would love for every single person who entered to be able to win, we all know that's just not possible. So here's a little freebie for all of you: digital cookies! And adorable festive photo for you to use on your desktop/ipad/iphone wallpaper this holiday season. Enjoy! (and if you were wondering, I'll be posting the recipe for these delicious sugar cookies shortly!)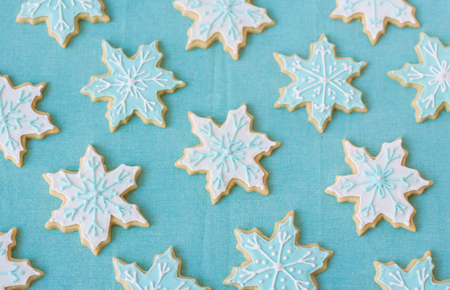 Download 1920×1200
Download 1600×1200
Download 1280×1024
Download 1024×1024 (ipad)
Download 640×960 (iphone)