After leaving Umbria and embarking out on our own, we headed north to Bologna. Smack dab in the middle of a region famous for its cheese, cured meats, and balsamic vinegar, birthplace of lasagne, and tortellini, I think it's safe to call Bologna the culinary epicenter of Italy. Even after all the cooking we had done the week before, a few short days in this bustling city was all we needed to enjoy some of the best food we would eat the entire trip.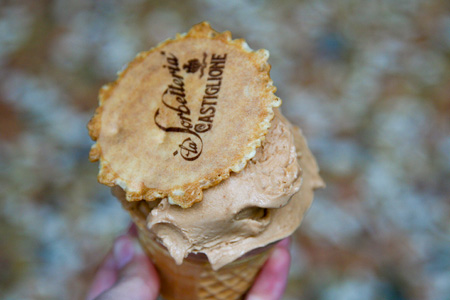 Including by far the best gelato. And seeing just how much gelato we devoured, calling this the single best serving of gelato is saying a lot. Maybe the fact that this concoction is entitled "Creme de Michelangelo" should have been evidence enough. A decadent chocolate almond base with candied bits of almond praline mixed in, it's an almond lovers paradise. Would it be wrong to say I want to go back to Bologna just to have another serving?
The shop in question is called La Sorbetteria, and is, in fact, the same shop were our own local "gelatuer" (or whatever a maker of delicious gelato is called) learned his craft. He was the one who recommended it to us in the first place, and it was one of the few spots we had marked as a must see. Thank you, Noel, for this gem!
That's our new friend Nadia in the picture above, she and her husband Maurizio live in Bologna—lucky ducks—and were kind enough to show us around the city (and serve as translators). We were excited to have a local contact in Bologna, the fact that they are distant relatives of Taylor's (the exact relation I didn't quite catch), made it even better. We definitely got more out of the city with them around.
Including more gelato. The second best in Italy? Quite possibly.
While we never made it to the leaning tower of Pisa, we did see the next best thing: the leaning tower of Bologna! In fact, I was quite nervous to stand at the base of the thing, it was leaning that badly.
What happens when the Pope decides to put a halt to church construction? It stops in its tracks, literally, leaving the side of the building looking like it was hacked off with a butcher knife. Apparently the plans for this church would have put St. Peter's to shame, and we can't have any of that now, can we?
One of the oldest buildings in Bologna. I hear that the apartments in this place go for big bucks, you know, since it's historical and all. But honestly, I wouldn't want to live there… would you?!
One of the most charming parts of Bologna were the portici (porticoes) that cover over 40 meters of the city sidewalks. Why don't they do stuff like this in the US? The closest we get to the porticoes of Bologna are the scaffolding covering the sidewalks in NYC.
Anyway… back to the lasagne. After hearing that Bologna was the birthplace of lasagne, we had to taste for ourselves. It is out of this world. While you may think of lasagna as a layered dish with noodles, marinara, and ricotta, true Bolognese lasagne doesn't have any ricotta OR marinara. Wait, if it doesn't have ricotta or marinara, what does it have? I know, the suspense is killing you. Patience, grasshopper… we've since recreated the famed dish (as best we could) and will be posting the recipe shortly.