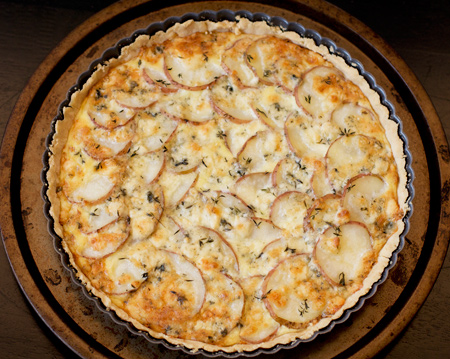 I think I've made it pretty obvious I'm a proponent of eating local whenever and wherever possible. But just how often to you get to eat something, and say, I saw the farmer dig up these potatoes yesterday?
While we went to the farm to pick a few blueberries (the berries are too time intensive and scarce to deliver to CSA members, so they invite anyone interested to come pick their own), we ended up getting a full tour of the place. From fields of lettuce and beets to streams and outbuildings near onion fields, it just might be the most beautiful, scenic farm I've ever seen.
Those are potatoes with a view! We picked up our share the following day, and sure enough, potatoes. Always nice to know exactly where your food comes from. And I mean EXACTLY.
This is Jeff (and Taylor), enjoying some fresh blackberries right off the vine. He's also known as The Barefoot Farmer, for obvious reasons (and yes, he even drives the tractor barefoot). We've been enjoying his handiwork all summer. Tasty.
The potatoes in particular have been plentiful. So along with the french fries and hash browns and mashers, we've been looking for more interesting ways to use them. This potato and blue cheese tart was a definite treat. An indulgence. It's creamier than a quiche, the rich filling and sharp blue cheese surrounding the delicate red potatoes and making them the star of the show (and potatoes don't often get that honor).
Blue Cheese and Red Potato Tart
Ingredients:
Tart Shell:
1 1/4 (5 1/2 ounces) cups flour
1 tablespoon plus 2 teaspoons cornstarch
1/4 teaspoon salt
6 tablespoons (3 ounces) butter, diced
1 large egg
Filling:
1 pound small red potatoes, scrubbed and cut into 1/4-inch slices
1 cup heavy cream
1 large egg yolk
1/4 pound blue cheese, crumbled (about 3/4 cup)
1 tablespoons finely chopped herb or herbs of your choice, such as a mixture of thyme and rosemary
Fine sea salt for sprinkling
Directions:
In a large bowl, combine the flour, cornstarch and salt. Cut the butter in with a pastry blender, fork or two knives until it is in very tiny bits. Add one egg and mix with a fork until a dough forms. If this does not happen easily, toss it out onto a counter and knead it together. This dough is rather tough but with a little elbow grease, it does come together nicely.
This dough can also be made a food processor, or in a stand mixer, though I've only tried it in a food processor.
On a lightly floured surface, roll the dough out to a 12-inch circle. Place the dough in a 9-inch pie plate or tart pan and press to remove any air bubbles. Level the edges, and refrigerate for 30 minutes.
Preheat oven to 350°F. In a medium saucepan, cover potato slices with water by two inches. Simmer, uncovered, until tender, about 10 minutes. Drain. If the potatoes don't seem very dry, pat them dry with towels.
Arrange potato slices, overlapping slightly, in concentric circles around the tart pan. Sprinkle blue cheese over potatoes. Whisk cream and egg yolk together and pour into tart shell, then sprinkle tart with herbs of your choice and salt.
Bake tart on a baking sheet until bubbling and golden brown, about 45 to 50 minutes. Cool in pan on rack and serve warm or cold. With a big green salad, for balance.
Did you make this recipe?
Let us know what you think!
Leave a Comment below or share a photo and tag me on Instagram with the hashtag #loveandoliveoil.