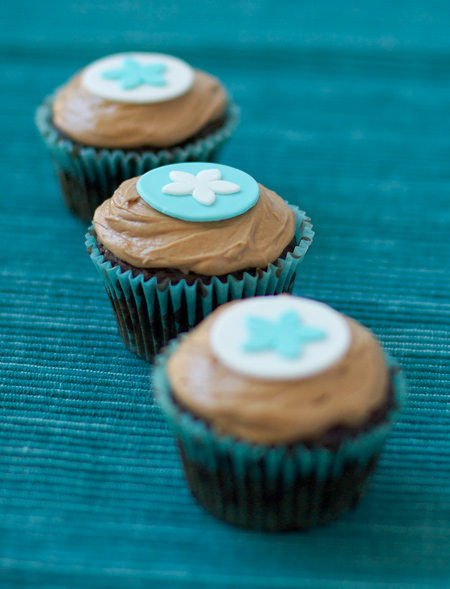 Cupcakes, take 2. These were the unfortunate cupcakes that failed so miserably last weekend. Luckily, the flavor itself was not at fault; but rather the recipe I chose for the frosting. Cooked buttercream and I obviously do not get along. Hey, I tried.
Another thing that does not get along is buttercream and heat. No matter whether it is American, Swiss, or cooked, when the temperature hits a certain threshold it breaks down. Literally. Gloopy separations do not make for pretty or tasty cupcakes. I tend to avoid buttercream of any kind when the temperature gets above 90 degrees or so. You're going to need a much higher ratio of sugar to butter in the summer, and don't you dare leave that butter out too long. In the summer months, the call for "room temperature" butter should be purposely ignored (instead, take the butter out maybe 5-10 minutes before you beat it, that should work just fine). Additionally, substituting shortening for some of the butter will help keep it stable.
I chose not to add malt to the cupcakes themselves, didn't think it would make a difference in the overall flavor. So I simply topped my favorite go-to chocolate cupcakes with a dollop of sweet malted chocolate buttercream. Just malty enough that it tastes like a good old fashioned milkshake, but so much that you feel like you're drinking a glass of ovaltine.
If the weather cooperates, I have a few more flavor ideas for cupcakes I'm going to attempt in the near future. And you deserve it, too, for putting up with all these non-dessert posts for the past few weeks, er, months. Totally unlike me, I swear. There used to be a time when 3 of the 5 posts on the homepage were sugary sweet. Considering it's been over two weeks since I posted anything dessert like, and a full TWO MONTHS since my last cupcake post (oh, the horror!) If only I could figure out a way to sneak some beets in a cupcake recipe… hmm…
Chocolate Malt Cupcakes
Ingredients:
1 cup coconut milk
1/3 cup canola oil
1 teaspoon vanilla extract
3/4 cup sugar
1 cup all-purpose flour
2 tablespoons almond meal
1/3 cup cocoa powder
3/4 teaspoon baking soda
1/2 teaspoon baking powder
1/4 teaspoon salt
For Frosting:
1/2 cup butter or margarine, room temperature
3 tablespoons cocoa powder
3-4 cups confectioners' sugar
1/4 cup milk or soymilk
1/4 cup malted milk powder
1/2 teaspoon vanilla extract
Directions:
Preheat oven to 350 degrees F. Line muffin pan with paper liners.
Whisk together the coconut milk, sugar, oil, and vanilla extract until incorporated. In a separate bowl, sift together the flour, almond meal, cocoa powder, baking soda, baking powder, and salt. Make a well in the center of dry ingredients and pour in coconut milk mixture. Stir until just smooth (do not overmix).
Pour into liners, filling each with 3 tablespoons of batter (cups should be no more than 2/3 full). For mini cupcakes, fill each with 1 tablespoon batter. Bake 18-20 minutes (or 10-12 for minis), or until a toothpick inserted into the center comes out clean. Transfer to a cooling rack and let cool completely.
For frosting, in a small bowl, combine milk and malted milk powder and mix until combined. Set aside. In the bowl of a stand mixer, cream butter until smooth and fluffy, 2-3 minutes. Add cocoa powder and 1 cup powdered sugar and beat until combined. Mix in vanilla and malted milk mixture. Continue adding sugar, 1/2 cup at a time, mixing well after each addition (depending on the temperature of your butter, you may need more or less sugar/cream to achieve the proper consistency). Continue beating until light and fluffy, about 3-5 minutes. Spread or pipe onto cooled cupcakes.
Did you make this recipe?
Let us know what you think!
Leave a Comment below or share a photo and tag me on Instagram with the hashtag #loveandoliveoil.