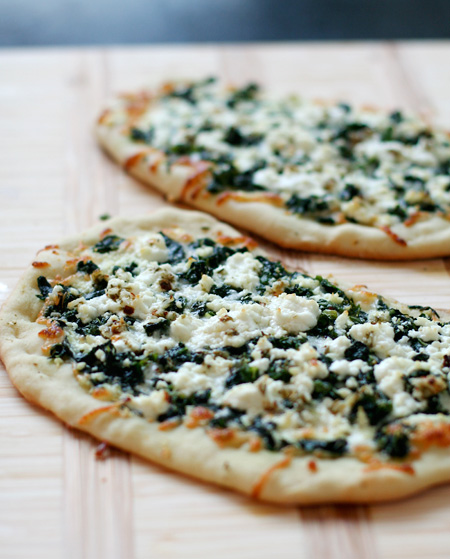 My favorite pizza. Ever. The unique combination of ingredients make this sauce-less pizza one to remember. It was one of the first things we made as soon as the swiss chard started to show up in our CSA. I know Taylor would much rather have manly pizzas with meat and red-sauce, but this pizza is just too good to pass up. Plus, I'm the one making the grocery list. So there.
This isn't a new recipe; in fact, this recipe is the original inspiration for our go-to pizza crust. I was actually quite surprised when I went to go look up the recipe in our archives only to discover it wasn't there. Yes, folks, this is an honest to goodness oldie from the pre-blog days.
We supplemented our CSA Swiss Chard with a meager handful of the rainbow chard from our container garden. I think the chard prefers cooler temperatures, as it hadn't grown much at all the past few (very hot) weeks. So we stopped waiting and just ate it. I do wish the chard was actually rainbow like the seed pack promised, instead of all mono-tone lime green. I have a feeling that a single chard seed doesn't produce multi colors, but rather each seed produces a different color plant. And maybe the two I happened to plant were the same color. Maybe next year I'll plant more seeds and up my odds for better colors. It's a good thing all the colors taste the same.
I was planning on posting a super special cupcake recipe today, considering that one year ago we were officially tying the knot and chowing down on 300 freshly-baked cupcakes. Yes, it really has been an entire year. And I figured cupcakes would be a fitting way to celebrate. But, alas, my super special cupcakes, albeit pretty, did not pass the taste test. Bummer. Because, really, the frosting should be the best part, and not taste like you forgot the sugar. Blech. I have say that our first year of marriage has been far sweeter than this frosting. I still have high hopes for the flavor combination, however, and plan to give it another go in the very near future.
Pizza Bianca with Goat Cheese and Greens
Ingredients:
Crust
3/4 cup warm water (105°F to 115°F)
1 1/2 teaspoons dry yeast (from 1 envelope)
1 tablespoon extra-virgin olive oil
1 teaspoon salt
1 3/4 cups (about) unbleached all purpose flour
Seasoned oil
2 tablespoons extra-virgin olive oil
1 large garlic clove, minced
1/4 teaspoon dried crushed red pepper
Topping
1 bunch Swiss chard (about 10 ounces), white ribs cut away
2 tablespoons extra-virgin olive oil
1 large garlic clove, minced
Yellow cornmeal
8 ounces whole-milk mozzarella cheese, coarsely grated
4 ounces soft fresh goat cheese, crumbled (about 1 cup)
Directions:
For crust:
Pour 3/4 cup water into large bowl. Sprinkle yeast over; stir to blend. Let stand 10 minutes to dissolve yeast. Add oil and salt, then 1 1/2 cups flour. Stir until well blended (dough will be sticky). Turn dough out onto generously floured surface and knead until smooth and elastic, adding just enough flour to prevent dough from sticking, about 5 minutes (dough will be soft). Shape dough into ball; place in large oiled bowl and turn to coat. Cover bowl with kitchen towel. Let dough rise at cool room temperature until almost doubled, about 2 hours. Punch dough down; form into ball. Return to bowl; cover with towel and let rise until doubled, about 3 hours.
Meanwhile, prepare seasoned oil:
Mix oil, garlic, and red pepper in small bowl. Let stand 1 hour.
For topping:
Cook chard in large pot of boiling salted water until just tender, about 2 minutes. Drain. Rinse under cold water; drain. Squeeze dry, then coarsely chop. Heat 2 tablespoons oil in small skillet over medium heat. Add garlic and stir 30 seconds. Add chard and stir 1 minute. Season to taste with salt.
Preheat oven to 500°F. Punch down dough. Form into ball; place on floured work surface. Cover with kitchen towel; let rest 30 minutes.
Sprinkle rimless baking sheet with cornmeal. Roll out dough on floured surface to 13-inch round. Transfer to baking sheet. Sprinkle mozzarella over dough, leaving 1-inch border. Scatter chard over mozzarella. Top with goat cheese. Brush crust edge with some of seasoned oil. Set aside 2 teaspoons seasoned oil; drizzle remaining oil over pizza.
Bake pizza until crust is brown, about 15 minutes. Remove from oven; brush edge with seasoned oil and serve.
Did you make this recipe?
Let us know what you think!
Leave a Comment below or share a photo and tag me on Instagram with the hashtag #loveandoliveoil.