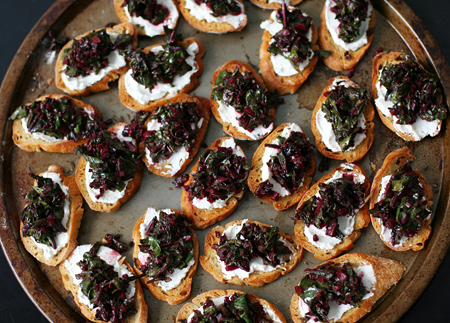 More greens. More goat cheese. Another bruschetta. There are obviously some common themes in our posts recently, mostly due to our csa. I have a feeling there are going to be a lot of pizzas, bruschettas, and pastas this summer; each serves as a blank 'canvas' of sorts for the ingredients of the moment. This brushetta (or crostini, what is the difference, really?) features a tangy lemon zest and goat cheese spread, and a splash of balsamic vinegar that brings out the best in the beet greens.
I think that we've been enjoying our time more and more in the kitchen. Not that we didn't enjoy it before; but the idea of planning your menu around a set of ingredients, rather than the other way around (buying ingredients based on a set menu), makes cooking and eating much more interesting. We get to be creative, doing our best to put all of our csa produce to good use before it goes bad. It's a challenge, that's for sure; but I feel like that challenge has only inspired us more.
Beet Green and Goat Cheese Crostini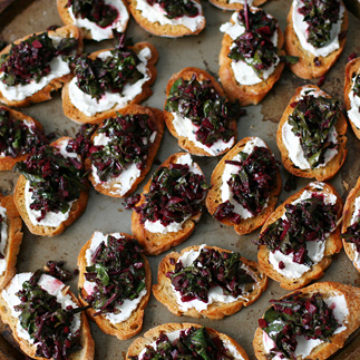 Ingredients:
1 large handful beet greens (from about 2-3 medium beets)
1 tablespoon olive oil
1 tablespoon balsamic vinegar
6 oz goat cheese
1/2 teaspoon lemon zest
freshly cracked black pepper
1 fresh French baguette, sliced thin and lightly toasted
1/2 teaspoon sea salt
Directions:
Trim the stems from greens. Slice stems into 1/4″ thick rounds, and cut remaining leaves into bite sized pieces. Heat a tablespoon of olive oil in a saute pan. Add stems and saute 3-4 minutes. Add greens and cook until greens are tender but still bright green, about 2-3 minutes. At the very end, add a splash of balsamic vinegar and toss to coat. Remove from heat.
In a small bowl, combine goat cheese, lemon juice and pepper to taste. Mix well.
Divide goat cheese mixture among bread slices, and top with cooked beet green greens. Lightly sprinkle with sea salt.
Did you make this recipe?
Let us know what you think!
Leave a Comment below or share a photo and tag me on Instagram with the hashtag #loveandoliveoil.