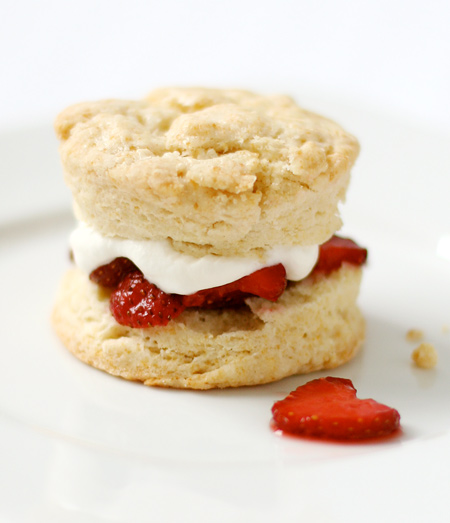 Darn those farmers' market strawberry vendors. It would have been perfectly reasonable to pick up a pint of ripe local berries, but of course, they had to be running a special: 3 pints for $5. Can't pass up the opportunity to save a whole dollar (and to be honest, now that I say it like that it seems ridiculous, but it felt like we were saving more at the time. Mind games I tell you… mind games.)
So here we are with three pints of perfectly ripe strawberries and only two people to eat them. Oh whatever shall we do?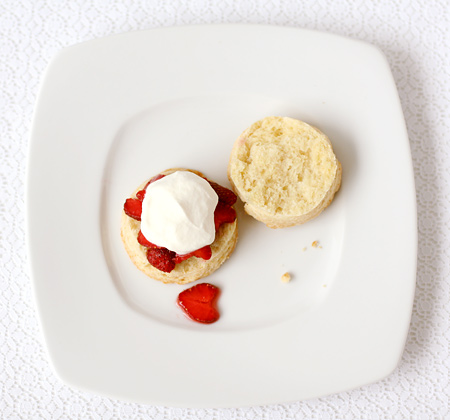 Strawberry shortcake seemed like an obvious choice. Taylor agreed, though is conception of strawberry shortcake involved some store-bought pound cake. I had to convince him that no, real shortcake is not made with poundcake, but rather a cream-biscuit that you could describe as a cross between a biscuit and a scone. I could tell he was skeptical of the whole thing, but I think the final product won him over.
The biscuits were barely sweet and crumbly, a perfect vehicle for the juicy strawberries and fluffy whipped cream. A simple combination that couldn't have been more perfect. I felt the recipe made a bit too much of the berry filling; we ended up halving the filling and the whipped cream recipe with the intention of making more filling/cream fresh the next day, but it turned out that it made the perfect amount of filling for 8 biscuits. If you like your shortcake loaded, feel free to make the full recipe.
Now I just have to figure out what to do with the other 2 pints…
Strawberry Shortcake with Cream Biscuits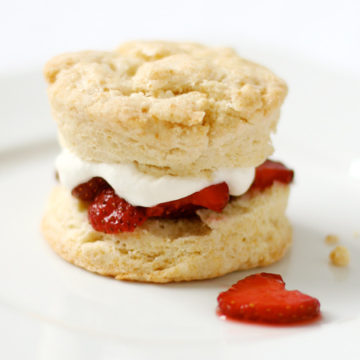 Ingredients:
Cream Biscuits:
1 1/2 cups all-purpose flour
1/4 teaspoon salt
4 teaspoons sugar (optional)
2 teaspoons baking powder
6 tablespoons (3/4 stick) cold butter, cut into small pieces
3/4 cup heavy cream
Filling:
4 cups strawberries, hulled and sliced
1 cup sugar
Topping:
1 cup heavy cream
1/2 teaspoon vanilla extract
1 tablespoon sugar, or to taste
Powdered sugar (optional)
Directions:
To make biscuits, preheat the oven to 400 degrees F.
In a large bowl, combine the flour, salt, sugar (if using) and baking powder. Cut the butter into the flour with a pastry blender or your fingertips. The pieces should be the size of small peas. Measure cream; set aside 1 tablespoon. Add the remaining cream to the flour, and stir with a fork until the mixture just comes together.
Lightly knead the dough a few times in the bowl, turn it out onto a lightly floured board, and roll out about 3/4 inch thick. Cut six 2 1/2-inch circles or squares out of the dough. Reroll the scraps, you should be able to get 2 or 3 more biscuits out of it.
Place the biscuits on a baking sheet lined with parchment, and brush the tops with the tablespoon of cream. Bake for 17 minutes or until lightly golden.
For filling, in a medium bowl, combine the strawberries and sugar. Remove 1 cup of the strawberry mixture, and purée it in a blender or food processor. Return the purée to the rest of the strawberries; stir. Set aside at least 15 minutes.
In a standing mixer with the whisk attachment, whip together the cream, vanilla and sugar until it starts to form soft peaks.
To assemble, gently break the biscuits in half. Spoon the strawberry mixture onto the bottom half, and add a dollop of whipped cream. Top with the other biscuit half, and dust with powdered sugar.
Did you make this recipe?
Let us know what you think!
Leave a Comment below or share a photo and tag me on Instagram with the hashtag #loveandoliveoil.