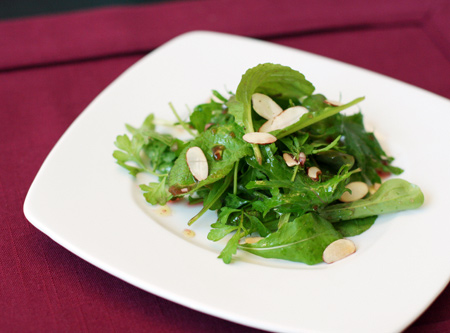 Our first garden harvest. The lettuce greens were quick to grow and overflow their container. Yes, I probably planted them too thick. But we may be able to get 2-3 salads out of the sucker before it gets too hot for the tender greens. I enjoyed this salad so much, I wish there were more hearty lettuces that could be grown into the summer.
The recipe itself was recommended to me by my mom. And while I didn't have Champagne vinegar (I used white wine vinegar instead), and substituted sliced almonds for the pecans, and unfortunately couldn't find any pomegranete arils to garnish, it was still delicious.
A big thank you to the fine folks at POM Wonderful for sending me some of their delicious juice to try. Being that pomegranate juice isn't something we often buy, it's been tricky for me to find things to do with it. Next on my list is this delicious pomegranate sorbet from a few years back. You know, once our water is back to normal and all.
Mixed Green Salad with Pomegranate Dressing and Toasted Almonds
Ingredients:
1/4 cup pomegranate juice
1 1/2 tablespoons Champagne or white wine vinegar
1 1/2 teaspoons minced shallots
2 teaspoons extra virgin olive oil
1/4 teaspoon salt
1/4 teaspoon freshly ground black pepper
6 cups mixed salad greens
1/2 cup pomegranate seeds
4 teaspoons sliced almonds or chopped pecans, toasted
Directions:
Combine juice, vinegar, shallots, olive oil, salt, and pepper in a large bowl, stirring with a whisk. Add salad greens, pomegranate seeds, and nuts; toss well to combine. Serve immediately.
Did you make this recipe?
Let us know what you think!
Leave a Comment below or share a photo and tag me on Instagram with the hashtag #loveandoliveoil.