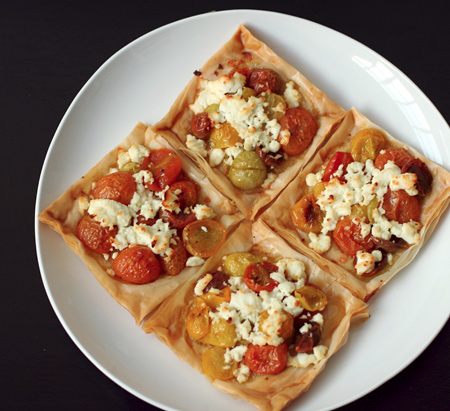 I've had this recipe bookmarked for some time now… ever since I was paired with my newbie blogger and saw it on her blog. So simple, but it works so well. The recipe originally called for puff pastry, which I always have a hard time finding. So I took the opportunity to use up some of the phyllo dough stashed in the freezer. It made for a light and crispy base for the sweet roasted tomatoes.
I used olive oil instead of the typical butter to brush between the layers of phyllo; I think it prevented them from browning as much as it would have with butter, but I also felt the final product was a lot lighter than a buttery version would have been. Feel free to use either.
I am counting down the days until I'll have my own bounty of tomatoes fresh from our patio garden. But alas… me thinks it will be quite some time before our little plants bear fruit…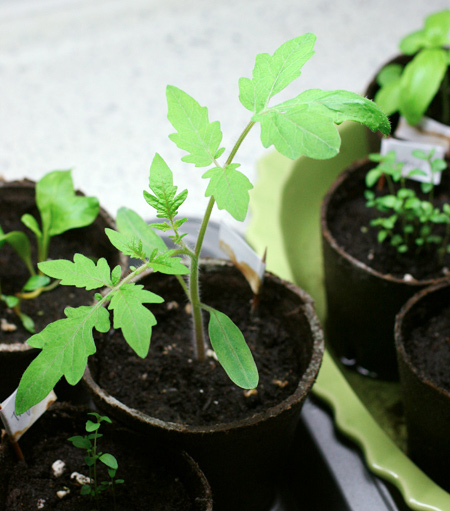 Oven Roasted Tomato and Goat Cheese Tarts
Ingredients:
8 sheets phyllo dough, thawed according to package directions
12 oz assorted cherry tomatoes, halved
salt and pepper, to taste
3 oz goat cheese
olive oil
Directions:
Preheat oven to 350 degrees F. Line a large baking sheet with foil. Toss cherry tomatoes with a drizzle of olive oil and salt and pepper, to taste. Roast for about 10 to 15 minutes, or until starting to soften. Remove from oven and set aside. Increase oven temperature to 400 degrees F.
Line one large baking sheet with parchment paper. Carefully place one sheet of phyllo on the work surface, taking care to keep remaining sheets covered (otherwise they will dry out). Brush lightly with olive oil and top with another sheet of phyllo. Repeat this process, alternating olive oil and phyllo, with a total of 8 sheets of phyllo. Brush top of stack with olive oil.
Cut stack in half lengthwise, and then in thirds, to make a total of 6 squares. Gently pinch the corners of each square to form little walls and help contain the filling. Transfer squares to prepared baking sheet.
Divide tomato mixture evenly among squares. Top with crumbled goat cheese.
Bake at 400 degrees for about 15 to 20 minutes, until the phyllo is golden brown and crispy, and the goat cheese is beginning to brown. Let cool for 5 minutes before serving.
Did you make this recipe?
Let us know what you think!
Leave a Comment below or share a photo and tag me on Instagram with the hashtag #loveandoliveoil.