Never underestimate the power of a log of goat cheese. Especially when it's been coated with ground almonds and panko breadcrumbs and lightly fried until crispy on the outside and warm on the inside. Nestled on a bed of fresh lettuces and sweet strawberries, it makes for a delicious warm-weather salad. Granted, it's best enjoyed as part of a 'perfect bite' – one that includes a little bit of each ingredient: lettuce, strawberry, and goat cheese. Hard to do (it takes skill to scoop, stab, and balance all those pieces on a fork), but worth the extra effort.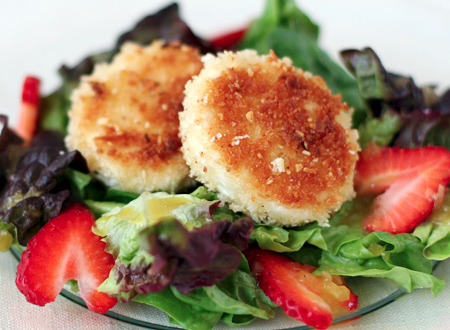 I realize that just about anything would be delicious when topped with rounds of fried goat cheese, but this application was particularly delectable. The dressing for this salad is one to remember, the floral notes from the rose water paired beautifully with the sweetness of the honey and the tartness of the orange; it's a recipe that could easily be adapted in a myriad of ways for other salads and uses. A word of warning, go easy on the rose water; too much and it might start to taste like grandma's perfume. We didn't have the rose nectar called for originally, and so we made our own by mixing some rose water with honey. It was completely different from our usual thrown together dressings (we haven't bought bottled salad dressing in years), and we enjoyed the change of pace.
Fried Goat Cheese and Strawberry Salad with Orange Rose-Nectar Vinaigrette
Ingredients:
Vinaigrette:
1 tablespoon olive oil
1 medium shallot, finely chopped
3/4 cup freshly squeezed orange juice
2 teaspoons grated orange zest
1/2 teaspoon Dijon-style mustard
1 teaspoon honey
1-1/2 tablespoons rose nectar or 1 1/2 tablespoons honey plus 1/2 teaspoon rose water
1-1/2 tablespoons champagne or white wine vinegar
1/2 teaspoon salt
1/4 teaspoon freshly ground black pepper
1/3 cup extra-virgin olive oil
Goat Cheese:
10.5-ounce log fresh goat cheese
1/3 cup flour
1 egg, beaten with 1/2 teaspoon water
3/4 cup panko crumbs
1/4 cup ground almonds
1/4 teaspoon salt
3 to 4 tablespoons vegetable oil
Salad:
1 medium head red-leaf lettuce
1 medium head Boston lettuce
1-1/2 pints fresh strawberries, cored and sliced
sliced almonds, for garnish (optional)
Directions:
To prepare dressing, heat 1 tablespoon of olive oil in a small skillet over medium heat. Add the shallot and sauté until softened, about 1 minute. Add the orange juice and zest. Raise the heat to medium-high and continue cooking, stirring occasionally, until the mixture thickens to a syrupy consistency, about 5 to 7 minutes.
Transfer the juice-shallot mixture to a small bowl and combine with the mustard, rose nectar, honey, vinegar, salt and pepper. Gradually whisk in the olive oil. Taste and adjust seasoning if necessary. Set aside.
In a small dish, combine the panko crumbs, ground almonds and salt. Place the flour, egg and panko-almond mixture in three separate shallow dishes.
Slice the goat cheese log into 12 rounds. Coat the goat cheese slices in flour, dip in the beaten egg, then coat with the panko-almond mixture. Press the cheese rounds lightly into the crumbs mixture to make sure that they adhere well and set them aside while you assemble the salads.
Wash and dry the two heads of lettuce and tear them into bite-sized pieces. Toss to combine and divide amongst four salad plates. Arrange the strawberry slices on top of the lettuce and garnish with a few sliced almonds, leaving space in the center for the fried goat cheese rounds. Set the dishes aside.
In a large skillet, heat the vegetable oil over medium-high heat. Add the cheese rounds in a single layer and fry until light golden-brown on the first side, about 2 minutes. Being very careful not to break the crust, turn the rounds over and fry for another 2 minutes. Transfer to a paper towel-lined plate to blot any excess oil.
Arrange three of the rounds in the center of each salad plate. Drizzle with the vinaigrette and serve immediately.
Did you make this recipe?
Let us know what you think!
Leave a Comment below or share a photo and tag me on Instagram with the hashtag #loveandoliveoil.