First of all, can I say how much I LOVE daylight savings time? Sure, it's been 3 weeks and I'm still having trouble waking up in the morning, but the sheer fact that I can take a picture of dinner in natural light is enough to make me giddy. Taylor thinks I'm nuts. But that's what you get when you're married to a food blogger.
This pizza is so simple, yet so delicious. And I know it would be even better with a homemade pizza crust (yes, I admit, we bought some. So kill me). A little doughy, but it'll do in a pinch.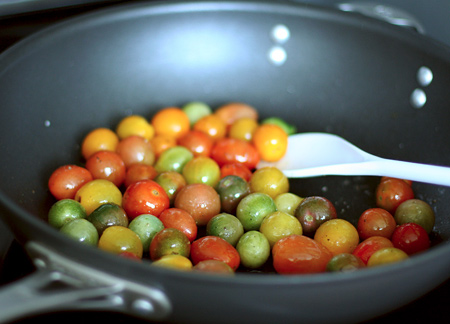 We tried out the package of heirloom cherry tomatoes from Trader Joe's, which made for a gorgeous stained glass effect on the pizza.
The little buggers gave off a lot of juice when I crushed them after a quick cook. While the recipe makes no mention of extra fluids, I drained off as much as I could, and just used the squeezed skins and pulp that was left. I'd definitely suggest doing this, otherwise you're going to end up with one soggy-bottomed pizza.
This pizza is going to be even better with fresh ripe tomatoes from our patio garden (and I hope I'm not jinxing myself by saying that now, but if all goes well, we will have wild cherry and green zebra heirloom tomatoes come summer!)
Cherry Tomato Pizza Margherita
Ingredients:
14 oz. premade refrigerated pizza dough
1 tablespoon extra-virgin olive oil
12 oz. cherry tomatoes, stemmed
1 garlic clove, pressed
1/2 teaspoon fennel seeds, coarsely crushed in plastic bag
1/4 teaspoon dried crushed red pepper
8 ounces whole-milk mozzarella, diced
1/3 cup chopped fresh basil leaves plus small leaves for garnish
Directions:
Position rack in top third of oven and preheat to 425°F. Unroll dough on heavy large baking sheet; pull to about 12×8-inch rectangle, pinching any tears to seal. Fold over edge of dough to make border.
Heat large skillet over high heat 2 minutes. Add oil, then tomatoes; sprinkle with salt and pepper. Sauté until tomatoes are charred and beginning to break down, about 5 minutes. Transfer to large bowl. Mix in garlic, fennel, and crushed red pepper. Using back of fork, crush tomatoes in bowl, leaving large chunks intact. Season mixture with salt and pepper. Toss cheeses and chopped basil in medium bowl.
Sprinkle cheese mixture evenly over dough, right up to border. Spoon on tomato mixture in dollops, leaving some cheese uncovered. Bake pizza until crust is crisp and brown, 25 to 30 minutes.
Loosen pizza with metal spatula and slide onto board. Garnish with basil leaves.
Did you make this recipe?
Let us know what you think!
Leave a Comment below or share a photo and tag me on Instagram with the hashtag #loveandoliveoil.