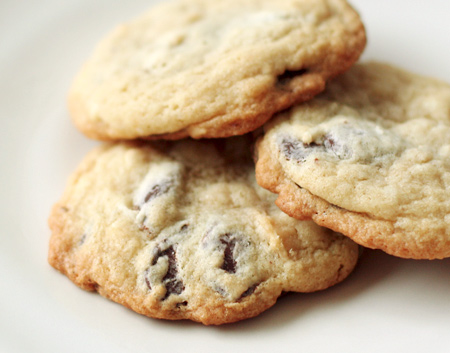 Imagine, for a moment, your favorite chocolate chip cookie. One that's slightly crisp on the edges, but soft and chewy on the inside, with a rich aroma of brown sugar and smooth bittersweet chocolate pockets that melt in your mouth.
Got it?
Now imagine that cookie laced with marzipan.
…
Ok, now that you've picked yourself off of the kitchen floor, let me tell you more about these cookies.
Because they might just be the best cookies I've ever made.
Those of you out there who don't like almond, be it almond extract, paste, or marzipan, you may as well close your browser window right now. I'll be back in a few days with another post. Because the secret to these cookies is the almond paste, and no, you cannot substitute it with something else or leave it out altogether. Pass GO and forget your $200. Don't even bother.
Ok, now that only the marzipan groupies remain… I have to tell you I could put almond paste in just about anything and be happy (I'm sure you understand). I've already done just that with cupcakes, cake cream filling, and buttercream frosting. Which is why I'm so surprised I hadn't thought to do the same with cookies.
Let's talk for a minute about almond paste. Which is completely different from marzipan and almond pie filling. Marzipan is less sticky and more workable, and better suited to molding little almond fruits and such. Almond paste (in the US at least) typically contains about twice as much almond to other ingredients, giving it a much stronger and more defined almond flavor. Almond paste is the base for marzipan, which you can make yourself simply by mixing confectioners' sugar and corn syrup with almond paste. I personally like the Solo brand canned almond paste. The stuff in the tube is never as soft, not to mention more expensive. Go ahead and substitute marzipan if you can't find paste, but your cookies are going to have a much more subtle almond flavor.
Mmm… almond…
Oh dear. Writing this post has given me severe almond cravings. Alas, since these cookies are long gone… my only solution is to simply eat the leftover paste straight from the can, which I am doing as we speak. Don't judge.
Almond Lovers Chocolate Chip Cookies
Makes about 3 dozen cookies. Recipe adapted from Picky Palate.
Ingredients:
2 sticks softened butter
3/4 cup granulated sugar
3/4 cup brown sugar
1/4 cup (about 4 oz) almond paste (not marzipan)
2 eggs
1 teaspoon vanilla
2 1/2 cups all purpose flour
1 teaspoon baking soda
1/2 teaspoon salt
12 oz bag good quality semisweet or bittersweet chocolate chips (I used Ghirardelli)
1/2 cup slivered almonds, lightly toasted
Directions:
Preheat oven to 350 degrees F. Line a baking sheet with parchment paper or a silicone mat.
In a stand or electric mixer, beat the butter and sugars together until fluffy. Break up the almond paste and add to the mixture, beating until well combined. Beat in eggs and vanilla.
In a large bowl sift together the flour, baking soda and salt. Slowly add to wet ingredients along with the chocolate chips. Mix until just combined. Scoop onto a silpat or parchment lined baking sheet with a medium cookie scoop. Bake for 10-12 minutes or until just golden crisp on the outside. Let cool on baking sheet for 5 minutes before transferring to a cooling rack.
Did you make this recipe?
Let us know what you think!
Leave a Comment below or share a photo and tag me on Instagram with the hashtag #loveandoliveoil.