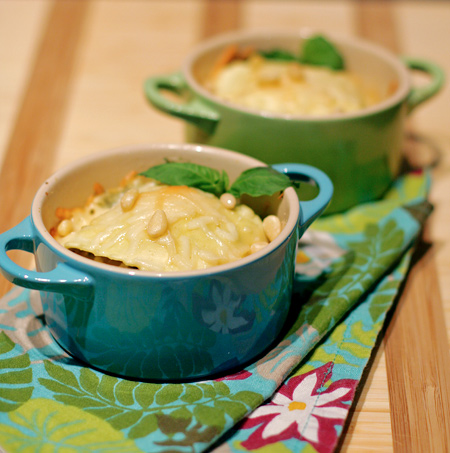 I think I set myself up for a cheese overload.
As you may know, we don't eat a lot of dairy. Or, should I say, I don't. While I'm not technically lactose-intolerant, something about the richness of dairy just doesn't sit right with me much of the time. For a few years I was virtually dairy free (with the exception of goat cheese, butter, and parmesan), but now I am gradually reintroducing bits of dairy here and there (can you say, hello! cheese pizza!).
But these little cocotte concoctions took that a bit too far. As precious as they were, we're just not used to eating this much dairy in one little pot. Goat cheese. Parmesan. Cream. Ricotta-filled ravioli. So maybe I can tolerate one kind of dairy in a sitting. But 4 is pushing it. Even Taylor thought they were a wee bit rich.
Next time? While they won't technically be "gratin" if they aren't swimming in cream, we may actually try chicken broth as a replacement for the liquid. That, paired with a different kind of ravioli, and maybe a speck less basil (the basil was quite overpowering, and I'm never a fan of anything that covers up the taste of my beloved goat cheese). But all in all this one definitely gets high marks in our book.
Not to mention they are just too stinkin' cute.
Ravioli Gratins with Goat Cheese and Basil Pistou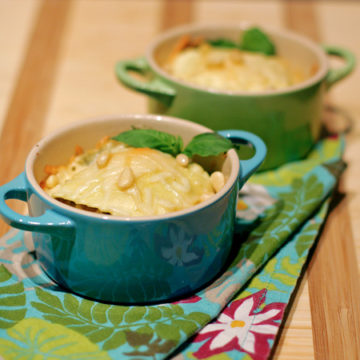 Ingredients:
4 oz. crumbled fresh goat cheese
2 bunches fresh basil
4 cloves of galric
Dash of olive oil
2 tablespoons (1/4 stick) unsalted butter
3/4 cup cream or milk
8oz fresh or frozen cheese ravioli (12)
2 oz pine nuts
4 tablespoons Parmesean cheese
Pine nuts and fresh basil leaves, for garnish
Directions:
Prepare the basil pistou: Combine fresh basil and garlic in a small mixer, and add a small dash of olive oil. Pulse until no large chunks of basil remain.
Precook the ravioli for 1-2 minutes in salted boiling water. Remove from pot and drain well, tossing gently with a splash of olive oil to prevent them from sticking together.
Preheat the oven to 400?F.
Lightly butter 4 mini cocottes (or large ramekins).
Add to each, a layer of ravioli, a spoonful of crumbled goat cheese, and a spoonful of basil pistou. Add one teaspoon of pine nuts. Continue with another layer of ravioli, one tablespoon of cream, a spoonful of goat cheese and another of pistou. Top each cocotte with a ravioli, a tablespoon of cream, and a generous sprinkling of grated Parmesan.
Bake, uncovered, for about 10 minutes, or until the tops look crunchy and the cheese begins to brown.
Garnish with remaining pine nuts and some roughly chopped basil leaves.
Did you make this recipe?
Let us know what you think!
Leave a Comment below or share a photo and tag me on Instagram with the hashtag #loveandoliveoil.