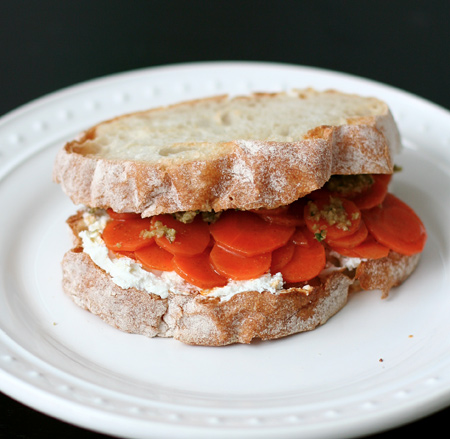 As unique a combination of ingredients as I've ever seen put into a sandwich. But you know what? It works.
Just a word of warning – go EASY on the olive tapenade. A thin thin layer on one slice of the bread is all you need. We made the unfortunate mistake of piling on far too much of the tapenade. One bite and both of us could barely stand how salty it was. Like, I'd rather be drinking a glass of sea water salty.
But even underneath all that salt, we saw the potential. And lucky for us this recipe makes way more than two sandwiches.
Take 2.
With a much higher proportion of goat cheese and carrots to tapenade, you have yourself a fabulous sandwich. A little sweet, a little salty, and much more hearty and satisfying than you'd think. We had enough carrots that I ate these for three meals straight. And thoroughly enjoyed it. Not that I'm biased towards anything smothered in goat cheese, because I'm not. Really.
Moroccan Carrot and Goat Cheese Sandwiches with Green Olive Tapenade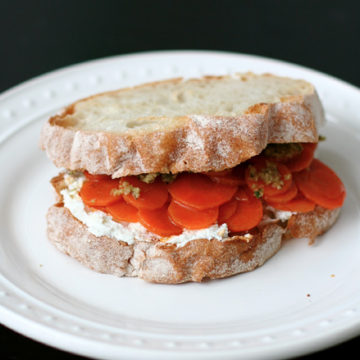 Ingredients:
For carrots
2 tablespoons sugar
1 tablespoon fresh lemon juice
2 teaspoons sweet paprika
1 teaspoon ground cumin
1/2 teaspoon cinnamon
1/4 teaspoon cayenne
1 teaspoon salt
1/4 cup olive oil
1 1/2 lb medium carrots (8)
For tapenade
1 1/4 cups green olives (6 to 7 oz) such as Cerignola or picholine, pitted
3 tablespoons drained bottled capers, rinsed
1/4 cup chopped fresh flat-leaf parsley
1 flat anchovy fillet, chopped
1 teaspoon finely grated fresh lemon zest
1 1/2 tablespoons fresh lemon juice
1/2 teaspoon black pepper
1/4 cup olive oil
For sandwiches
12 slices good-quality pumpernickel sandwich bread
6 oz soft mild goat cheese (3/4 cup) at room temperature
Directions:
Prepare carrots:
Whisk together sugar, lemon juice, spices, salt, and oil in a large bowl until sugar is dissolved.
Halve carrots crosswise on a long diagonal, then, starting from diagonal ends, cut into 1/16-inch-thick slices using slicer. Cook carrots in a 4- to 5-quart pot of boiling salted water until crisp-tender, about 45 seconds. Drain well in a colander and immediately toss with dressing. Cool to room temperature, stirring occasionally, then marinate, covered and chilled, at least 4 hours.
Make tapenade and assemble sandwiches:
Pulse olives with capers, parsley, anchovy, zest, lemon juice, and pepper in a food processor until coarsely chopped, then scrape down side of bowl with a rubber spatula. Pulsing motor, add oil in a slow stream and continue to pulse until mixture is finely chopped (do not pulse to a paste).
Spread tapenade on 6 slices of bread and goat cheese on remaining 6 slices, then make sandwiches with carrots.
Do ahead: Carrots can marinate up to 2 days. Tapenade can be made 1 week ahead and chilled, covered.
Did you make this recipe?
Let us know what you think!
Leave a Comment below or share a photo and tag me on Instagram with the hashtag #loveandoliveoil.