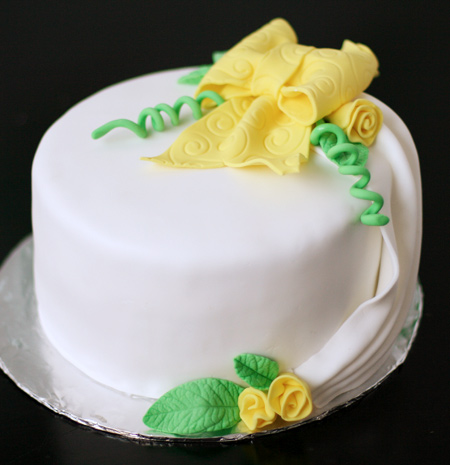 Now that's a manly cake if I ever saw one.
So what if it's girly. And flowery. And sparkly. That didn't stop be from bringing it to our neighbors Super Bowl party. I think it's the perfect super bowl cake, don't you? :)
It is, in fact, my second (successful) attempt at a fondant covered cake, courtesy of SweetWise cake and pastry supply shop and their fabulous cake decorating classes. You would think a cake like this would take weeks to perfect. But nope. This is the outcome of Fondant 2. Only the second class I've ever taken, the second fondant covered cake I've ever made.
Can't wait to see what #3 looks like (and a hint: it may just have something to do with this little blog of ours celebrating three years strong).
On that note, after three years, you think you would know a little something about us. And I realize that I usually don't get too personal (other than sharing somewhat random facts like Taylor's cupcake-eating habits) within posts. This is, after all, a food blog. Not a diary.
But I figured that there are probably things about us you're just dying to know. Like, what is Taylor's favorite food? Just how many cupcakes has Lindsay baked? What exactly DO we do besides cook? Seriously. Ask away. Doesn't even have to be food related. Post your question in a comment on this post, and we'll answer them in an upcoming post.
And we won't be offended if no one asks anything. Not like you NEED to know the color of my kitchen aid to enjoy the buttercream recipes that come out of it. :)