Oh. My. God. If you could take perfection, roll it in a ball, and dip it chocolate, this would be it. I'm not joking here folks. I'd strongly advise you to put down the mouse and get your butt to the kitchen, stat. Even Taylor firmly declared these the best thing I've ever baked. Even though there was technically no baking involved, I'm still taking that as a hint that I did good. I did real good. And we've been enjoying the product of that goodness all week long.
My apologies to the New Years' resolution folk. I tried to hold off until at least February to post these, but I just couldn't do it. Call it a little treat to yourself for doing so well up until this point. While one of these little guys won't hurt, good luck practicing self-restraint when faced with a cookie sheet full of them. It's not easy. What is easy is whipping them up. Which I encourage you to go do. Immediately.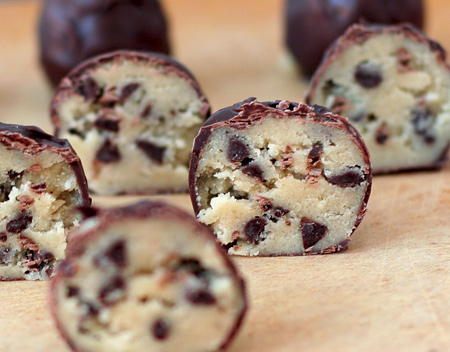 The cookie dough itself is egg-free, and potentially dairy free AND vegan if you get picky about what you coat them with. I used a bag of dark chocolate candy coating, available at craft stores, specialty baking stores, or online. While the brand I used did have a slightly fake-chocolate taste when I sampled a wafer beforehand, the final product was a thin and delicious chocolate coating that hardened into a beautifully snappy shell. Feel free to use pure semi-sweet or dark chocolate to coat these, but I didn't want to have to deal with tempering and all that jazz. The chocolate wafers are a beautiful and simple solution. And, as I discovered purely by accident, one 14oz bag was the perfect amount of coating for one batch of truffles. One batch meaning about 4 dozen or so. One batch that we have been hoarding all for ourselves. Posting this recipe is the closest thing to sharing I'm willing to do.
Take it or leave it (but I strongly suggest you take it. Now).
Update: Since it was first posted in 2010, I've updated this recipe and included it in my new cookbook, The Cookie Dough Lover's Cookbook (Quirk Books, 2012). If you love these truffles you will love the other 45+ recipes in the book, as they are all dedicated to raw cookie dough. Yum!
Chocolate Chip Cookie Dough Truffles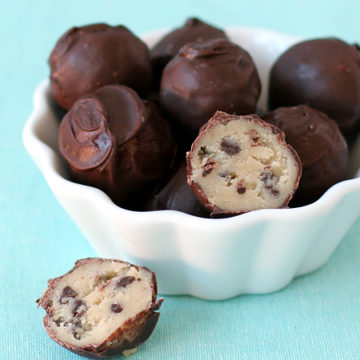 Ingredients:
2 1/2 cups all purpose flour
1 teaspoon salt
1 cup (2 sticks) butter or margarine, room temperature
3/4 cup granulated sugar
3/4 cup packed brown sugar
1 teaspoon vanilla
1/3 cup milk or cream (soy or almond milk works too)
1 cup mini semi-sweet chocolate chips
14 oz dark chocolate candy coating
Directions:
Beat butter and sugars and in large bowl with electric mixer on medium speed until light and fluffy. Add cream and vanilla. Stir in flour and salt and mix on low speed (or by hand) until incorporated. Stir in chocolate chips.
Cover and chill dough for 1 hour.
When dough is firm enough to handle (it may help to lightly flour your hands), form dough into 1″ balls and arrange on a baking sheet lined with waxed paper. Place sheets in freezer and let chill for 30 minutes.
Melt chocolate candy coating in a double boiler or in microwave according to package directions. Using forks or a dipping tool, dip cookie balls into candy coating to cover. Tap fork on side of pan to remove any excess coating, and return to waxed paper-lined baking sheets. Chill until set. Store, chilled, in an airtight container for up to 1 week (though good luck making them last that long).
Did you make this recipe?
Let us know what you think!
Leave a Comment below or share a photo and tag me on Instagram with the hashtag #loveandoliveoil.