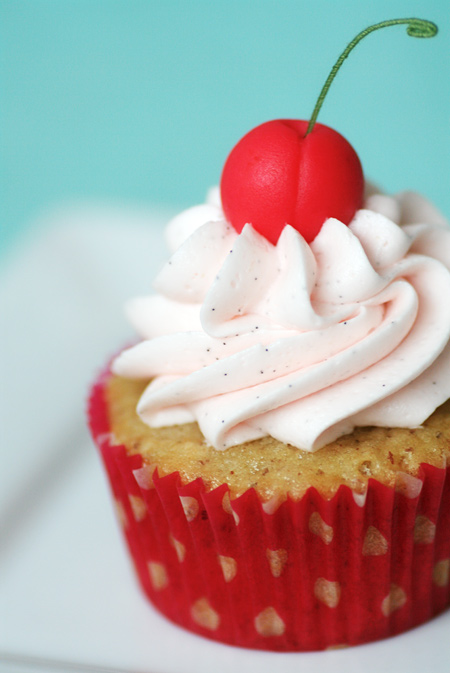 Close your eyes. Picture a cupcake. The cutest cupcake you can think of. What does it look like? Slightly domed on top, with a huge swirl of buttercream frosting. And a cherry on top. Right? It's like a cupcake cliche, or something… with a cherry on top. Because when do you ever see a REAL cupcake with a cherry on top? Like, never? I secretly think someone got confused between a cupcake and an ice cream sundae. Because those have cherries.
But I set out to make the ideal image of a cupcake anyway. Cherry and all.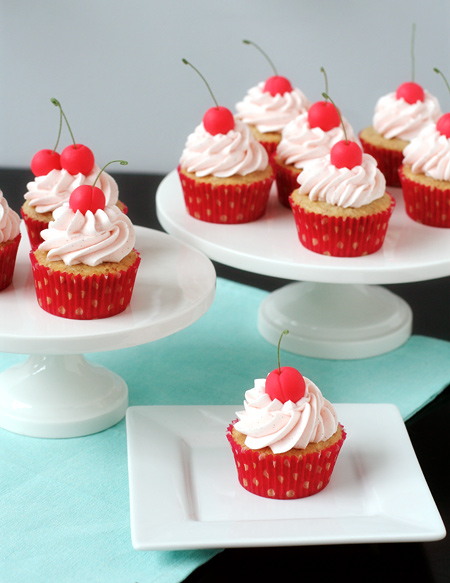 You should know by now I am almond-obsessed, and these are (no surprise) almond cupcakes. But the secret is what's inside… cherry filling. Yes, almond cupcakes with ooey gooey sweet cherry filling. Topped with an almond and vanilla bean buttercream, and a marzipan cherry… well, it's the perfect cupcake inside and out.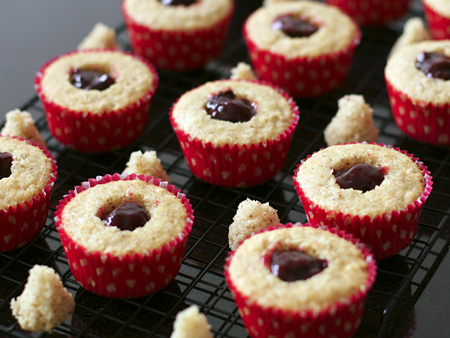 I made the cherries out of marzipan. The stems are simply floral wire (though I can't tell you how long we racked our brains trying to find an edible solution for the stem, it just wasn't happening). And they are so stinkin' cute, yet incredibly simple. Just a ball of marzipan, molded into the typical cherry "butt" with a rounded toothpick. Stick in the stem and voila. Cherry.
Does this remind you of anything? There was a game… with all the little plastic cherries… that you picked? Yes! You know exactly what I'm talking about. It's almost eery… plastic cherries… aaah memories of childhood.
Psst! Come join the fun at the My Baking Addiction and GoodLife Eats Holiday Recipe Swap sponsored by Beanilla. And be sure to vote for these cupcakes while you're at it!

Cherry-Filled Almond Cupcakes
Ingredients:
Cupcakes:
1 cup all-purpose flour
1/4 cup almond meal
1 teaspoon baking powder
1/4 teaspoon baking soda
1/2 teaspoon salt
3/4 cup granulated sugar
1/3 cup oil
1 cup coconut milk
1/2 vanilla bean (seeds only) or 1/2 teaspoon vanilla extract
1/2 teaspoon almond extract
Cherry Filling:
1 cup frozen sweet cherries
3 tablespoons sugar
2 tablespoons cranberry or pomegranate juice, or water
1 tablespoon water
1 tablespoon cornstarch
1/2 teaspoon vanilla
Vanilla Almond Buttercream:
1/2 cup (1 stick) butter or margarine, room temperature
2-3 cups confectioners' sugar
1/2 vanilla bean (seeds only) or 1/2 teaspoon vanilla extract
1/2 teaspoon almond extract
food coloring (optional)
2-3 tablespoons heavy cream or soy creamer
Directions:
Preheat oven to 350 degrees F. Line muffin pan with cupcake liners.
In a large bowl, sift together flour, almond meal, baking powder, baking soda, and salt. Whisk together oil, coconut milk, vanilla bean, and almond extract. Add sugar and mix until incorporated. Make a well in the center of the dry ingredients and pour in the wet ingredients. Mix until relatively smooth (batter will be slightly lumpy). Fill cupcake liners with 3 tablespoons of batter (papers should be just under 2/3 of the way full). Bake for 20-22 minutes or until golden, and toothpick inserted in the center comes out clean. Transfer to cooling rack and allow to cool completely.
To make filling, add frozen cherries to medium saucepan along with sugar and juice. Bring to a simmer, stirring occasionally and slightly mashing some of the whole cherries. Meanwhile, mix 1 tablespoon cool water with cornstarch in a small dish and set aside. When cherry mixture starts bubbling, add cornstarch mixture and stir until filling is thickened and is no longer milky. Remove from heat and stir in vanilla. Allow to cool at room temperature for 15 minutes. Move to refrigerator and chill until ready to use.
For frosting, cream butter in electric mixer for 1-2 minutes until fluffy. Slowly add confectioners' sugar, 1/2 cup at a time, until mixture is smooth. Add vanilla bean, almond extract, and food coloring and mix until combined. Add creamer and mix at medium-high speed until light and fluffy (2-3 minutes). Add more creamer and/or confectioners' sugar as necessary to achieve proper consistency.
To assemble, cut a cone-shaped piece out of the tops of cooled cupcakes, approximately 3/4″ in diameter and set aside. Fill cavities with cherry mixture, and replace tops of cupcakes. Pipe on frosting, covering the seams. Top with a marzipan cherry, if desired.
Did you make this recipe?
Let us know what you think!
Leave a Comment below or share a photo and tag me on Instagram with the hashtag #loveandoliveoil.