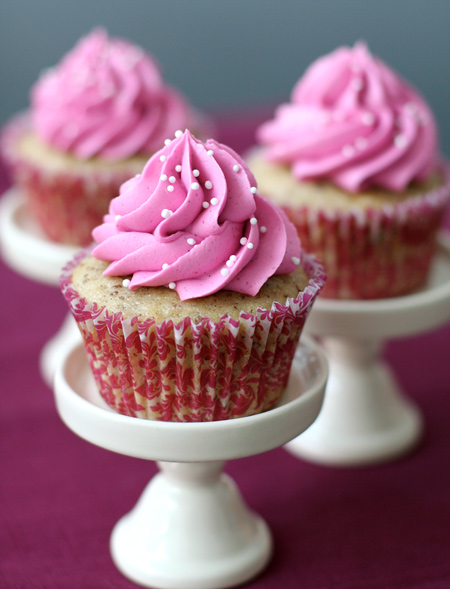 Obviously you all loved the go-to chocolate cupcake recipe I posted a few weeks back, and I've gotten numerous requests to do a similar base-recipe for vanilla. Thing is, I don't very often do plain vanilla. When I get sugar cravings, chances are whatever I bake needs to involve chocolate, or my craving will not be satisfied.
However, a vanilla cake base is a necessity, and something I've used repeatedly for such creations as the Cookie Dough Cupcakes and Fruit-filled Lemon Cupcakes.
My first attempt at making plain-old vanilla cupcakes wasn't the best. I felt the resulting cupcake was just a bit… blah? And bit too dense. So I tried again. And so what if I used almond meal – while some might claim the resulting cake is more of an almond vanilla cupcake than just a vanilla cupcake, I feel the almond meal gives it a unique taste and depth of flavor that one cannot achieve with vanilla alone. And I love almond. So sue me. If you don't want to use the almond meal, substitute regular or whole wheat flour, or even some variety of nut flour (I've heard of hazelnut flour, which might be good?) in its place.
Anticipating that there will be questions, yes, you can substitute milk for soy milk (I'm usually making substitutions for cow milk, so it always cracks me up when people ask if the opposite is true, and while I've never done it, it should produce a perfectly palatable cupcake). Or use coconut milk. Or almond milk. Or any milky-liquid, really. Again, this is a base cupcake recipe for a reason. It's your call as to how you might want to change it up for a particular flavor.
Despite what the picture might make you think, these cupcakes are different from the Vanilla Almond Cupcakes with Blackberry Buttercream. Who would have thought I could have so precisely recreated the color of natural blackberry puree in a buttercream with only liquid food coloring (I was simply trying to match the plum pink on the wrappers, nothing more).
So take this recipe, my dear readers, and go forth and create. Use it as a basis for a myriad of delightful cupcake flavors – the sky's the limit!
Very Vanilla Cupcakes with Vanilla Bean Buttercream
Ingredients:
Cupcakes:
1 cup all-purpose flour
1/4 cup almond meal
1 teaspoon baking powder
1/4 teaspoon baking soda
1/2 teaspoon salt
1 cup soy milk
1 tablespoon cider vinegar
3/4 cup granulated sugar
1/3 cup oil
1/2 vanilla bean (seeds only)
1/2 teaspoon vanilla extract
Vanilla Buttercream:
1/2 cup (1 stick) butter or margarine, room temperature
3-3 1/2 cups confectioners' sugar
1/2 vanilla bean (seeds only)
1/2 teaspoon vanilla extract
food coloring (optional)
Cream or soy creamer, as needed
Directions:
Preheat oven to 350 degrees F.
Combine soymilk and vinegar and stir to combine. Set aside for 5 minutes. Mixture will curdle.
In a large bowl, sift together flour, almond meal, baking powder, baking soda, and salt.
Whisk sugar, oil, vanilla bean, and extract into curdled soymilk mixture. Make a well in the center of the dry ingredients and pour in the wet ingredients. Mix until relatively smooth. Fill cupcake liners with a scant 3 Tablespoons of batter (cups should be just under 2/3 of the way full). Bake for 20-22 minutes or until lightly golden, and toothpick inserted in the center comes out clean. Transfer to cooling rack and allow to cool completely.
For frosting, cream butter in electric mixer for 1-2 minutes until fluffy. Slowly add 1 cup sugar and beat until smooth. Add soy creamer and mix until combined. Add remaining confectioners' sugar, 1/2 cup at a time, and beat until well incorporated. Add vanilla seeds, extract, and food coloring, and mix at medium-high speed until light and fluffy (2-3 minutes). Add cream or more sugar as necessary to achieve proper consistency. Pipe or spread onto cooled cupcakes.
Did you make this recipe?
Let us know what you think!
Leave a Comment below or share a photo and tag me on Instagram with the hashtag #loveandoliveoil.