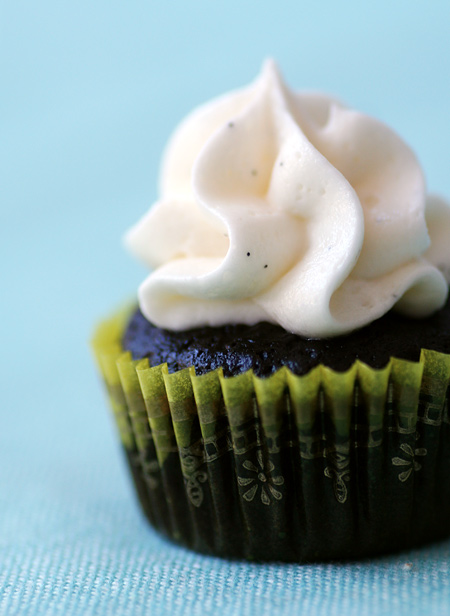 If you pay attention to my cupcakes, you probably notice a lot of similarities from one recipe to the next. Why reinvent the wheel with each and every cupcake? I've baked a lot of cupcakes in the past few years, and slowly developed what I consider to be the 'mother' of all cupcake recipes. It's my go-to recipe for any chocolate-derived cupcake, and simply by adapting the recipe a wee bit, adding or substituting an ingredient here and there, and pairing it with a different frosting, I create cupcakes like the Chocolate Amaretto Cupcakes, Dark Chocolate Creme de Menthe Cupcakes, or Double Shot Mocha Cupcakes (I have a similar tactic for vanilla-based cupcakes). It's a vegan cupcake base – with no egg (perfect for those of you who love to lick the bowl) or dairy – and I think it's absolutely divine. The coconut milk is the kicker. While you can't taste any distinct coconut flavor in the final cake, the subtle nuttiness adds a depth of flavor that other milks just can't reproduce. The fact that there is no butter or egg in the cake makes it light and airy, without any of the heaviness that plagues many traditional egg-based recipes. It is, if I do say so myself, the perfect cupcake.
Yet I realized I had never published just this recipe. Only the derivatives of it. I've posted something similar, dubbed Rich Chocolate Cupcakes, about a year and a half ago, of which this cupcake a direct descendant. Take those cupcakes, infused with the spirit of the Mexican Hot Chocolate Cupcakes (both recipes originally came from the bible of vegan cupcake baking, Vegan Cupcakes Take Over the World), and some good ol' trial and error, and you have yourselves a hybrid cupcake that can be adapted in just about any way imaginable.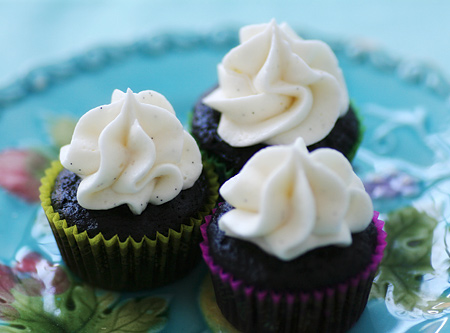 And while I admit I have focused on thinking up new and interesting flavors, you should not underestimate the power of the chocolate cupcake. All by itself, no bells or whistles. Just chocolate. Topped with buttercream in its purest form. That's all you really need. Even better? Make them mini (as pictured). Though, you have to watch yourself or you'll have popped three of them without even blinking.
Go-To Chocolate Cupcakes with Vanilla Bean Buttercream
Makes 12 cupcakes (or 48 mini cupcakes).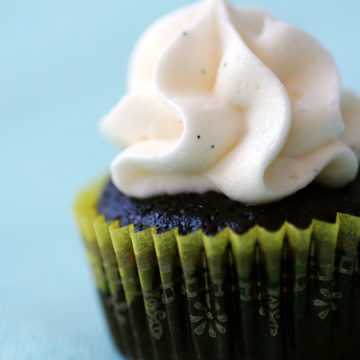 Ingredients:
1 cup coconut milk
1/3 cup canola oil
1 teaspoon vanilla extract
3/4 cup sugar
1 cup all-purpose flour
2 tablespoons almond meal
1/3 cup cocoa powder
3/4 teaspoon baking soda
1/2 teaspoon baking powder
1/4 teaspoon salt
For Frosting:
1/2 cup butter or margarine, room temperature
2-3 cups confectioners' sugar
2 tablespoons soy creamer or heavy cream
1 vanilla bean, split, or 1 teaspoon vanilla extract
Directions:
Preheat oven to 350 degrees F. Line muffin pan with paper liners.
Whisk together the coconut milk, sugar, oil, and vanilla extract until incorporated. In a separate bowl, sift together the flour, almond meal, cocoa powder, baking soda, baking powder, and salt. Make a well in the center of dry ingredients and pour in coconut milk mixture. Stir until just smooth (do not overmix).
Pour into liners, filling each with 3 tablespoons of batter (cups should be no more than 2/3 full). For mini cupcakes, fill each with 1 tablespoon batter. Bake 18-20 minutes (or 10-12 for minis), or until a toothpick inserted into the center comes out clean. Transfer to a cooling rack and let cool completely.
For frosting, cream butter until smooth and fluffy, 2-3 minutes. Add 1 cup powdered sugar and beat until combined. Mix in vanilla and cream. Continue adding sugar, 1/2 cup at a time, mixing well after each addition (depending on the temperature of your butter, you may need more or less sugar/cream to achieve the proper consistency). Continue beating until light and fluffy, about 3-5 minutes. Spread or pipe onto cooled cupcakes.
Did you make this recipe?
Let us know what you think!
Leave a Comment below or share a photo and tag me on Instagram with the hashtag #loveandoliveoil.