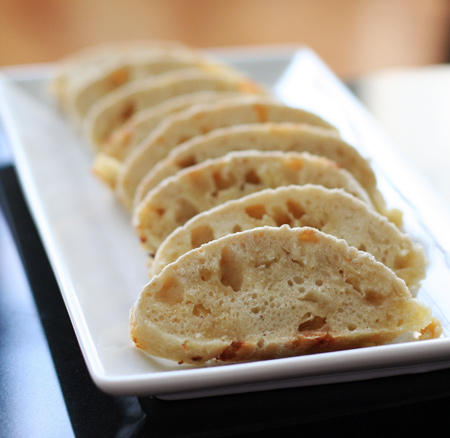 Stop. Whatever you're doing. Grab your keys. Drive to the nearest grocery store and buy yourself some white chocolate chips and wheat gluten. Speed home as fast as you can, and make this bread. Immediately. Because once you do, you won't be able imagine how you ever lived without it. It's that good.
I first had this bread about 7 years ago on a family vacation to Club Med. This bread is their specialty. And every morning, we'd race to the buffet and load our plates with it. I could have lived on it. And when we left, I was sad, because I'd have to go back to eating cereal for breakfast. I scoured the internet when I got home, looking for a recipe, with no luck. I even tried baking a loaf of bread and throwing some white chocolate chips in it, with dismal results. It just wasn't the same.
Then, just last week, a post popped up in my twitter account with a link to the recipe! The actual recipe. I could barely contain my excitement.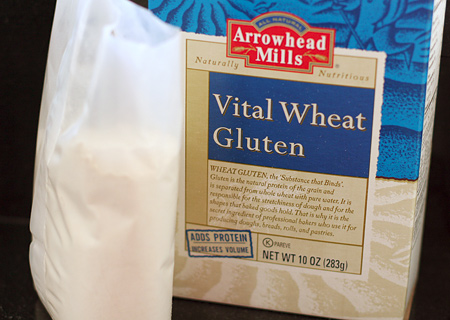 The one tricky part about the recipe is an ingredient. It calls for wheat gluten. Maybe I'm out of the loop, but I've never heard of such a thing. Oh I know that gluten is what makes bread chewey, but I thought it was more a result of a process, and not an ingredient you could buy. So off we went in search of wheat gluten. Lucky for us we found it fairly easily at a health food store nearby. There was this box by Arrowhead Mills, but there was also some by the Bob's Red Mill brand (this one was cheaper though, by a whole $3! so we went with it instead). Score.
With wheat gluten in hand, I just needed to find time to make it. So I did. Yesterday. During the time I usually reserve for my daily workout. If I can only have an hour of free time, I'd much rather make this bread than exercise. Can you blame me?
The bread is surprisingly easy. I was expecting much more wait-time and a lot more hand to dough contact, but no. If you've got a stand mixer it practically makes itself.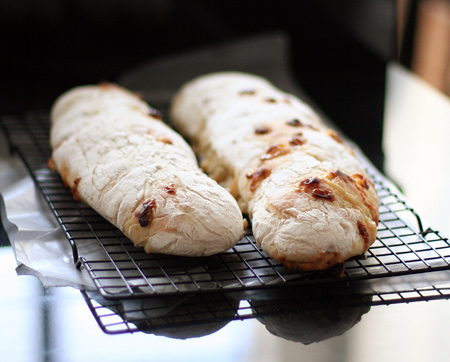 The result is quite similar in texture to a typical country bread, but with one delicious twist – morsels of sweet molten white chocolate, melted into the bubbles and nooks and crannies of the bread. The chocolate pieces on the outside of the bread turn golden and crisp, and even more of the chocolate oozes out during the baking process. The sweetness permeates every last bite. Eat it for breakfast, or dessert, or anytime in between. And don't be surprised if your two large-ish looking loaves (we halved the recipe) are gone within 48 hours.
I told you it was good.
White Chocolate Bread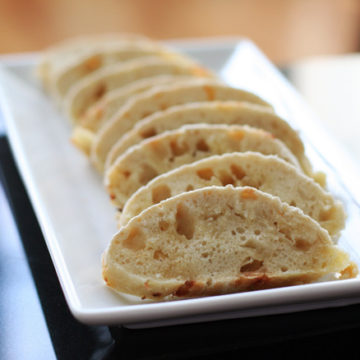 Ingredients:
8 cups flour
1 teaspoon yeast
1 tablespoon wheat gluten
2 teaspoons salt
3 1/2 cups water
2 3/4 cups white chocolate chips
Directions:
Place flour, yeast and gluten in a small bowl. Mix on medium-low or first speed for 1 minute. Add water and mix for another 2 minutes. Add salt and continue to mix for another 8-10 minutes on medium or second speed.
Add chips and mix for 1-2 minutes or until the chips are well distributed throughout the dough. Take dough out of bowl and lightly knead into a ball. Let rest for 15-20 minutes.
Preheat the oven to 450?F. Divide dough into 5 equal portions and knead into the desired form. Let the loaves proof for about 30-45 minutes, depending on the heat and humidity of the area.
Place uncooked loaves on a baking pan lined with parchment paper and bake for approximately 20 minutes. Remove from oven and let stand for 15 minutes.
Did you make this recipe?
Let us know what you think!
Leave a Comment below or share a photo and tag me on Instagram with the hashtag #loveandoliveoil.