Before you go calling me certifiably insane, let me explain one thing: I am a stress baker. To-do list getting out of control? I make cinnamon rolls. Feeling anxious over a big deadline? Time to bake cookies. Lots of cookies. It's how I deal with my stress. (Lucky for us, Taylor is a stress cleaner. So when we both get stressed we end up with blueberry pie and a spotless toilet. Pretty good deal, I'd say!). Anyway, I figured, the day before my wedding, I'm probably going to be pretty darn stressed. Sounds like a perfect time to spend the. entire. day. baking.
To clarify, we baked these babies, all 300+ of them, the day before the wedding. The ovens went on at 8 in the morning, and didn't turn off until 4:30 that afternoon. I debated back and forth over whether I should do more in advance. Like make all the cupcakes over the course of the week and freeze them. But freshness is far too important to me. I was able to do a few things in advance, like making the strawberry jam for the lemon cupcakes, and cut and shape all the marzipan toppers. But the rest of it, all the batter, baking, frosting and decorating, was done on Friday.
How DID we do it, exactly? I've had many people ask me just that. I've even heard from a few who are as crazy as I am and planning on baking their own wedding cupcakes, wondering how I dealt with things like storage. So I'm going to share my secrets, or, not so much secrets as things I learned by messing up a few times first. Hopefully you can make the most of my mistakes and experiments, save yourself some time. :)
Lesson #1: Get help. Good help. But not too much help (you know that phrase too many cooks in the kitchen? they mean it). I was lucky enough to have a fabulous team of assistants, without whom, well, I'd probably still be baking. A huge thank you to Mom, Grandma, Aunt Lynn, Uncle Mike, and Auntie Sal for all their help. And everyone else who stopped by periodically throughout the day to perform, ahem, "quality control." Lucky for them we had a few rejects to give away otherwise they might have been disappointed.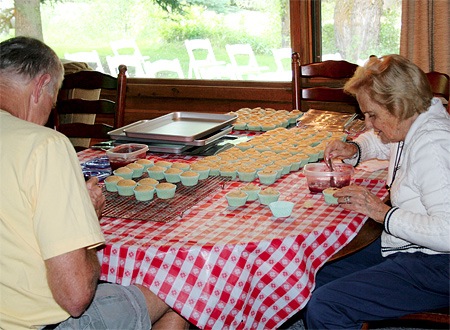 Lesson #2: Dress appropriately. We had an unfortunate 'incident' involving a bit too much pressure built up in the cocoa powder container. And, well… you can guess what happened next.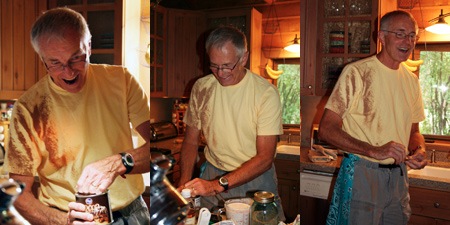 Cocoa explosion. Mike proudly wore his chocolately "badge of honor" for the rest of the day.
Lesson #3: Shop in bulk. Have you ever wondered who on earth buys those massive bags of powdered sugar at Costco? Turns out, we do.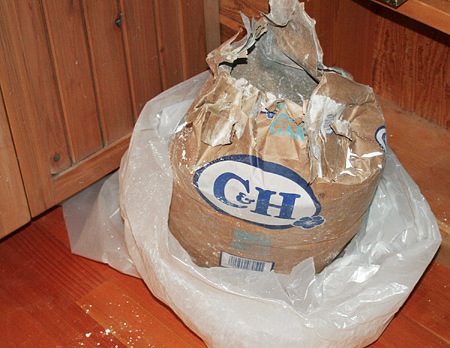 That's 50 pounds right there. And we used most of it. Plus 8 pounds of butter, 12 pounds of flour, 14 cans of coconut milk, and, well, you get the point. It was quite the mathematical headache to try and figure out just HOW MUCH of everything we were really going to need (thank you 6th grade math!). We only ran out of flour and almond extract, but luckily had plenty of willing volunteers to run into town and replenish our stock throughout the day.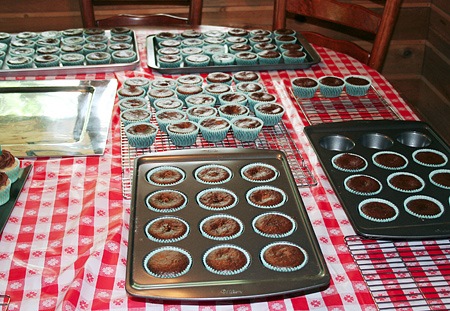 Lesson #4: Cupcake storage. This was probably our biggest issue of all. I mean, how/where/what do you use to store 300 cupcakes?
Our first dilemma was whether or not the cupcakes should be stored in airtight containers. As it is extremely dry in Colorado (think, like, -10% humidity), we didn't want the one day layover to completely suck all moisture out of our cupcakes. Anyone who has had a dry cupcake knows why.
However, a quick test solved that problem for us: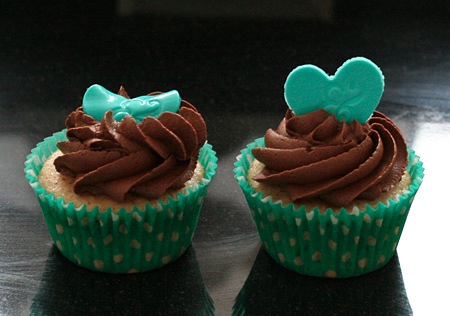 The cupcake on the left was stored in an airtight container. The cupcake on the right was not. While the frosting and cake stayed delectably moist, the unfortunate decoration didn't fare so well.
On to plan B. We needed something large. Something contained so no dust or critters (or sneaky dads) could break into them during the night. Contained but yet not airtight. We needed something we could stack, and something that would hold the cupcakes securely.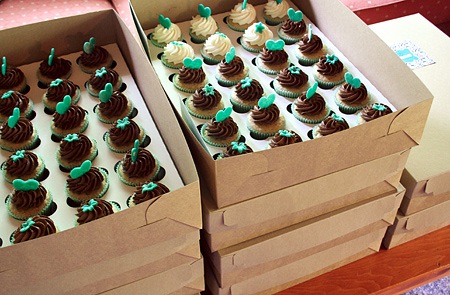 Bakery boxes turned out to be the perfect solution. We found a handful of sheet cake boxes that came with cupcake inserts, perfect for holding two dozen cupcakes securely in place. Voila! The box was just enough to keep the cupcakes moist, but not airtight so the decorations stayed perky. We filled 15 of these buggers full of cupcakes.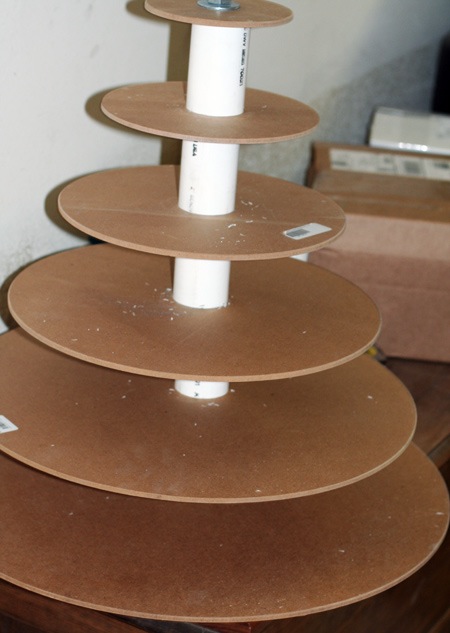 Another important aspect of this whole thing was the stand. Ever since I decided to bake my own cupcakes for the wedding (meaning, since the day we got engaged), I'd been scouring the net for the perfect cupcake stand. My criteria? Big enough to hold a lot. Simple. Elegant. Sturdy. Affordable. Not too much to ask, right? Apparently it was, as I couldn't find a single stand that I loved. I found a few good ones, but they cost a few hundred dollars. I found plenty of cheap plastic ones and ones with frilly borders, and even a few flimsy looking cardboard ones. Not even close.
Lucky for me I have a pretty talented Dad. He did, after all, build half our house, so I figured he could handle a cupcake stand.
I purchased some masonite cake boards for each layer in 6 different diameters. Then Dad assembled it – using a single metal pole (or pipe or rebar or something) through the middle of each round, and a 4″ length of white pvc pipe to separate each layer. All affixed to the top of a lazy suzan (look! it spins!). With a fresh coat of white spray paint, and a dainty turquoise ribbon trim around the edges, we had ourselves the perfect cupcake stand. All for less than $60.