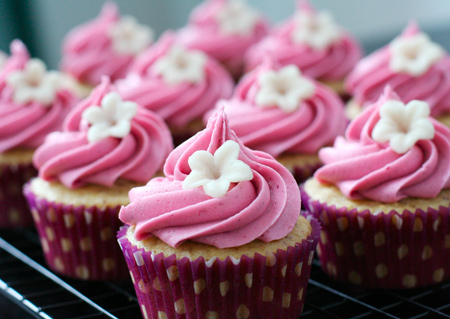 I was feeling fruity the other day. Feeling fruity and vanilla-y and almond-y. Normally I'd either do vanilla cupcakes or almond cupcakes, but not this time. No, I wanted both. And this light and delicate cake provided just that. Flecks of almond meal and vanilla bean, spiked with almond extract, and topped with a bright blackberry buttercream, well, I don't have to tell you that these were delicious.
A perfect choice for a dinner with friends – perfect because, well, our friend's daughter joined us for dinner, and her favorite color just happens to be purple. Let's just say that she wouldn't give in until she got her purple cupcake BEFORE dinner, where she proceeded to dive in and lick every bit of the purple frosting off of the cupcake before she was satisfied.
And unlike some cupcakes I've made, these beauties are naturally purple… or purply-pink, to be precise.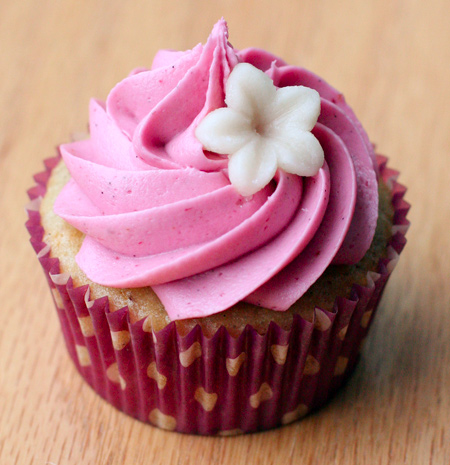 They almost became a post for the failed-cupcake-hall-of-fame. See, I first added a bit of tofutti cream cheese to the frosting as I didn't want it too sweet. I've done it before with chocolate buttercream, and the other flavors in the frosting always overpowered any weirdness lingering from the tofutti (I admit, it is not a substitute for the real thing). But in this case, I took a lick and realized something was horribly wrong. Took a finger-full to Taylor too just to confirm my suspicions. He nailed it – the frosting tasted like berry flavored yogurt, a few too many days past it's sell-by date. Funny how non-dairy cream cheese can give an overpoweringly dairy-like taste to an otherwise good frosting. In to the trash it went.
Take 2: much better. No cream cheese. Fresh blackberries, pureed and strained. Half a vanilla bean, scraped off the pod and beautifully speckling the violet fluff. Just a hint of fragrant almond. And to top it all off – proof that my spiffy new flower molds DO work with marzipan (not quite as well, marzipan is extremely fragile and doesn't hold the delicate shape as well), but it was the perfect topping on the perfect cupcake.
I don't think I am the only one to think that the timing of these couldn't be any better – can you say, perfect mothers' day treat? I know my mom in particular would swoon over these (or anything almond for that matter – like mother like daughter!). If only I could figure out how to ship cupcakes to her, I would send her a box of these in an instant.
Vanilla Almond Cupcakes with Blackberry Buttercream
Ingredients:
Cupcakes:
1 cup all-purpose flour
1/4 cup almond meal
1 teaspoon baking powder
1/4 teaspoon baking soda
1/2 teaspoon salt
3/4 cup granulated sugar
1/3 cup oil
1 cup coconut milk
1/2 vanilla bean (seeds only)
1/2 teaspoon almond extract
Blackberry Buttercream:
1/2 cup (1 stick) butter or margarine, room temperature
3 cups confectioners' sugar
3 tablespoons fresh blackberry puree, strained
1/2 vanilla bean (seeds only)
1/4 teaspoon almond extract
Directions:
Preheat oven to 350 degrees F.
In a large bowl, sift together flour, almond meal, baking powder, baking soda, and salt. Add sugar and mix. Whisk together oil, coconut milk, vanilla bean, and almond extract. Make a well in the center of the dry ingredients and pour in the wet ingredients. Mix until relatively smooth. Fill cupcake liners with a scant 1/4 cup of batter (should be just under 2/3 of the way full). Bake for 20-22 minutes or until golden, and toothpick inserted in the center comes out clean. Transfer to cooling rack and allow to cool completely.
For frosting, cream butter in electric mixer for 1-2 minutes until fluffy. Slowly add 1 cup sugar and beat until smooth. Add blackberry puree and mix until combined. Add remaining confectioners' sugar, 1/2 cup at a time, and beat until well incorporated. Add vanilla bean and extract and mix at medium-high speed until light and fluffy (2-3 minutes). Pipe or spread onto cooled cupcakes. Top with a marzipan flower, if desired.
Did you make this recipe?
Let us know what you think!
Leave a Comment below or share a photo and tag me on Instagram with the hashtag #loveandoliveoil.