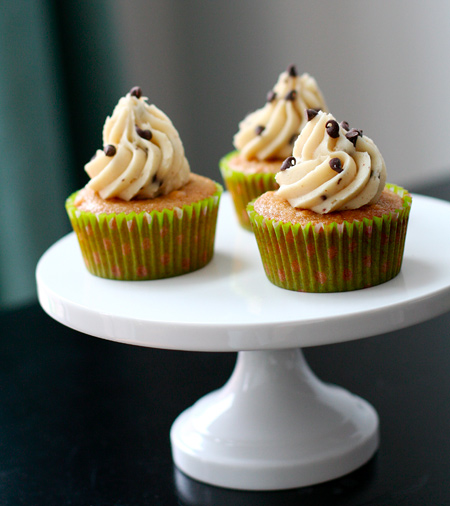 Yes, you heard me. Cookie dough cupcakes.
Could there be anything more perfect?
It was my birthday yesterday, and in my mind, the world's best birthday that consisted of these decadent cupcakes and a heart-racing new episode of Lost. Oh I love Wednesdays. Especially when it's my birthday. (Also take note of the lovely new cake stand – thanks Grandma! It's a perfect size for cupcakes!)
But back to the cupcakes – the best part might just be the frosting. I mean, you could eat this stuff with a spoon. It's a standard American buttercream mixed with real chocolate chip cookie dough (eggless, of course). The result is a brown-sugary, vanilla scented, chocolate dotted, whipped to perfection dollop on top of an already delicious golden cupcake. And the cupcake itself, well, it has a few surprises of it's own. See, I submerged a frozen ball of cookie dough in the batter before putting it in the oven. Frozen so it wouldn't fully bake (or else they'd be just chocolate chip cookie cupcakes, not quite the same).
Lucky for me I have a go-to recipe for an eggless cookie dough. You know those times when you think you are craving chocolate chip cookies, but after a spoonful or two of dough realize maybe it was just that you were craving, and don't really feel like baking the rest of it? Yea. That's when this recipe comes in handy. It's not meant to be baked (in fact, I make no claims whatsoever that it won't turn into a bubbling pile of melted goo in the oven – I've never baked it and can make no guarantees should you try). Perfect for eating by the spoonful. Or even better, rolling and coating in chocolate. Mmmmm.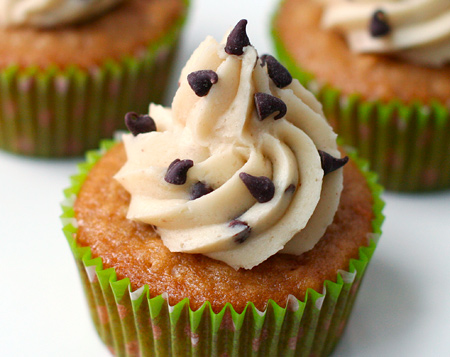 The only thing was the cupcakes with the dough in them sunk ever so slightly (I know, as I had one extra cupcake without a dough ball, and it puffed and browned much more than the others). This recipe would also be delicious with a chocolate cupcake batter. Chocolate Chocolate Chip Cookie Dough? Seriously?
Chocolate Chip Cookie Dough Cupcakes
Ingredients:
Cookie Dough:
1 1/8 cups all purpose flour
1/2 teaspoon salt
1/4 teaspoon baking soda
1/2 cup (1 stick) butter or margarine, softened
3/8 cup granulated sugar
3/8 cup packed brown sugar
1/2 teaspoon vanilla
3 tablespoons soy milk or milk
3/4 cup mini semi-sweet chocolate chips
Cupcakes:
1/2 cup soy milk
1/2 cup coconut milk
1/3 cup canola oil
1/2 cup packed brown sugar
1/4 cup granulated sugar
2 tsp. vanilla extract
1 1/4 cups all-purpose flour
2 Tbsp. cornstarch
3/4 tsp. baking powder
1/2 tsp. baking soda
1/2 teaspoon salt
Frosting:
3/4 cup butter or margarine, room temperature
2 cups confectioners' sugar
2 tablespoons soy milk
3/4 cup eggless cookie dough, room temperature
Directions:
Make the cookie dough:
Beat the butter, sugars, and vanilla with electric mixer until creamy. Add the soy milk and beat well. Add in the salt, baking soda, and flour and slowly mix until combined. Stir in chocolate chips.
Form teaspoon-sized balls (approx. 1″ across). Roll and place on a foil-covered baking sheet. Make approximately 14 dough balls, reserving at least 3/4 cup of the dough for frosting (extras? eat it!). Freeze dough balls for at least 2 hours until solid.
Make the cupcakes:
Preheat oven to 350 degrees. Line muffin pan with cupcake liners.
Whisk together soy milk, coconut milk, sugars, oil, and vanilla. Sift in the flour, cornstarch, baking powder, baking soda, and salt, and mix until no large lumps remain.
Fill cupcake liners one-half of the way full (approximately 3 tablespoons of batter each). Do not overfill. Drop one frozen cookie dough ball into the center of each cup. Bake for 20 to 22 minutes or until tops are puffed and golden. Transfer to a cooling rack, and let cool completely before frosting.
Make the Frosting:
Cream butter with electric mixer until fluffy. Slowly add powdered sugar, 1/2 cup at a time, until well-incorporated. Add soymilk and mix until smooth, 1-2 minutes. Add cookie dough, approximately 3/4 cup of it, and mix until combined. Taste, and add more cookie dough if you like. Spread or pipe onto cooled cupcakes, and sprinkle with more mini chocolate chips.
Did you make this recipe?
Let us know what you think!
Leave a Comment below or share a photo and tag me on Instagram with the hashtag #loveandoliveoil.