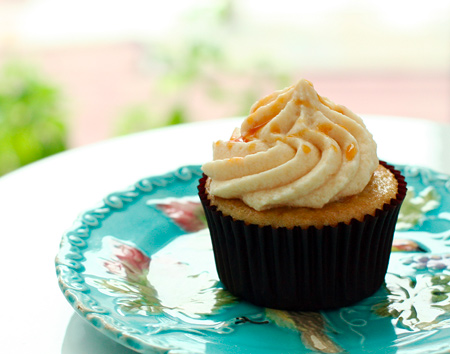 After our delicious Valentine's day dessert of caramelized bananas, I've had caramel and banana on the brain. It's such a rich and satisfying combination, one that I thought would translate perfectly into cupcakes.
However, I had a dilemma. A sugar dilemma. My fear of sugar may have delayed these delicious cupcakes longer than necessary. A few bad experiences with cooked sugar and I'm scarred for life. So no way was I going to attempt to make my own caramel for these cupcakes.
Eventually, though, I decided that there was no need to actually make caramel, when there are plenty of commercial ice cream sauces available. Simply open the jar, drizzle, and done. No cooked sugar needed. Perfect!
I also picked up a little bottle of caramel flavoring, again with the idea of avoiding cooking caramel myself. I added a few drops of the potent stuff to the batter. Nothing intense, but just enough to give the cake that much more depth of flavor.
My buttercream separated just a bit… I got overzealous with the softening of the butter, and once butter has been partially liquefied, well, you really can't un-do it. I have realized, though, that I had been putting way too much sugar in my buttercream. Using a higher proportion of butter to sugar, adding more soymilk, and then whipping the heck out of it makes a much lighter, fluffier, and slightly less-sweet buttercream. I'm getting better at it, but I've still got a ways to go before I've mastered the 'perfect' frosting.
And psst! This cupcake recipe has been entered in the Cupcake Hero: Banana contest for the month of September (see the entries). Wish me luck! More info about Cupcake Hero.
Caramel Banana Cupcakes with Easy Caramel Buttercream
Ingredients:
1 tablespoon cider vinegar
1 1/2 cups plain soymilk
2 1/8 cups flour
2 teaspoons baking powder
1/2 teaspoon baking soda
1/2 teaspoon kosher salt
1 1/8 cups sugar
1/2 cup mashed ripe banana
1/2 cup canola oil
1 teaspoon vanilla extract
1/8 teaspoon almond extract
For Frosting:
1 cup butter or margarine, room temperature
2 1/2 cups confectioners' sugar
2 tablespoons soymilk
1/2 teaspoon vanilla
2-3 tablespoons caramel topping
Directions:
Preheat the oven to 350º. Line muffin tin with paper cupcake liners.
Combined apple cider vinegar and soymilk in small bowl. Stir well and set aside (the mixture will curdle).
In a bowl, mash banana with canola oil until incorporated. Add extracts and mix well.
In a large mixing bowl, stir together the flour, sugar, baking powder, baking soda, and salt. Add the curdled soymilk and banana mixtures to the dry ingredients and stir until smooth.
Fill each muffin cup with 1/4 cup of batter. Bake for 20-22 minutes, or until a toothpick inserted in the middle of a cupcake comes out clean.
Let cool in the pans for 5 minutes, then remove and place on a wire rack. Cool completely before frosting.
For frosting, whip butter with electric mixer until fluffy. Add sugar, 1/2 cup at a time, mixing well after each addition. Add milk, vanilla, and 2 tablespoons caramel, and beat 3-5 minutes until thick and fluffy. Add more sugar if needed to achieve proper consistency. Spread or pipe onto cooled cupcakes. Drizzle with remaining caramel and enjoy!
Did you make this recipe?
Let us know what you think!
Leave a Comment below or share a photo and tag me on Instagram with the hashtag #loveandoliveoil.