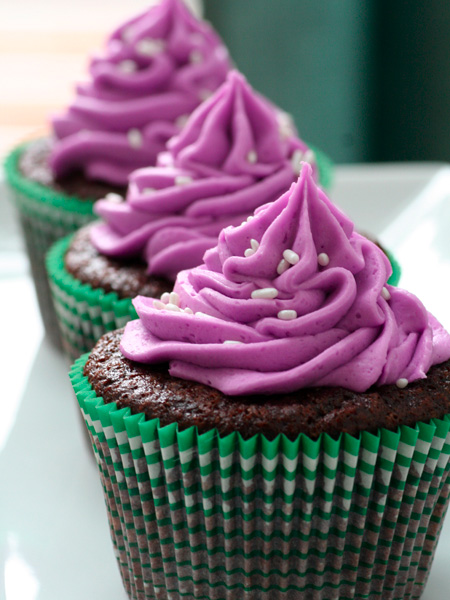 Um, folks, we have another winner. This one was so good it has bumped another cupcake out of the running altogether. Bye bye regular old chocolate, hello hot chocolate! In Taylor's words, this is a much more sophisticated chocolate. In Robin's words, mmmmm. The texture was fascinating. So moist, and yet fluffy and slightly grainy (in a good way). Something about the combination of ingredients that go into the batter, it comes out of the oven full of flavors you can't quite identify. Deep, rich flavors. While we didn't add enough cayenne to make it spicy, the pinch we did add brings a depth to the cake like adding salt might, but much more pronounced. It's like the cayenne becomes a super salt – that brings out the fine details of all the other ingredients within the cake.
In other words, it's darn good.
We topped these off with a simple cream cheese buttercream, flavored with almond and a touch of vanilla. I jokingly suggested we add some color to the snow white frosting, and immediately both Taylor and Robin shouted "Purple!". Right, ok, purple it is. And how purple they are. Topped with some pearlescent jimmies, they make for a very glamorous cupcake.
Mexican Hot Chocolate Cupcakes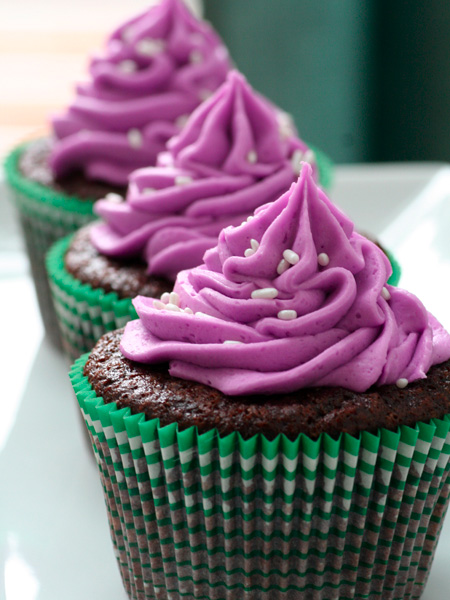 Ingredients:
1 cup coconut milk
1 tablespoon ground flaxseeds
3/4 cup all-purpose flour
2 tablespoons corn flour or very fine cornmeal
1/4 cup almond meal
1/2 cup cocoa powder
1 teaspoon baking powder
1/2 teaspoon baking soda
3/4 teaspoon salt
1 teaspoon ground cinnamon
1/8 teaspoon ground cayenne pepper (more or less to taste)
1 cup granulated sugar
1/3 cup canola oil
1 teaspoon vanilla extract
1 teaspoon almond extract
For Frosting:
1/2 cup butter or margarine, room temperature
3-3 1/2 cups confectioners' sugar
1/2 teaspoon almond extract
1/2 teaspoon vanilla extract
1 tablespoon milk or soymilk
Directions:
Preheat oven to 350?F and line muffin pan with cupcake liners.
Whisk together coconut milk and flaxseed and allow to sit for 10 minutes, then whisk in sugar, oil, vanilla, and almond extract.
In another bowl, sift together flour, corn flour, almond meal, cocoa powder, baking powder, baking soda, salt, cinnamon, and cayenne. Gently mix in wet ingredients.
Fill cupcake liners with 1/4 cup of batter (approximately 2/3 full). Bake for 22-25 minutes or until a toothpick inserted in the center comes out clean. Transfer to a cooling rack and cool completely.
For frosting, cream the butter. Slowly add most of the confectioners' sugar, 1/2 cup at a time, until mixture is smooth and fluffy. Add soymilk, extracts, and coloring (if desired), and mix until combined. Add remaining powdered sugar, adding more if necessary to achieve proper consistency. Mix at medium-high speed until light and fluffy. Spread or pipe onto cooled cupcakes.
Did you make this recipe?
Let us know what you think!
Leave a Comment below or share a photo and tag me on Instagram with the hashtag #loveandoliveoil.