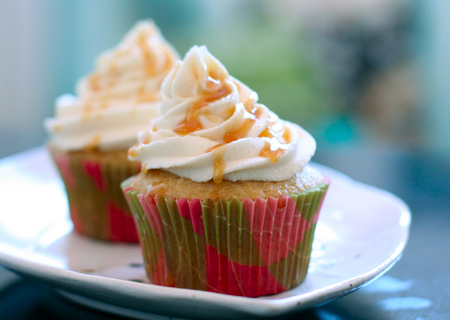 Little sis is in town this week. And that means one thing: lots of cupcakes. We've made it our goal this week to finalize the flavors for the wedding. We're looking for two more flavors to compliment the tried and true Rich Chocolate and Vanilla Bean Cupcakes and Almond Cupcakes. We didn't even have to think twice about wanting those two gems on the menu. However, we quickly decided that there is such a thing as a person that doesn't like chocolate, and we need a non-chocolate cupcake recipe in the mix. While some variation of the White Chocolate Macadamia Nut Cupcakes might still be in the running (we're thinking raspberry filling?), we had a few other ideas up our sleeves as well.
Like these. Don't you ever find yourself dreaming of creamy caramel? Or maybe it's just me. But I wanted to turn those dreams into a cupcake. We adapted the recipe from our favorite book of all time, Vegan Cupcakes Take over the World. The caramel itself is vegan, made with a combination of brown rice syrup, brown sugar, and soymilk. Taking into account my lactose intolerance, and my fear of burnt sugar, it was a very easy and edible way to make a caramel substitute. Keyword here is substitute. While it was good, it wasn't great, and lacked the true depth of flavor of a good quality caramel.
The cake itself, however, was divine. Moist and fluffy with a beautiful crumb, it might just be the perfect cupcake base.
To improve on this cupcake, we're thinking of adding some caramel extract to the cupcake itself. Screw vegan at this point, and get some real life caramel sauce or dulce de leche and drizzle it over top of the cupcakes and mix it into the frosting for a rich and authentic caramel flavor.
Our other, extremely enticing and devious idea: add some applesauce and spices to the cake, top it with the caramel frosting, and voila! Caramel apple cupcakes. You might be seeing that one soon.
Dulce de Leche Caramel Cupcakes
Makes 12 cupcakes. Adapted from Vegan Cupcakes Take Over the World.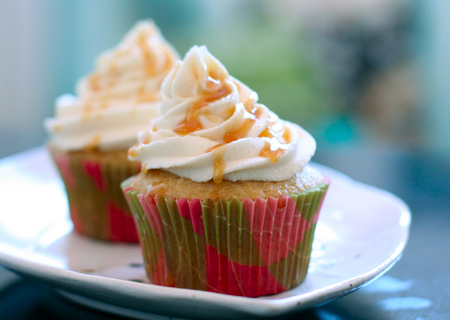 Ingredients:
1 1/4 cups all-purpose flour
1 teaspoon baking powder
1/4 teaspoon baking soda
1/2 teaspoon salt
1/2 cup granulated sugar
1/4 cup brown sugar, packed
1/3 cup oil
1/2 cup soy milk
1/2 cup coconut milk
2 teaspoons vanilla extract
1/2 teaspoon finely grated lemon zest
Caramel Buttercream
1 cup butter or margarine, room temperature
4 cups confectioners' sugar
1 teaspoon vanilla extract
1 teaspoon caramel extract OR 1 tablespoon caramel sauce
Vegan Caramel Sauce
1/4 cup soy milk
1/4 cup soy creamer
1/4 cup soy milk powder
1 tablespoon arrowroot or cornstarch
1/4 cup brown sugar
1/2 cup brown rice syrup
1 teaspoon vanilla extract
Directions:
Preheat oven to 350ËšF.
In a large bowl, sift together flour, baking powder, baking soda, and salt. Add sugar and brown sugar and mix. Whisk together the oil, soy milk, coconut milk, lemon zest, and vanilla. Make a well in the center of the dry ingredients and pour in the wet ingredients. Mix until relatively smooth. Fill cupcake liners with 1/4 cup of batter (should be about 2/3 of the way full). Bake for 20-25 minutes or until golden.
For caramel sauce, in a small saucepan, whisk together soy milk, creamer, soy milk powder, and arrowroot. Stir constantly over medium heat until arrowroot is cooked and the mixture starts to thicken, about 4 minutes. Whisk in brown sugar, and then brown rice syrup. Turn up heat to medium high and bring to a gentle boil, then turn heat to low to sustain a low simmer, whisking constantly. Cook until mixture is thick and slightly reduced, about 10 minutes. Allow to cool slightly before drizzling on cupcakes or adding to frosting.
For frosting, whip butter or margarine until fluffy. Add confectioners sugar 1/2 cup at a time, and mix until smooth and fluffy. Add extract and caramel and whip until combined. Spread or pipe onto cooled cupcakes.
Did you make this recipe?
Let us know what you think!
Leave a Comment below or share a photo and tag me on Instagram with the hashtag #loveandoliveoil.