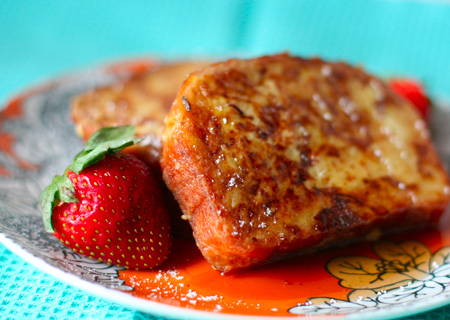 We don't cook breakfast very often. Dinner is really our thing. Even on the weekends, we're up at a decent hour and usually work through most of the day. I'm fine with a glass of chocolate soy milk, which usually lasts me until lunchtime.
So when we do make breakfast, it's always a treat.
I haven't had or made French toast in a very long time. In fact, I can't remember the last time I had it.
So as I was eying the half loaf of Golden Brioche Bread we had left in the fridge, I knew it would be good for two things: bread pudding, or french toast. Obviously I chose the later.
This recipe is super quick, rich, and delicious, and easy to make dairy free. You could also swap out the amaretto (but who would want to?) and flavor it with vanilla or cinnamon instead.
Amaretto French Toast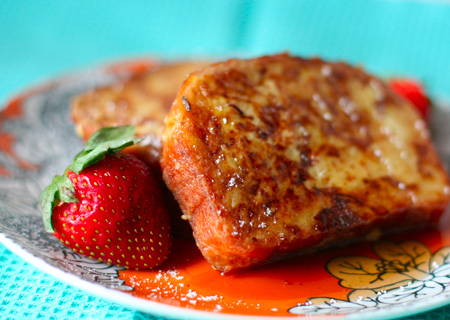 Ingredients:
2 eggs
1/2 cup soy creamer (or half and half)
1 tablespoon sugar
1/4 teaspoon salt
2 tablespoons Amaretto
3 tablespoons butter or margarine
6 slices brioche or egg bread
Directions:
In a shallow dish, whisk together all ingredients. Working two slices at a time, place bread into dish. Let soak for about 1 minute, flip and let other side soak.
Heat a large skillet over medium heat. Add 1 tablespoon of butter. When melted, retrieve slices from egg mixture and add to skillet. Cook 2-3 minutes per side, or until golden brown. Repeat with remaining slices.
Dust with powdered sugar and drizzle with syrup. Serve with fresh fruit and a glass of orange juice for the perfect sunday brunch.
Did you make this recipe?
Let us know what you think!
Leave a Comment below or share a photo and tag me on Instagram with the hashtag #loveandoliveoil.