Happy early birthday, to me, to me.
Very happy indeed!
I'm easily stumped when it comes to birthdays. I get asked over and over what do I want, what do I want, when really, I don't know. I guess it's a good sign when you are satisfied with what you have.
Since no one close to me ever wants to buy me fonts for my birthday (yes, I'm a design nerd), I was at a loss. Until I found the now infamous recipe for No Knead Bread. You see, no knead bread requires, well, a nice pot. A heavy pot that can go into the oven. I wanted this bread, and I wanted it badly. And I had no such pot.
Needless to say, I knew what I wanted for my birthday.
Lucky for me, we have a Le Creuset store downtown (next to Whole Foods, nonetheless!). And so Taylor and I made the treck to the hoity-toity shopping center. I was entirely planning to make the final purchase online, where I could surely get a better deal. Maybe it was the pushy salesman or the enticing shade of turquoise… either way, we left carrying (or, rather, Taylor was carrying) a lovely 5 1/2 quart Le Creuset, in Caribbean blue.
I'm in love (with a pot, yes, but with the boy who bought it for me too!).
And let me tell you, this bread is worth it!!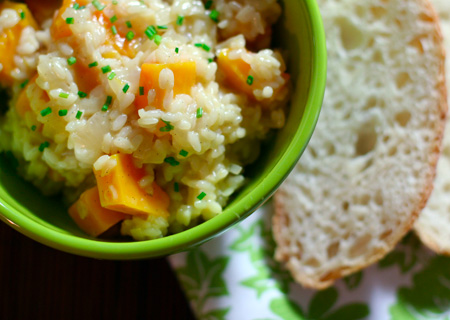 Of course, we couldn't JUST eat bread for dinner. I recently saw this recipe for Vanilla Bean and Butternut Squash risotto over at Erin Cooks… and with my stash of ebay vanilla beans I am always looking for new ways to use them. While it might seem like an odd combination, the subtle sweetness of the vanilla is a perfect compliment to the squash and creamy risotto. Plus the tiny speckles are a sight to be seen.
Butternut Squash and Vanilla Risotto

Makes 4 regular or 6 side dish servings.
Recipe from Giada.

Ingredients
4 cups vegetable broth
1 large vanilla bean
3 cups peeled cubed (1-inch wide) butternut squash, about 12 ounces
2 tablespoons butter, plus 1 tablespoon
3/4 cups finely chopped onion (from 1 onion)
1 1/2 cups Arborio rice or medium-grain white rice
1/2 cup dry white wine
1/2 cup freshly grated Parmesan
1/2 teaspoon salt
2 tablespoons finely chopped fresh chives

Directions
In a medium saucepan, warm the broth over medium-high heat. Cut the vanilla bean in half lengthwise. Scrape out the seeds and add them, and the bean, to the broth. When the broth comes to a simmer reduce the heat to low. Add the butternut squash to the simmering broth and cook until tender, about 5 minutes. Using a slotted spoon remove the butternut squash to a side dish. Turn the heat on the broth down to very low and cover to keep warm.

Meanwhile, in a large, heavy saucepan, melt 2 tablespoons of the butter over medium heat. Add the onion and sauté until tender but not brown, about 3 minutes. Add the rice and stir to coat with the butter. Add the wine and simmer until the wine has almost completely evaporated, about 3 minutes. Add 1/2 cup of the simmering broth and stir until almost completely absorbed, about 2 minutes. Continue cooking the rice, adding the broth 1/2 cup at a time, stirring constantly and allowing each addition to of the broth to absorb before adding the next, until the rice is tender but still firm to the bite and the mixture is creamy, about 20 minutes total. Discard the vanilla bean. Turn off the heat. Gently stir in the butternut squash, Parmesan, the remaining tablespoon of butter, and salt. Transfer the risotto to a serving bowl and sprinkle with chives. Serve immediately.